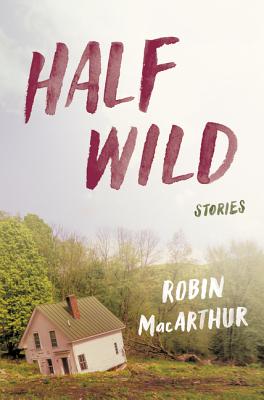 Half Wild (Hardcover)
Stories
Ecco, 9780062444394, 224pp.
Publication Date: August 2, 2016
* Individual store prices may vary.
Description
"This heartbreakingly honest and authentic fiction will make you weep over, laugh at, and finally cheer for, mothers and daughters, sons and fathers, lovers and losers, and the human race in general. Half Wild is American fiction, and American literature, at its very best."—Howard Frank Mosher, author of The Great Northern Express and Northern Borders
Spanning nearly forty years, the stories in Robin MacArthur's formidable debut give voice to the dreams, hungers, and fears of a diverse cast of Vermonters—adolescent girls, aging hippies, hardscrabble farmers, disconnected women, and solitary men. Straddling the border between civilization and the wild, they all struggle to make sense of their loneliness and longings in the stark and often isolating enclaves they call home—golden fields and white-veiled woods, dilapidated farmhouses and makeshift trailers, icy rivers and still lakes rouse the imagination, tether the heart, and inhabit the soul.
In "Creek Dippers," a teenage girl vows to escape the fate that has trapped her eccentric mother. In "God's Country," an elderly woman is unexpectedly reminded of a forbidden youthful passion and the chance she did not take. Returning to her childhood house when her mother falls ill, a daughter grapples with her own sense of belonging in "The Women Where I'm From."
With striking prose powerful in its clarity and purity, MacArthur effortlessly renders characters—men and women, young and old—cleaved to the fierce and beautiful land that has defined them.
About the Author
Editor, Robin MacArthur, is a third-generation Vermonter from Marlboro who has been studying Vermont-based fiction (and writing her own) since she left for college at eighteen. She has an MFA in Fiction from Vermont College of Fine Arts; her essays and stories about Vermont have appeared in Orion, Shenandoah, Hunger Mountain and Alaska Quarterly.
Praise For Half Wild: Stories…
"Move over Annie Proulx, Raymond Carver, and Flannery O'Connor. Make room for Vermont's own Robin MacArthur. Half Wild is American fiction, and American literature, at its very best."

"MacArthur writes with the ear of a musician and a classic, pure command of the short story form, like a dispatch from Eudora Welty in the great north woods."

"Half Wild... made me feel a bittersweet nostalgia for all the possible lives I could have led. This is a beautiful and emotionally rich book and it casts a big spell."

"Feral, wise, deft, elegant, luminous, Robin MacArthur's stories inhabit a reader with shimmering wonder."

"Robin MacArthur is a striking new voice and Half Wild is a stormy marvel of a debut."

"MacArthur is able to render complicated situations precisely and depict tenderness and harshness with an equally deft hand."

"MacArthur's multilayered tales involve heady internalization as characters push beyond their preoccupations to inch toward resolution."

"Each powerful story in this collection becomes part of a fearsome whole, one that celebrates the ways in which memory itself is half wild."