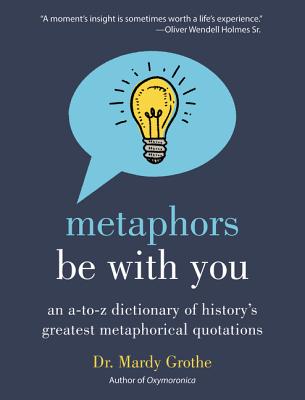 Metaphors Be With You
An A to Z Dictionary of History's Greatest Metaphorical Quotations
Hardcover

* Individual store prices may vary.
Other Editions of This Title:
Paperback (12/5/2017)
Description
"An idea is a feat of association, and the height of it is a good metaphor."  — Robert Frost
For 3,000 years, great thinkers and writers have relied on the device of metaphor to articulate profound thoughts, give voice to powerful emotions, and creatively explain complex ideas.  But metaphorical language is not the sole province of poets, philosophers, and playwrights.  If you've ever tried to describe a broken heart, a thankless child, or a glorious triumph, you know how valuable—and compelling—the perfect metaphor can be. 
In Metaphors Be With You, respected quotation anthologist Dr. Mardy Grothe has created the definitive collection of history's greatest metaphorical quotations.  While crafting his lists of "The Ten Best Things Ever Said" on 250 topics of deep human interest, Dr. Mardy examined more than five million metaphorical observations from literature, politics, philosophy, religion, history, pop culture, and more.
Essential for writers, readers, and language aficionados, this remarkable sourcebook breaks new ground by using QR Codes to digitally integrate it with "Dr. Mardy's Dictionary of Metaphorical Quotations" (DMDMQ), the world's largest online database of metaphorical quotations. The elegant synergy between print and technology provides curious readers with detailed source information for all quotations, innumerable "Error Alerts," countless quotation backstories, and a wealth of other quotations to further their knowledge and deepen their understanding of favorite quotations.
Whether you're crafting a speech, writing a novel, or simply searching for new ways to express yourself, this meticulously curated compendium is as delightful to read as it is invaluable to own—and sure to inspire with the perfect metaphor every time.
Praise For Metaphors Be With You: An A to Z Dictionary of History's Greatest Metaphorical Quotations…
"Metaphors Be With You is a head-smacking, jaw-dropping compendium of shimmering gems of thought that not only energized, inspired, and entertained me, but powerfully displayed the richness, variety, and strength of metaphor in human discourse. Reading the book, and using the QR Codes, is the equivalent of a mini-liberal-arts education. An engaging read, this book will delight anyone who has ever been moved by a metaphor."
— Rosalie Maggio, author of How to Say It

"Mardy Grothe describes Metaphors Be With You as 'a museum of quotations' but, thanks to his innovative use of QR codes linked to an online database, the book is a living, breathing museum of metaphorical masterpieces all language lovers will want to explore."
— James Geary, author of I Is an Other: The Secret Life of Metaphor and How It Shapes the Way We See the World

"Language is metaphor, and the English language never metaphor it didn't like. In Metaphors Be With You, renowned quotation hunter-gatherer Dr. Mardy Grothe displays the brightest metaphors ever created."
— Richard Lederer, author of Anguished English

"Mardy Grothe has been wandering on the shores of the English language collecting quotations his whole life. There's an ocean of quotations out there and he has picked the best in this delightful new book."
— Anu Garg, founder of Wordsmith.org

"This thoughtfully compiled collection of metaphors is a rich resource for writers and a pleasant diversion for lovers of language."
— Shelf Awareness
Harper, 9780062445339, 528pp.
Publication Date: December 6, 2016
About the Author
 Dr. Mardy Grothe is a retired psychologist, management consultant, and platform speaker; the author of six books on words and language; the creator of Dr. Mardy's Dictionary of Metaphorical Quotations; and one of America's most beloved quotation anthologists. He lives in Southern Pines, North Carolina, with his wife, Katherine Robinson.
or
Not Currently Available for Direct Purchase