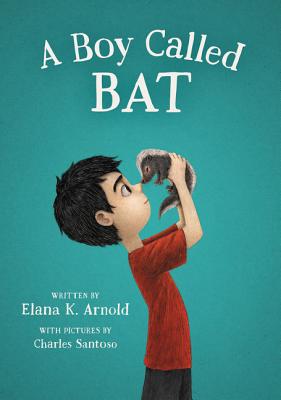 A Boy Called Bat (Hardcover)
Walden Pond Press, 9780062445827, 208pp.
Publication Date: March 14, 2017
* Individual store prices may vary.
Description
The first book in a funny, heartfelt, and irresistible young middle grade series starring an unforgettable young boy on the autism spectrum, from acclaimed author Elana K. Arnold and with illustrations by Charles Santoso.
For Bixby Alexander Tam (nicknamed Bat), life tends to be full of surprises—some of them good, some not so good. Today, though, is a good-surprise day. Bat's mom, a veterinarian, has brought home a baby skunk, which she needs to take care of until she can hand him over to a wild-animal shelter.
But the minute Bat meets the kit, he knows they belong together. And he's got one month to show his mom that a baby skunk might just make a pretty terrific pet.
"This sweet and thoughtful novel chronicles Bat's experiences and challenges at school with friends and teachers and at home with his sister and divorced parents. Approachable for younger or reluctant readers while still delivering a powerful and thoughtful story" (from the review by Brightly.com, which named A Boy Called Bat a best book of 2017).
About the Author
Elana K. Arnold grew up in Southern California, where she was lucky enough to have her own perfect pet—a gorgeous mare named Rainbow—and a family who let her read as many books as she wanted. She is the author of picture books, middle grade novels, and books for teens, including the National Book Award finalist What Girls Are Made Of. She lives in Southern California with her husband, two children, and a menagerie of animals. You can find her online at www.elanakarnold.com.
Charles Santoso loves drawing little things in his little journal and dreaming about funny, wondrous stories. He lives and works in Sydney, Australia. You can visit Charles online at www.charlessantoso.com.
Praise For A Boy Called Bat…
★ "Written in third person, this engaging and insightful story makes readers intimately aware of what Bat is thinking and how he perceives the events and people in his life. With empathy and humor, Arnold delves into Bat's relationships with his divorced parents, older sister, teachers, and classmates."
— Publishers Weekly (starred review)

"Brimming with quietly tender moments, subtle humor, and authentically rendered family dynamics, Arnold's story, the first in a new series, offers a nonprescriptive and deeply heartfelt glimpse into the life of a boy on the autism spectrum."
— ALA Booklist

"Comfortably familiar and quietly groundbreaking, this introduction to Bat should charm readers, who will likely look forward to more opportunities to explore life from Bat's particular point of view."
— Kirkus Reviews

"A Boy Called Bat will help children understand autism and that everybody loves animals."
— Temple Grandin, author of Animals In Translation

"Delightful, endearing, and utterly relatable, Bat Tam is destined to be a dear and necessary friend for young readers. I adore him and his story."
— Anne Ursu, author of The Real Boy

"A Boy Called Bat is sensitive, sweet, and super fun. I read this book with the biggest smile on my face."
— Corinne Duyvis, author of Otherbound