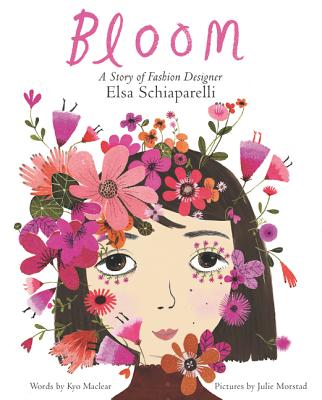 Bloom
A Story of Fashion Designer Elsa Schiaparelli
Hardcover

* Individual store prices may vary.
Spring 2018 Kids' Indie Next List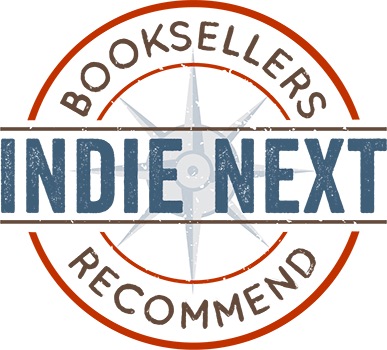 "Bloom explores Elsa Schiaparelli's lifelong interest in fashion design, an art that is often dismissed as frivolous. However, Maclear takes her protagonist's artistic journey seriously, even when that art is playful and spontaneous. Watch her create dresses with lobster prints and hats that look like shoes! Through bright, vigorous color and beautifully stylized illustrations, the book readily draws us into young Elsa's perspective. Maclear and Morstad have the rare gift of presenting a biography that truly feels alive."
— Sarah Sorensen, Bookbug, Kalamazoo, MI
View the List
Description
A dazzling picture book biography of one of the world's most influential designers, Elsa Schiaparelli.
Elsa dared to be different, and her story will not only dazzle, it will inspire the artist and fashionista in everyone who reads it. This nonfiction picture book is an excellent choice to share during homeschooling, in particular for children ages 4 to 6. It's a fun way to learn to read and as a supplement for activity books for children.
By the 1930s Elsa Schiaparelli had captivated the fashion world in Paris, but before that, she was a little girl in Rome who didn't feel pretty at all. Bloom: A Story of Fashion Designer Elsa Schiaparelli is the enchanting story for young readers of how a young girl used her imagination and emerged from plain to extraordinary.
As a young girl in Rome, Elsa Schiaparelli (1890–1973) felt "brutta" (ugly) and searched all around her for beauty. Seeing the colors of Rome's flower market one day, young Elsa tried to plant seeds in her ears and nose, hoping to blossom like a flower. All she got was sick, but from that moment, she discovered her own wild imagination.
In the 1920 and '30s, influenced by her friends in the surrealist art movement, Schiaparelli created a vast collection of unique fashion designs—hats shaped like shoes, a dress adorned with lobsters, gloves with fingernails, a dress with drawers and so many more. She mixed her own bold colors and invented her own signature shades, including shocking pink.
Bloom: A Story of Fashion Designer Elsa Schiaparelli is a stunning and sophisticated picture book biography that follows Schiaparelli's life from birth and childhood to height of success.
Kyo Maclear and Julie Morstad (creators of Julia, Child) have gorgeously interpreted Schiaparelli's life. Maclear tells a lyrical story with moments both poignant and humorous and Morstad's elegant imagery saturates the pages with Schiaparelli-inspired shapes and colors.
Informative backmatter and suggested further reading included.
Praise For Bloom: A Story of Fashion Designer Elsa Schiaparelli…
"The duo behind Julia, Child offers a bold first-person biography of designer Elsa Schiaparelli." — Publishers Weekly (starred review)
"Morstad's vivid mixed-media have an imaginativeness to match Schiaparelli's surrealistic designs (playing with a beloved uncle as a child, she soars amid the stars and planets of the cosmos) and feature splashes of Schiaparelli's trademark shade of pink...[It's] a dramatic tribute worthy of its audacious subject." — Publishers Weekly (starred review)
"With beautiful, richly colorful, and playful artwork nicely evoking the character of its subject, this lyrical biography of Elsa Schiaparelli offers picture-book readers an enlightening introduction to the wildly inventive and influential fashion designer." — Booklist
"Morstad's delicate watercolor illustrations do a great job of depicting Schiaparelli's designs, but subtle hints—pink flowers composed of dresses, shoes, and gloves, for instance—emphasize how Schiaparelli's view of the world shaped her artwork." — Booklist
"Little ones who "dare to be different" will be inspired." — Booklist
"In full scenes and vignettes, Morstad's mixed-media paintings capture the lanky, classy panache of Schiap and her designs." — Bulletin of the Center for Children's Books
"Using Schiaparelli herself as narrator, this picture-book biography tells the story of her unsettled childhood and rise to premier couturier for a young audience." — Bulletin of the Center for Children's Books
"Together Maclear and Morstad have created a picture book that, like Elsa's art, is "daring, different, and whole" and that reminds us that "together, we BLOOM and BLOOM."" — Jennifer Oleinik, Shelf Awareness (blog)
"Morstad's (When Green Becomes Tomatoes) lush illustrations match Maclear's enlightening narrative... [her] illustrations rise and fall with Elsa's emotional and artistic journey." — Jennifer Oleinik, Shelf Awareness (blog)
HarperCollins, 9780062447616, 40pp.
Publication Date: February 6, 2018
About the Author
Kyo Maclear is the author of many books for children, including Bloom: A Story of Fashion Designer Elsa Schiaparelli, and some for adults. When she was a little girl, she wanted very badly to be a fashion designer. She spent countless hours drawing odd dresses, including a very special cloud dress. Her style muses include her mother, Patti Smith, the residents of Moominvalley, and anyone with a sense of casual and androgynous flair. Though she loved writing about Schiaparelli's signature color, shocking pink, Kyo's own favorite color is blue. She plants her garden with flowers in all shades of blue, and in spring when they bloom, it's a blue extravaganza. Kyo makes her home in Toronto, where she lives with her two sons and husband, a musician. You can find her at www.kyomaclearkids.com.
Julie Morstad is the author and illustrator of Today and How To. She has illustrated many books for children, including Swan, The Dress and the Girl, This Is Sadie, and Bloom: A Story of Fashion Designer Elsa Schiaparelli. Julie makes her home in Vancouver, British Columbia, where she lives with her family. You can find her at www.juliemorstad.com.