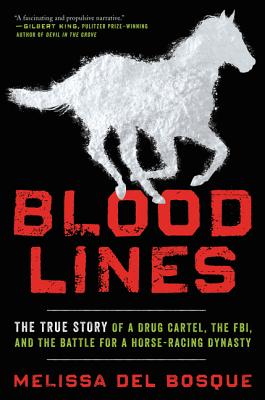 Bloodlines
The True Story of a Drug Cartel, the FBI, and the Battle for a Horse-Racing Dynasty
Hardcover

* Individual store prices may vary.
Other Editions of This Title:
Digital Audiobook (9/11/2017)
Paperback (9/25/2018)
Description
The riveting and suspenseful account of two young FBI agents in a pursuit of a drug cartel's most fearsome leader, Miguel Treviño
Drugs, money, cartels: this is what FBI rookie Scott Lawson expected when he was sent to the border town of Laredo, but instead he's deskbound writing intelligence reports about the drug war. Then, one day, Lawson is asked to check out an anonymous tip: a horse was sold at an Oklahoma auction house for a record-topping price, and the buyer was Miguel Treviño, one of the leaders of the Zetas, Mexico's most brutal drug cartel. The source suggested that Treviño was laundering money through American quarter horse racing. If this was true, it offered a rookie like Lawson the perfect opportunity to infiltrate the cartel. Lawson teams up with a more experienced agent, Alma Perez, and, taking on impossible odds, sets out to take down one of the world's most fearsome drug lords. 
In Bloodlines, Emmy and National Magazine Award-winning journalist Melissa del Bosque follows Lawson and Perez's harrowing attempt to dismantle a cartel leader's American racing dynasty built on extortion and blood money. 
With extensive access to investigative evidence and in-depth interviews with key players, del Bosque turns more than three years of research and her decades of reporting on Mexico and the border into a gripping narrative about greed and corruption. Bloodlines offers us an unprecedented look at the inner workings of the Zetas and US federal agencies, and opens a new vista onto the changing nature of the drug war and its global expansion. 
Praise For Bloodlines: The True Story of a Drug Cartel, the FBI, and the Battle for a Horse-Racing Dynasty…
"Fast-paced. . . . Del Bosque . . . proves herself fluent in detailing the exceedingly different, but equally rich, milieus of cartel kingpins, Texas equestrians and federal investigators. . . . Provide[s] a penetrating glimpse of borderland culture set within the context of a briskly moving police procedural."
— New York Times Book Review

"Absorbing. . . . In Bloodlines, the author gives us both the engrossing drama of a police procedural—from seeming dead ends to panic-stricken emergencies—and a scrupulous journalistic account of a significant episode in the drug wars."
— Wall Street Journal

"Action and intrigue spill off the pages. . . .  Del Bosque [is] a skilled reporter, unfussy writer, and a storyteller of intense focus. Her book opens up the world of investigative nuance and bureaucratic jostling that could, in less capable hands, feel arcane."
— Texas Monthly

"Fans of true crime and readers curious about the inner workings of Mexican drug cartels should enjoy this well-researched story."
— Kirkus Reviews (starred review)

"Following the intricacies of the Treviños' sophisticated plan, the FBI's race against other federal agencies and the press to crack it, the gut-dropping dynamics of cartel coercion and retribution, and the eventual, dramatic trial, del Bosque recounts a true story that reads like crime fiction."
— Booklist (starred review)

"A fascinating and propulsive narrative, brimming with intrigue, betrayal, and impending violence at every turn. With authoritative reporting and an artful hand, del Bosque drops us onto the front lines of this dangerous narco terrain, and the story she tells will keep readers turning pages all through the night."
— Gilbert King, Pulitzer Prize-winning author of Devil in the Grove

"A remarkable, incisive, and riveting read. Bloodlines is a harrowing portrayal of a cartel family's thirst for power, money and fast horses. Del Bosque's reporting breaks new ground in offering us a critical, up close look into organized crime's growing influence over the sport of kings, and the deadly consequences."
— Alfredo Corchado, author of Midnight in Mexico

"Through suspense, excellent reporting and impeccable writing, Melissa del Bosque tells a fascinating tale of corruption, extortion, and the intricacies of money laundering by a drug cartel that transformed the face of organized crime in the Western Hemisphere."
— Guadalupe Correa-Cabrera, author of Los Zetas Inc.

"Few writers understand the U.S.-Mexico border as well as Melissa del Bosque. And here, with her meticulous reporting, she delivers a fascinating, and at times heart-stopping account of a cross-border case that shows how Mexico's drug cartels live and operate on both sides of the line."
— Ginger Thompson, Senior Reporter, ProPublica

"In Bloodlines, Melissa del Bosque has written a nonfiction thriller that reads better than the best crime novels. No one writes better about the dark side of life on the Texas-Mexico border, because no other writer understands it better than she does."
— Mimi Swartz, Executive Editor, Texas Monthly
Ecco, 9780062448484, 400pp.
Publication Date: September 12, 2017
About the Author
Melissa del Bosque is an award-winning investigative journalist who has covered the U.S.-Mexico border region for the past two decades. Her work has been published in international and national publications including, Time, The Guardian and Marie Claire. Her work has also been featured in television and radio on Democracy Now!, MSNBC, PBS, the BBC and NPR. Currently, she is an investigative reporter with The Texas Observer and a Lannan reporting fellow with The Investigative Fund.
or
Not Currently Available for Direct Purchase