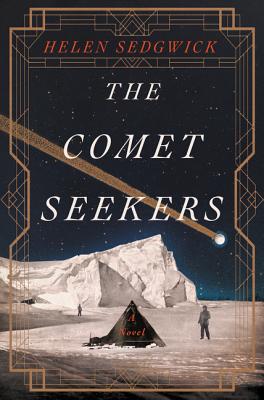 The Comet Seekers
A Novel
Hardcover

* Individual store prices may vary.
Other Editions of This Title:
Digital Audiobook (10/10/2016)
Digital Audiobook (10/10/2016)
Description
A magical, intoxicating debut novel, both intimate and epic, that intertwines the past, present, and future of two lovers bound by the passing of great comets overhead and a coterie of remarkable ancestors.
Róisín and François are immediately drawn to each other when they meet at a remote research base on the frozen ice sheets of Antarctica. At first glance, the pair could not be more different. Older by a few years, Róisín, a daughter of Ireland and a peripatetic astronomer, joins the science team to observe the fracturing of a comet overhead. François, the base's chef, has just left his birthplace in Bayeux, France, for only the second time in his life. Yet devastating tragedy and the longing for a fresh start, which they share, as well as an indelible but unknown bond that stretches back centuries, connect them to each other.
Helen Sedgwick carefully unfolds their surprisingly intertwined paths, moving forward and back through time to reveal how these lovers' destinies have long been tied to each other by the skies—the arrival of comets great and small. In telling Róisín and François's story, Sedgwick illuminates the lives of their ancestors, showing how strangers can be connected and ghosts can be real, and how the way we choose to see the world can be as desolate or as beautiful as the comets themselves.
A mesmerizing, skillfully crafted, and emotionally perceptive novel that explores the choices we make, the connections we miss, and the ties that inextricably join our fates, The Comet Seekers reflects how the shifting cosmos unite us all through life, beyond death, and across the whole of time.
Praise For The Comet Seekers: A Novel…
"A gorgeous novel that should resonate with fans of Audrey Niffenegger's The Time Traveller's Wife…A breath-taking tale of love, loss and heartbreak. You'll be utterly captivated from the first page." — Elle (Book of the Month)
"An exquisitely layered, thrilling novel, which leaps across centuries and continents to delve into the role of destiny and the elusiveness of perception and memory." — Carmela Ciuraru, New York Times
"A haunting and wonderfully ethereal debut novel about first loves, inescapable loss, and the search for one's place in a complicated world . . . Uniquely structured and stylistically fascinating, the multilayered story comes full circle in a denouement that is both heartbreaking and satisfying." — Publishers Weekly (starred review)
"Haunting and beautiful, THE COMET SEEKERS follows a constellation of lives from modern Antarctica to medieval England, all of them connected by an extraordinary mystery hidden deep in the past. A captivating story, deftly told, about those who are driven to explore, and those who must stay behind." — Helene Wecker, New York Times bestselling author of THE GOLEM AND THE JINNI
"A fluid narrative voice, pointedly lyrical and without a trace of irony, gives equal weight to the perceptions of both ghosts and living characters. And, as in the work of contemporary fabulists like Kelly Link, Helen Oyeyemi and Audrey Niffenegger, the real intersects matter-of-factly with the supernatural…A different spin to the idea of a love that's meant to be." — Andrea Barrett, New York Times Book Review
"A stellar love story that echoes down decades and centuries." — Glamour
"Readers will be enveloped in the magical world that Sedgwick creates and will grapple with the big issues she tackles-love, family, freedom, and loneliness. Those drawn to intimate stories of family drama are sure to respond to this beautiful, character-driven novel, which is reminiscent of the work of Amy Bloom and Elizabeth Strout." — Booklist
"Sedgwick weaves science and the imagination into a melancholy yet magical tale…Readers would do well to suspend disbelief and open their hearts to the romance, the lush prose, and the mystery of Sedgwick's original and inventive debut." — Library Journal
"In her ambitious . . . debut novel, journalist, editor, and former research physicist Sedgwick leaps through time, from 1066 to the present, following the trajectories of her characters' lives as various comets surge gloriously through the night skies." — Kirkus
"Helen Sedgwick has written a first novel of remarkable grace, beauty and insight, in which a careful love of language meets an immense storytelling talent. I was moved and inspired by this book." — Joseph O'Connor, author of STAR OF THE SEA
"THE COMET SEEKERS is a brave and tender debut from one of the brightest new stars of the literary world. It's one of the most vivid, original and magical books I've read in years." — Kirsty Logan, author of THE GRACEKEEPERS
"Inspired by the mysteries of the Bayeux Tapestry, a work of art nearly a millennium old, THE COMET SEEKERS weaves an exquisite tale of love and fate, impermanence and infinity, the pull of the sky and the bonds of earth. Helen Sedgwick charts the paths of the cosmos and the human heart with unnerving intelligence and grace. This is a novel about the universe, yes, but also about spaces small and secret-the homes we make for ourselves: how we build them, why we leave, and what it means to stay. A luminous debut." — Leslie Parry, author of CHURCH OF MARVELS
Harper, 9780062448767, 304pp.
Publication Date: October 11, 2016
About the Author
Helen Sedgwick is a writer, editor, and physicist, who grew up in London and now lives in the Scottish highlands. Helen was the managing director of Cargo Publishing from 2014 to 2015, and she founded Wildland Literary Editors in 2012. The same year she won a Scottish Book Trust New Writers Award and since then her writing has been published internationally and broadcast on BBC Radio 4. She was awarded a distinction from the MLitt in Creative Writing at Glasgow University in 2008. Before that, she worked as a research physicist, earning a PhD in Physics from Edinburgh University. She lives near the Dornoch Firth with her partner, photographer Michael Gallacher.
or
Not Currently Available for Direct Purchase