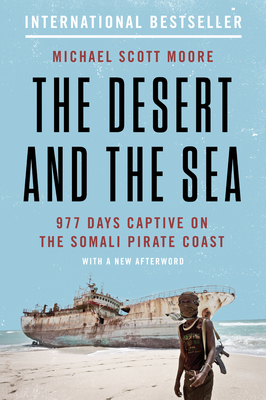 The Desert and the Sea
977 Days Captive on the Somali Pirate Coast
Paperback

* Individual store prices may vary.
Other Editions of This Title:
Digital Audiobook (7/23/2018)
Hardcover (7/24/2018)
Compact Disc (7/24/2018)
MP3 CD (7/24/2018)
Compact Disc (7/24/2018)
Description
Michael Scott Moore, a journalist and the author of Sweetness and Blood, incorporates personal narrative and rigorous investigative journalism in this profound and revelatory memoir of his three-year captivity by Somali pirates—a riveting,thoughtful, and emotionally resonant exploration of foreign policy, religious extremism, and the costs of survival.
In January 2012, having covered a Somali pirate trial in Hamburg for Spiegel Online International—and funded by a grant from the Pulitzer Center on Crisis Reporting—Michael Scott Moore traveled to the Horn of Africa to write about piracy and ways to end it. In a terrible twist of fate, Moore himself was kidnapped and subsequently held captive by Somali pirates. Subjected to conditions that break even the strongest spirits—physical injury, starvation, isolation, terror—Moore's survival is a testament to his indomitable strength of mind. In September 2014, after 977 days, he walked free when his ransom was put together by the help of several US and German institutions, friends, colleagues, and his strong-willed mother. 
Yet Moore's own struggle is only part of the story: The Desert and the Sea falls at the intersection of reportage, memoir, and history. Caught between Muslim pirates, the looming threat of Al-Shabaab, and the rise of ISIS, Moore observes the worlds that surrounded him—the economics and history of piracy; the effects of post-colonialism; the politics of hostage negotiation and ransom; while also conjuring the various faces of Islam—and places his ordeal in the context of the larger political and historical issues.           
A sort of Catch-22 meets Black Hawk Down, The Desert and the Sea is written with dark humor, candor, and a journalist's clinical distance and eye for detail. Moore offers an intimate and otherwise inaccessible view of life as we cannot fathom it, brilliantly weaving his own experience as a hostage with the social, economic, religious, and political factors creating it. The Desert and the Sea is wildly compelling and a book that will take its place next to titles like Den of Lions and Even Silence Has an End.
Praise For The Desert and the Sea: 977 Days Captive on the Somali Pirate Coast…
"If you read Michael Scott Moore's book, first clear your schedule, because you won't put it down until you've finished it. The Desert and The Sea is an astonishing and harrowing story, told with great humanity, by a writer who ventures where few will ever go." — Susan Casey, author of Voices in the Ocean: A Journey Into the Wild and Haunting World of Dolphins
"Highly addictive reading material….Michael Scott Moore delivers an amazing true-life thriller, one of the most suspenseful books written in recent years, that tracks across oceans and underworlds, culminating in a very rewarding, deeply profound end." — Jeffrey Gettleman, Pulitzer Prize winner and author of Love, Africa
"His account of his nearly three years of captivity is a testament to the strength of one man's indomitable spirit and Moore's great gifts of observation, his humor, wits, and evident gifts as a storyteller. Thank heavens he lived to tell the story, which everyone should now read and cheer." — Tom Barbash, author of Stay Up With Me
"Among the virtues of this account is that even when discussing sensational happenings, Moore never overdramatizes. This exceptional memoir will attract many readers." — Library Journal (starred review)
A harrowing and affecting account of two and a half years of captivity at the hands of Somali pirates. A deftly constructed and tautly told rejoinder to Robert Louis Stevenson's Kidnapped, sympathetic but also sharp-edged. — Kirkus Reviews (starred review)
When a young man who is good and brave, keenly intelligent and observant, with a lively mind and a learned sense of human and historical complexity, is kidnapped by pirates and kept as a hostage for three years in Somalia's harsh and violent bush, the result is The Desert and the Sea. However much you wish Michael Scott Moore had never had cause to write it, this book could not be more engrossing, harrowing, suspenseful, wrenchingly humane and illuminating. — Francisco Goldman
"Not only the definitive book on Somali pirates, but a remarkable work of literature too." — Ben Rawlence
Harper Wave, 9780062449184, 480pp.
Publication Date: May 28, 2019
About the Author
Michael Scott Moore is an accomplished author and journalist, a California native and a longtime resident of Berlin. His comic novel about L.A., Too Much of Nothing, was published in 2003, and Sweetness and Blood, a travel book about the spread of surfing to odd corners of the world, was named a book of the year by The Economist in 2010. Moore has written about politics, literature, and travel for The Atlantic, Der Spiegel, Pacific Standard, Bloomberg Businessweek, and the Los Angeles Review of Books.
or
Not Currently Available for Direct Purchase