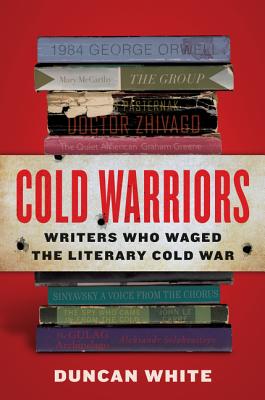 Cold Warriors (Hardcover)
Writers Who Waged the Literary Cold War
Custom House, 9780062449818, 800pp.
Publication Date: August 27, 2019
Other Editions of This Title:
Compact Disc (8/27/2019)
Compact Disc (8/27/2019)
MP3 CD (8/27/2019)
* Individual store prices may vary.
Description
A brilliant, invigorating account of the great writers on both sides of the Iron Curtain who played the dangerous games of espionage, dissidence and subversion that changed the course of the Cold War.

During the Cold War, literature was both sword and noose. Novels, essays and poems could win the hearts and minds of those caught between the competing creeds of capitalism and communism. They could also lead to exile, imprisonment or execution if they offended those in power. The clandestine intelligence services of the United States, Britain and the Soviet Union had secret agents and vast propaganda networks devoted to literary warfare. But the battles were personal, too: friends turning on each other, lovers cleaved by political fissures, artists undermined by inadvertent complicities.
In Cold Warriors, Harvard University's Duncan White vividly chronicles how this ferocious intellectual struggle was waged on both sides of the Iron Curtain. The book has at its heart five major writers—George Orwell, Stephen Spender, Mary McCarthy, Graham Greene and Andrei Sinyavsky—but the full cast includes a dazzling array of giants, among them Aleksandr Solzhenitsyn, John le Carré, Richard Wright, Ernest Hemingway, Boris Pasternak, Gioconda Belli, Arthur Koestler, Vaclav Havel, Joan Didion, Isaac Babel, Howard Fast, Lillian Hellman, Mikhail Sholokhov —and scores more.
Spanning decades and continents and spectacularly meshing gripping narrative with perceptive literary detective work, Cold Warriors is a welcome reminder that, at a moment when ignorance is celebrated and reading seen as increasingly irrelevant, writers and books can change the world.
Cold Warriors includes 20-30 black-and-white photographs.
About the Author
Duncan White is an award-winning journalist and academic. He is Assistant Director of the History and Literature department at Harvard University and a lead book reviewer for the Daily Telegraph. He is the author of Vladimir Nabokov: Late Modernism, the Cold War and the Literary Marketplace. He lives in Boston, Massachusetts.
Praise For Cold Warriors: Writers Who Waged the Literary Cold War…
"Brilliant…a marvelous tapestry of postwar literature and politics. Now more than ever we need a book like this to remind us of the importance of writers and the written word."
— Kevin Birmingham, author of
The Most Dangerous Book
"A stunning achievement. Duncan White combines deep research, epic sweep, and sparkling writing to give us the best account of the literary Cold War to date."
— Hugh Wilford, author of
The Mighty Wurlitzer: How the CIA Played America
"Both profound and profoundly important and as engaging as a gripping Cold War thriller."
— Kirkus Reviews
(starred review)
"A compelling reminder of literature's influence—and vulnerability—in a world of power politics."
— Booklist
(starred review)
"Riveting and insightful."
— Library Journal
"Cold Warriors
is a big and brash book at the heart of which is the surprise that all in all, even in these godforsaken times, the pen managed to remain mightier than the sword."
— National Review
"Consistently absorbing."
— Wall Street Journal
"Gripping and lively…Exploring espionage, imprisonment, and authors played like chess pieces by powerful heads of state, White's book weaves together deeply researched Cold War machinations with a savvy and intelligent look at the literature produced in its midst, who created it, and how."
— Boston Globe
"
Cold Warriors
reads like a thriller…However, this is also a book about personal and political liberty; about the freedom to write, mock and dissent; about truth, lies and wilful ignorance."
— The Times (UK)
"Fascinating… As in all the best works of nonfiction, comedy and tragedy rub up against each other with wonderful inappropriateness."
— The Sunday Telegraph
"Ambitious and constantly rewarding…A reminder of a time when literature was a life-or-death matter."
— The Spectator
"Definitive…White's meticulous account of these times unfolds a bit like a thriller itself."
— The Outline
"Totally involving."
— Christian Science Monitor
"Easily one of the best literary history books you'll read in 2019."
— InsideHook
"A vivid, personality-driven chronicle of books going to war – and of writers finding themselves either caught up in the gears of international spycraft or acting as spies themselves. In these pages, readers will encounter the writing of familiar figures, including George Orwell, Václav Havel, Ernest Hemingway, Richard Wright, and Joan Didion, but in a completely different context… "Cold Warriors" serves up these stories with an unfailing dramatic flair, which makes for irresistible reading."
— Christian Science Monitor