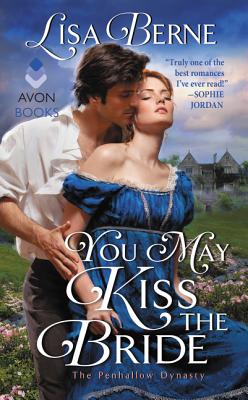 You May Kiss the Bride (Mass Market)
The Penhallow Dynasty
Avon, 9780062451781, 384pp.
Publication Date: March 28, 2017
* Individual store prices may vary.
Description
A Publishers Weekly Best of the Year Pick!
In an unforgettable debut, Lisa Berne introduces you to the Penhallow Dynasty—men destined to marry, but hesitant to love.
Wealthy and arrogant, Gabriel Penhallow knows it's time to fulfill his dynastic duty. All he must do is follow "The Penhallow way"—find a biddable bride, produce an heir and a spare, and then live separate lives. It's worked so well for generations, certainly one kiss with the delectable Livia Stuart isn't going to change things. Society dictates he marry her, and one chit is as good as another as long as she's from a decent family.
But Livia's transformation from an original to a mundane diamond of the first water makes Gabriel realize he desperately wants the woman who somehow provoked him into that kiss. And for all the ladies who've thrown themselves at him, it's the one who wants to flee whom he now wants. But how will he keep this independent miss from flying away?
About the Author
Lisa Berne read her first Georgette Heyer book at fourteen, and was instantly captivated. Later, she was a graduate student, a teacher, and a grant writer — and is now an author of historical romance, with her first three books set in Regency-era Britain. She lives with her family in the Pacific Northwest.
Praise For You May Kiss the Bride: The Penhallow Dynasty…
"Really fun! Very smart and engaging."
— Megan Frampton, author of Why Do Dukes Fall in Love?

"UNPUTDOWNABLE! This book consumed me. Truly one of the absolute best romances I've ever read!"
— New York Times bestselling author Sophie Jordan

"Author Berne offers a masterful Regency debut...A sheer delight."
— Kirkus Reviews (starred review)

"Berne's consistent, engaging writing and solid knowledge of the period make for a wonderful evening's reading."
— Publishers Weekly (starred review)

"Berne's exceptional romance debut, the first in the Penhallow Dynasty series, will dazzle readers with its irresistible mix of graceful writing tempered with just the right dash of crisp wit, splendidly captured Regency setting and atmosphere, and beautifully nuanced characters."
— Booklist (starred review)

"Prepare to be swept away! Lisa Berne's sensuous, richly imaginative debut will delight and satisfy you. I savored every page!"
— Lenora Bell

"Definitely recommended to Regency lovers."
— Historical Novel Society

"Delicious [...] Berne's debut is a lingering homage to the heyday of the Regency historical romance — a lovingly crafted story of opposites forced together by society's censure, quirky side-characters and stolen kisses."
— Sarah MacLean, New York Times bestselling author of The Day of the Duchess