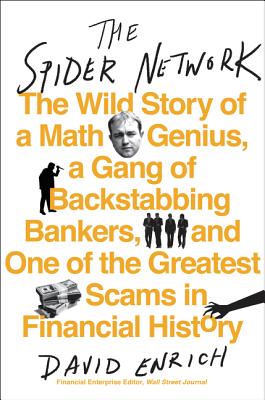 The Spider Network (Hardcover)
The Wild Story of a Math Genius, a Gang of Backstabbing Bankers, and One of the Greatest Scams in Financial History
Custom House, 9780062452986, 528pp.
Publication Date: March 21, 2017
* Individual store prices may vary.
Description
SHORT-LISTED FOR THE FINANCIAL TIMES BUSINESS BOOK OF THE YEAR
The Wall Street Journal's award-winning business reporter unveils the bizarre and sinister story of how a math genius named Tom Hayes, a handful of outrageous confederates, and a deeply corrupt banking system ignited one of the greatest financial scandals in history.
In 2006, an oddball group of bankers, traders and brokers from some of the world's largest financial institutions made a startling realization: Libor—the London interbank offered rate, which determines interest rates on trillions in loans worldwide—was set daily by a small group of easily manipulated functionaries. Tom Hayes, a brilliant but troubled mathematician, became the lynchpin of shadowy team that used hook and crook to take over the process and set rates that made them a fortune, no matter the cost to others. Among the motley crew was a French trader nicknamed "Gollum"; the broker "Abbo," who liked to publicly strip naked when drinking; a Kazakh chicken farmer turned something short of financial whiz kid; an executive called "Clumpy" because of his patchwork hair loss; and a broker uncreatively nicknamed "Big Nose." Eventually known as the "Spider Network," Hayes's circle generated untold riches —until it all unraveled in spectacularly vicious, backstabbing fashion.
Praised as reading "like a fast-paced John le Carré thriller" (New York Times), "compelling" (Washington Post) and "jaw-dropping" (Financial Times), The Spider Network is not only a rollicking account of the scam, but a provocative examination of a financial system that was warped and shady throughout.
About the Author
David Enrich is the Finance Editor of the New York Times. He previously was Financial Enterprise Editor of the Wall Street Journal, heading an elite investigative unit at the paper. He previously served as the Journal's European Banking Editor in London. Enrich's coverage of the Libor scandal, based partly on years of secret access to Tom Hayes and his family, won him the Gerald Loeb Award for feature writing in 2016. He currently lives in New York with his wife and two sons.
Praise For The Spider Network: The Wild Story of a Math Genius, a Gang of Backstabbing Bankers, and One of the Greatest Scams in Financial History…
"[Enrich's] impressive reporting and writing chops are on full display in The Spider Network… From the start, the book reads like a fast-paced John le Carré thriller, and never lets up."
— William D. Cohan, New York Times Book Review

"With an unerring eye for detail, Enrich shows in this masterful work how a toxic stew of greed, arrogance and a lust for power led to a criminal scheme of unparalleled dimensions. It should be required reading for anyone who wants to understand the dirty underbelly of the financial world."
— Kurt Eichenwald, Pulitzer Prize winning author of The Informant

"Mr. Enrich effectively uses the unique access he secured to the mildly autistic UBS trader, Tom Hayes, who became the fall guy for the unfolding scandal, to produce a surprisingly human narrative...."
— Jonathan A. Knee, New York Times DealBook

"A damning look at the culture of trader chicanery… Enrich has sidestepped the temptation to slip into author-as-prosecutor mode, instead going the wry tour guide route to lucidly (and often hilariously) usher readers through the Looney Tunes world that wrought l'affaire Libor."
— John Helyar, coauthor of Barbarians at the Gate

"David Enrich is a masterful financial story teller using real time communications from the central figures. He weaves into his narrative not only what happened, but how it happened and why. Michael Lewis has a new rival."
— Sheila Bair, former chair of the FDIC and bestselling author of Bull by the Horns

"An absorbing read that provides both a meticulous dissection of an immense scandal as well as a fascinating human story."
— Bethany McLean, author of The Smartest Guys in the Room and All the Devils Are Here

"Dare I say it, but The Spider Network will snare you in its web of deceit, lies, corruption, manipulation and colorful characters. David Enrich's brilliant investigative expose will reverberate from Wall Street to Main Street."
— Harlan Coben, bestselling author of Home and Fool Me Once

"David Enrich has written an incredibly entertaining, globe-straddling inside account of how one trader turbocharged a greedy cabal that scammed savers and borrowers everywhere. A must read if you want to understand how big banks and traders really work."
— Marcus Brauchli, former Executive Editor of the Washington Post and Managing Editor of the Wall Street Journal

"So how did a socially awkward English math whiz mastermind manipulation of lending rates on a global scale? … In David Enrich's gripping tale, the characters have nicknames worthy of the Mafia, and their ethical compasses aren't much better."
— Paul Ingrassia, Pulitzer Prize winner, bestselling author of Crash Course

"A thrilling tour de force of reporting, revelation and reasoning. For anyone who wants to understand what really went on inside a scam of epic proportions, The Spider Network is unmissable."
— Iain Martin, author of Crash Bang Wallop