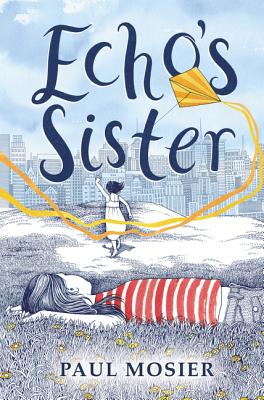 Echo's Sister
Hardcover

* Individual store prices may vary.
Description
From critically acclaimed author Paul Mosier, a Publishers Weekly Flying Start, comes a stunning story about the beauty of family, the power of community, and ultimately the strength of the human spirit.
Twelve-year-old El has planned on making her first week at a new school fantastic. She won't go by her given name, Laughter. She'll sit in the back of the classroom where she can make new friends. She won't even have time to think about all the fun her old friends are having without her. Everything will be great.

But when her dad picks her up after school and tells her that her younger sister, Echo, has a life-threatening illness, her world is suddenly turned upside down. And with her parents now pressed for time and money, El feels lost and powerless.
Then she befriends Octavius, the only other kid in school who gets what she's going through. As El begins to adjust to her new life, she soon finds that maybe a little hope and a lot of love can overcome any obstacle.
Praise For Echo's Sister…
"Mosier writes from the older sibling's perspective which gives this novel a fresh viewpoint. The details and dialogue ring true and will give middle graders an empathetic window into an emotional and deeply personal familial experience. A poignant tale." — School Library Journal
"Books like Echo's Sister are the reason authors are told to 'write what you know.' Paul Mosier breaks your heart a dozen times over, then patches it back up so that it's somehow larger than when you started." — Sarah Miller, author of Miss Spitfire
"Immediate and heartfelt. Ultimately positive and uplifting, but readers should keep a box of tissues nearby." — Kirkus Reviews
★"Accessible and compelling. [An] absorbing novel." — ALA Booklist (starred review)
HarperCollins, 9780062455673, 240pp.
Publication Date: August 7, 2018
About the Author
Paul Mosier began writing novels in 2011 but has written in some fashion his entire life. He is married and the father to two daughters, one of whom has passed to the next dimension. He lives near his place of birth in downtown Phoenix, Arizona. He loves listening to baseball on the radio, eating vegetarian food, drinking coffee, and talking nonstop. He has written three critically acclaimed books for middle grade readers: Train I Ride, Echo's Sister, and Summer and July. Visit him on his blog, novelistpaulmosier.wordpress.com.