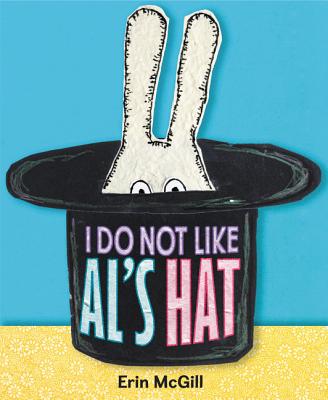 I Do Not Like Al's Hat (Hardcover)
Greenwillow Books, 9780062455765, 32pp.
Publication Date: January 24, 2017
* Individual store prices may vary.
Description
When Herb, a magician's rabbit, gets sick and tired of being pulled out of Abracadabra Al's hat, he quits and sets out to find a new job. A funny and irreverent picture book about standing up for yourself, complete with bright collage art and a healthy dose of friendship. "What a romp! Sure to be a read-aloud favorite."—School Library Journal
Herb the magician's rabbit loves the attention, the applause, and the carrots that are thrown on the stage every night by his adoring audience. But Herb does not like being stuffed into Abracadabra Al's hat and—Presto!—being pulled out by his ears. Ouch!
Finally fed up, Herb quits his job as a magician's rabbit and sets out to look for a new profession. Should he become a carrot farmer? Try his luck as a wild rabbit? Or take a risk and become a girl named Sophie's pet rabbit? This funny picture book stars a big and floppy-eared rabbit with some strong feelings about the importance of good workplace conditions. Herb is a great character to introduce at Easter, and his story of finding friendship and happiness against all odds will resonate year round. "This unexpected and lovely offering that ends with a warm friendship is beautifully illustrated with McGill's expressive, whimsical collages."—School Library Journal
Praise For I Do Not Like Al's Hat…
"This unexpected and lovely offering that ends with a warm friendship is beautifully illustrated with McGill's expressive, whimsical collages. ...What a romp! Al's loss is readers' gain when Herb goes on the lam. Sure to be a read-aloud favorite."

"The cut-paper, ink, and gouache illustrations are wacky and colorful, capturing Herb's vivid imagination and woefulness, and the dry, witty narration is giggle bait. A fun romp for amateur magicians and pet-lovers alike."