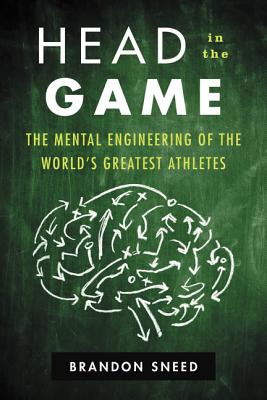 Head in the Game (Hardcover)
The Mental Engineering of the World's Greatest Athletes
Dey Street Books, 9780062455932, 384pp.
Publication Date: February 28, 2017
Other Editions of This Title:
Digital Audiobook (2/27/2017)
Compact Disc (2/28/2017)
Compact Disc (2/28/2017)
* Individual store prices may vary.
Description
The next frontier of sports training doesn't rest with the body, but with the mind
For years, common wisdom has held that athletic performance is rooted in genetics and peak physical enhancement of the body. But journalist Brandon Sneed has another idea: that mental engineering — training the cognitive process of the brain — presents yet a new level of sports performance, and that athletes, despite already being at the top of the genetic pool, can actually become better. 
This is a watershed idea — the conscious alteration of our brains can have drastic effects, so much so that elite athletes around the world are already seeing incredible results: stars like Steph Curry, Kerri Walsh Jennings, Russell Wilson, and dozens others are experimenting with this concept. They are hooking their brains to computers and using other cutting-edge technology that seems like stuff out of sci-fi movies to get at the root of their respective performance. What they are finding helps them is eye-opening, powerful, and, in their words, "life-changing."
In Head in the Game, Sneed takes on a mesmerizing tour of what seems to be a new frontier in performance enhancement, from neuroscience labs at Duke, to the Super Bowl, to the mountains of Patagonia, to the Taj Mahal of virtual reality, to the jungles of Peru, and beyond. Anchoring all of this is a dynamic cast of characters, from the director of human performance at Red Bull, to the former Nike higher-up who left to start his own cognitive engineering company, to the drug addict who built sensory deprivation chambers in a fit of near-madness only to find them in high demand by the world's best athletes, to paradigm-shattering neuroscientists who have created technology that allows athletes to look at their brains using a headset and a smartphone, and many more.
What does all of this add up to? Not only is it dramatically altering the gazillion-dollar and ever-expanding landscape of sports business, and revolutionizing how teams and owners analyze athletes — it is changing the way we think about how athletes do what they do, and what we might learn from them. Most of all, this is not going away. 
In turns comical and revelatory, shocking and thrilling, thoughtful and moving, Head in the Game brings a new level of understanding to what is possible for our world's elite athletes — and what is possible for all of us.
About the Author
Brandon Sneed is an author and journalist. He recently joined B/R Mag at Bleacher Report as a features writer. Previously, his stories have appeared in Outside, ESPN The Magazine, and more, and have twice been not-able selections in Best American Sports Writing. When Brandon's not on the road, his home base is Greenville, North Carolina, where he lives with his wife, toddler son, the baby in his wife's belly, and their two dogs, a Jack Russell Terrier and a half—Jack Russell half—pit bull. For news about Brandon's work and events, or just to say hey, visit brandonsneed.com.
Praise For Head in the Game: The Mental Engineering of the World's Greatest Athletes…
"Brandon Sneed offers a deep dive into the cranial lobes of elite athletes. You'll marvel at what he uncovers."
— Jeff Pearlman, former senior writer at Sports Illustrated and New York Times bestselling author of Gunslinger, Showtime, Sweetness, and Boys Will Be Boys

"Sneed has shared insights that are not only often revelatory, but potentially life-changing, for any -- or all -- of us. No matter whether you come at Sneed's work as a sports freak or a student of neuroscience, this is a goddamned jewel."
— Peter Richmond, New York Times bestselling author of Badasses

"Brandon Sneed has pulled off something extraordinary...Head in The Game is a graceful story about a revolution in sports and, ultimately, what it means to be a human being. A stunning work of narrative non-fiction."
— Lars Anderson, New York Times bestselling author of seven books, including The Mannings and The Storm and The Tide Lars Anderson, New York Times bestselling author of seven books, including The Mannings and The Storm and The Tide Lars Anderson,

Brandon Sneed has written a thrilling manifesto that reveals the many ways we can enhance the efficiency of our brains to improve our games and our lives.
— Don Van Natta Jr., ESPN investigative reporter, Pulitzer Prize winner and New York Times bestselling author of First Off the Tee, Her Way, and Wonder Girl

"Sneed's captivating voice bring into focus in marvelous detail to illuminate what lies ahead. Head In The Game is a remarkable examination."
— Brin-Jonathan Butler, author of The Domino Diaries (Boston Globe Best of 2015, PEN/ESPN Award for Literary Sports Writing shortlist

This book is great. Anyone looking to learn more about the world around them and how the athletes they adore do what they do should read it immediately.
— Will Leitch, author of Are We Winning? and God Save the Fan

In an engaging, articulate, entertaining way, he shows us how the very best athletes get an edge in a world in which finding an edge is nearly impossible. This book will captivate both casual and rabid sports fans.
— Kate Fagan, espnW columnist and author of the forthcoming What Made Maddy Run?