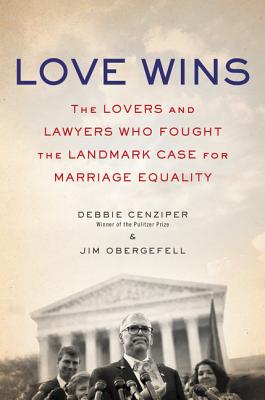 Love Wins
The Lovers and Lawyers Who Fought the Landmark Case for Marriage Equality
Hardcover

* Individual store prices may vary.
Other Editions of This Title:
Digital Audiobook (6/13/2016)
Description
The fascinating and very moving story of the lovers, lawyers, judges and activists behind the groundbreaking Supreme Court case that led to one of the most important, national civil rights victories in decades—the legalization of same-sex marriage.
In June 2015, the Supreme Court made same-sex marriage the law in all fifty states in a decision as groundbreaking as Roe v Wade and Brown v Board of Education. Through insider accounts and access to key players, this definitive account reveals the dramatic and previously unreported events behind Obergefell v Hodges and the lives at its center. This is a story of law and love—and a promise made to a dying man who wanted to know how he would be remembered.
Twenty years ago, Jim Obergefell and John Arthur fell in love in Cincinnati, Ohio, a place where gays were routinely picked up by police and fired from their jobs. In 2013, the Supreme Court ruled that the federal government had to provide married gay couples all the benefits offered to straight couples. Jim and John—who was dying from ALS—flew to Maryland, where same-sex marriage was legal. But back home, Ohio refused to recognize their union, or even list Jim's name on John's death certificate. Then they met Al Gerhardstein, a courageous attorney who had spent nearly three decades advocating for civil rights and who now saw an opening for the cause that few others had before him.
This forceful and deeply affecting narrative—Part Erin Brockovich, part Milk, part Still Alice—chronicles how this grieving man and his lawyer, against overwhelming odds, introduced the most important gay rights case in U.S. history. It is an urgent and unforgettable account that will inspire readers for many years to come.
Praise For Love Wins: The Lovers and Lawyers Who Fought the Landmark Case for Marriage Equality…
"[An] affecting, eloquent account… The authors ably create the suspense of anticipation and winnow the legal issues for lay readers. Uplifting, well-written story of personal courage and political empowerment." — Kirkus Reviews
"Told with a novel's narrative drive…. Taut, tense, and highly readable.... A remarkably rich portrait of America…. An excellent choice for book groups looking for exciting nonfiction." — Booklist (starred review)
"A fascinating look at the fight for gay marriage." — Library Journal
"Th[is] gripping narrative conveys how the fatal illness of one man and the question for justice of another led to the important decision that said the right to marry applies to all Americans." — Los Angeles Times
"It's quite rare that LGBTQ history gets told right the first time. . . . To the benefit of every LGBTQ reader and history buff who will enjoy this book, we won't be left questioning its authenticity or intent." — Philadelphia Magazine
"Human details make the book a fascinating read… Its best passages are about the people whose stories launched a movement that changed the law." — Cincinnati Enquirer
"An engaging, full account of how an almost all-Cincinnati cast of characters helped topple Ohio's ban and legalize same-sex marriage across the country." — Cincinnati.com
"Love Wins is a real winner and expertly crafted. You can tell it's going to make a great movie." — Bob Woodward
"A tender story, inspiring, and ultimately a huge celebration. . . . You will never forget Jim Obergefell and his lawyer Al Gerhardstein, two men who fought with every ounce of will they could muster. This book will become a classic." — Erin Brockovich
"Love Wins is an affecting testament to love and commitment in the face of discrimination. . . . I am recommending Love Wins to everyone I know. Rarely does a book of such uncommon beauty come around, one that digs beneath the headlines to its human heart." — John Grogan, author of Marley & Me and The Longest Trip Home
"Beautifully told and carefully researched, Love Wins is a deeply moving insider's account of the ordinary families who took the fight for marriage equality to the Supreme Court and won. . . . Though love may not always win, America really does stand for liberty and justice for all." — Kathleen Parker, syndicated Washington Post columnist
"This gripping portrayal of the pivotal moment in the fight for marriage equality in Ohio includes childhood memories and romance a well as tense moments in court. . . . Readers will feel they've been completely guided into seeing the people behind the cases." — Publishers Weekly
"Deeply reported, vividly detailed, utterly humane… Grabs the reader and never lets go… Written with a novelist's attention to scene description and character-revealing action… An exemplary account that anyone, no matter his or her ideological orientation, might read with both pleasure and insight." — The Charlotte Observer
"Bring the tissues for this powerful tale of the triumph of marriage equality. . . . A downright joy to read. It's a rare and special feeling to be alive for moments of world-changing history. " — Washington Post
William Morrow, 9780062456083, 304pp.
Publication Date: June 14, 2016
About the Author
Debbie Cenziper is a Pulitzer Prize-winning investigative reporter and nonfiction author who writes for The Washington Post. She is also the Director of Investigative Reporting at the Medill School of Journalism at Northwestern University. Over 20 years, Debbie's stories have sent people to prison, changed laws, prompted FBI and Congressional investigations and produced more funding for affordable housing, mental health care and public schools. She has won dozens of awards in American print journalism, including the Robert F. Kennedy Award, given by Ethel Kennedy and the Robert F. Kennedy Center for Justice & Human Rights, the Goldsmith Prize for Investigative Reporting from Harvard University, and the 2007 Pulitzer Prize for local reporting. She is the author of two nonfiction books, "Love Wins: The Lovers and Lawyers Who Fought the Landmark Case for Marriage Equality," (William Morrow, 2016) and "Citizen 865: The Hunt for Hitler's Hidden Soldiers in America," (Hachette, 2019). Debbie graduated from the University of Florida and lives with her family near Washington, D.C. See also www.debbiecenziper.com.
Jim Obergefell is an LGBTQ+ and civil rights activist, public speaker, and board member of several non-profit organizations, including Board of Advisors of Mattachine Society of Washington, DC and the National Advisory Council of the GLBT Historical Society. . Jim co-founded Equality Vines, the world's first cause-based wine label, to support organizations fighting for equal rights. 
or
Not Currently Available for Direct Purchase