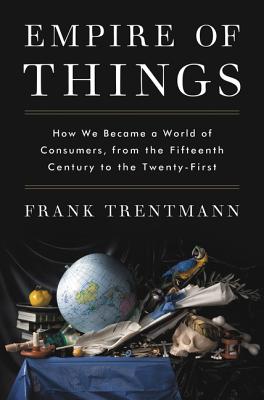 Empire of Things (Hardcover)
How We Became a World of Consumers, from the Fifteenth Century to the Twenty-First
Harper, 9780062456328, 880pp.
Publication Date: March 29, 2016
Other Editions of This Title:
Paperback (3/28/2017)
MP3 CD (7/4/2017)
* Individual store prices may vary.
Description
"Empire of Things isn't just an insightful and surprisingly entertaining read, but a crucial one."—NPR
What we consume has become a central—perhaps the central—feature of modern life. Our economies live or die by spending, we increasingly define ourselves by our possessions, and this ever-richer lifestyle has had an extraordinary impact on our planet. How have we come to live with so much stuff, and how has this changed the course of history?
In Empire of Things, Frank Trentmann unfolds the extraordinary story of our modern material world, from Renaissance Italy and late Ming China to today's global economy. While consumption is often portrayed as a recent American export, this monumental and richly detailed account shows that it is in fact a truly international phenomenon with a much longer and more diverse history. Trentmann traces the influence of trade and empire on tastes, as formerly exotic goods like coffee, tobacco, Indian cotton and Chinese porcelain conquered the world, and explores the growing demand for home furnishings, fashionable clothes and convenience that transformed private and public life. The nineteenth and twentieth centuries brought department stores, credit cards and advertising, but also the rise of the ethical shopper, new generational identities and, eventually, the resurgence of the Asian consumer.
With an eye to the present and future, Frank Trentmann provides a long view on the global challenges of our relentless pursuit of more—from waste and debt to stress and inequality. A masterpiece of research and storytelling many years in the making, Empire of Things recounts the epic history of the goods that have seduced, enriched and unsettled our lives over the past six hundred years.
About the Author
Frank Trentmann is a professor of history at Birkbeck College, University of London, and directed the £5 million Cultures of Consumption research program. His last book, Free Trade Nation, won the Royal Historical Society's Whitfield Prize. He was educated at Hamburg University, the London School of Economics and Political Science, and Harvard University. He has been the Fernand Braudel Senior Fellow at the European University Institute in Florence, as well as a visiting professor at Bielefeld University, the University of St. Gallen, the British Academy, and the École des hautes études en sciences sociales in Paris. In 2014 he was awarded the Moore Distinguished Fellowship at the California Institute of Technology.
Praise For Empire of Things: How We Became a World of Consumers, from the Fifteenth Century to the Twenty-First…
"[A] sweepingly detailed history of humanity's passion for the possession of objects ... [an] epic chronicle."
— Wall Street Journal

"Massively ambitious… Trentmann displays astonishing erudition across multiple disciplines."
— Washington Post

"In this important book, Trentmann argues that our increasingly complex consumer societies have evolved over five centuries."
— Financial Times (A Summer Book of 2016)

"[B]ig, deeply researched and hugely ambitious."
— The Times Literary Supplement

"Empire of Things is a masterpiece of historical research . . . a delight to read."
— The Times (UK)

"At last, a genuinely enjoyable book about our addiction to things."
— The Times, books of the year

"Challenges the popular notion of a twenith-century 'affluent society' and offers, instead, an illuminating account of how our vexing and complex attachment to things has arisen across the past five centuries from an interplay of market forces, politics, war, indentity and emotion."
— The Times Literary supplement, books of the year

"Sweeping, insightful and often surprising, this history of consumerism since the Elizabethans is itself a vast treasure chest of consumer pleasures, from coffee and chocolate to stuffed crocodiles. Fear of consumerism, Trentmann shows, is as old as consumerism itself: the Catholic Church inveighed against "luxury", while by 1770 one Scottish writer was complaining that his countrymen had become "slaves to their own wants". Yet Trentmann's bustling, overflowing book is a refreshing antidote to snobbish doom-mongering, showing how credit cards and washing machines have liberated rather than enslaved us."
— Sunday Times, books of the year

"Informed, detailed, and dynamic….Trentmann has created a valuable contribution to the conversation around consumption-a commendable fusion of scholarship and engaging writing."
— Publishers Weekly

"Empire of Things isn't just an insightful and surprisingly entertaining read, but a crucial one."
— NPR

"Empire of Things is something to behold; a compelling account of consumerism that revels in its staggering breadth and depth. Frank Trentmann has written a necessary and important book about one of the defining characteristics of our times."
— Amanda Foreman, author of Georgiana, Amanda Foreman, author of Georgiana, winner of the Whitebread Prize, and A World on Fire

"Impeccably scholarly, vividly detailed, and delightfully written, Empire of Things is the indispensable starting point for anyone who wants to understand how, in the last half millennium, every effort to restrain consumers has failed, while revolutions in consumption keep piling up stuff and waste."
— Felipe Fernandez-Armesto, author of Millenium and Civilizations

"Empire of Things is an extraordinary, Braudelian achievement. It is impossible to imagine that any one person would be able to do a better job than Frank Trentmann."
— John Brewer, author of The Pleasures of the Imagination, winner of the Wolfson History Prize

"In this magisterial volume, Frank Trentmann takes us through time and across national borders to provide a comprehensive history of how people the world over have come to live with more and more things. Here is the crucial backstory to every consumer exchange."
— Lizabeth Cohen, author of A Consumers' Republic