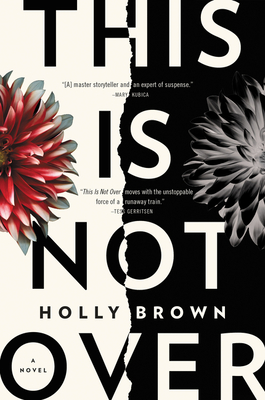 This Is Not Over
A Novel
Paperback

* Individual store prices may vary.
Other Editions of This Title:
Digital Audiobook (1/16/2017)
Description
You'll have your deposit within seven business days, just like it says on Getaway.com. I've put through a refund to your credit card for the full amount, minus $200 to replace the stained sheets...
Miranda
When 30-year-old Dawn reads Miranda's email, she sees red. People have always told Dawn she's beautiful, and she just hopes they don't see beneath—to how she grew up, to what she's always tried to outrun. She revels in her getaways with her perfect (maybe too perfect) husband, the occasional long weekend in luxurious homes, temporarily inhabiting other people's privileged lives. Miranda's email strikes a nerve, with its lying intimation that Dawn is so dirty you need to throw out her sheets.
Beware of your "host"
I wouldn't have left a review at all, if I didn't feel it was my civic duty to warn others…
57-year-old Miranda thought she'd seen it all, but she can't believe her eyes when she reads Dawn's review. She's a doctor's wife but she needs that rental money, desperately. People might think her life is privileged, but they don't know what's really going on. They don't know about her son. She won't take this threat to her livelihood—to her very life—lying down.
Two very different women with this in common: Each harbors her own secret, her own reason why she can't just let this go. Neither can yield, not before they've dredged up all that's hidden, even if it has the power to shatter all they've built.
This is not over.
This is so not over.
Praise For This Is Not Over: A Novel…
"This Is Not Over is an absolutely riveting novel that starts with a situation that could happen to any of us, and slowly and masterfully escalates it into a crisis of character for two women that is both nail-bitingly suspenseful and full of insight into our collective humanity." — Alice LaPlante, New York Times bestselling author of Turn of Mind
"Intelligently crafted and rivetingly dark, this chilling tale of two women waging psychological warfare will hook you, capture you, and keep you reading as fast as you can. Timely, terrifying, and disturbingly believable" — Hank Phillippi Ryan , Agatha, Anthony, and Mary Higgins Clark Award winning author of Say No More
"With this She Said, She Said tale of terror in everyday life—a getaway vacation rental gone wrong—Holly Brown proves she is both a chronicler of our modern age, and a writer who should be on everyone's watch." — Jenny Milchman, USA Today bestselling author of Cover of Snow, Ruin Falls, and As Night Falls
"Holly Brown's This is Not Over is a hypnotic, psychological thriller that had me hooked from the opening sentence. Cleverly paced and pulsating with tension...With sharp wit and intricate detail, Brown takes the reader on a wild ride right up to the mind-bending conclusion...brilliant!" — Heather Gudenkauf New York Times & USA Today bestselling author of The Weight of Silence and Missing Pieces Heather Gudenkauf, New York Times bestselling author of The Weight of Silence and Missing Pieces
"THIS IS NOT OVER moves with the unstoppable force of a runaway train. You won't be able to look away as the shocking climax rushes toward you. This is storytelling at its best." — Tess Gerritsen, New York Times bestselling author
"This is Not Over is dark, twisting, and addictive. I devoured it in one sitting, absorbed by both the driving plot and the layered family psychology." — Flynn Berry, author of Under the Harrow
"Holly Brown proves she is a master at the suspense novel. She draws believable characters, people we all know, and throws them all together in a plot that could happen anywhere to anyone." — Cheryl Kravetz, Murder on the Beach bookstore
"This Is Not Over is a suspenseful psychological drama--one that might make you think twice about that online rental for your next vacation." — Shelf Awareness
"Brown, a licensed mental-health professional, offers a compelling look at two women from very different walks of life [...] Perfect for fans of Erin Kelly and Sophie Hannah." — Booklist
William Morrow Paperbacks, 9780062456830, 400pp.
Publication Date: January 17, 2017
About the Author
Holly Brown lives with her husband and toddler daughter in the San Francisco Bay Area, where she's a practicing marriage and family therapist. She is the author of the novel Don't Try to Find Me, and her blog, "Bonding Time," is featured on the mental health website PsychCentral.com.