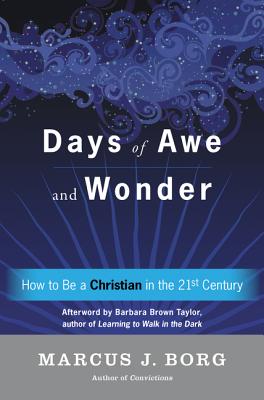 Days of Awe and Wonder
How to Be a Christian in the Twenty-first Century
Hardcover

* Individual store prices may vary.
Other Editions of This Title:
Digital Audiobook (3/13/2017)
Paperback (3/6/2018)
MP3 CD (3/14/2017)
Compact Disc (3/14/2017)
Compact Disc (3/14/2017)
Description
Showcasing some of his most enduring and insightful writings, including many previously unpublished works, a concise and illuminating introduction to Marcus J. Borg, the late spokesman for progressive Christianity and one of the most revered and influential theologians of our time.
In his acclaimed books, including classics such as Meeting Jesus Again for the First Time, The Heart of Christianity, Speaking Christian, and Convictions, Marcus J. Borg helped shape an enlightened modernist view of Christianity. A leading scholar of the historical Jesus acclaimed for his ability to speak about Christianity in the context of contemporary society, Borg offered profound wisdom and inspiration—a new way of seeing and living the Christian life—for believers, students, and lay readers. Ultimately, he taught us that by developing a deeper understanding of Jesus and the New Testament, we can discover a more authentic way of being. Yet Borg himself was always conscious of a greater truth beyond what he could explain: the wonder of God.
Now, two years after the liberal theologian's death, comes The Days of Awe and Wonder, a selection of his writing, including many never before published works, that explores the Christian faith and what it means to be a Christian in the twenty-first century. Provocative and uplifting, this anthology illuminates Borg's explorations of the miraculous and wonderful, his understanding of conviction and fulfillment, and his contention that we must keep an open mind and question assumptions and certainties in all our religious journeys.
Praise For Days of Awe and Wonder: How to Be a Christian in the Twenty-first Century…
"Borg left a legacy of good works and good words, and his provocative messages resonate in this capstone anthology."
— Publishers Weekly (starred review)

"In these pages, Borg's deepest wisdom shines through—framed in the best of biblical scholarship, Jesus shines forth as a 'spirit person' who invites all people into lives of awe and wonder for the sake of the world. Read and meet Jesus again and fall into God's all-encompassing love."
— Diana Butler Bass, Author of Grounded: Finding God in the World—A Spiritual Revolution

"In Days of Awe and Wonder, we get to the heart of why Marcus Borg matters. Borg cracks open Christianity for many of us who felt trapped outside its impenetrable walls of dubious dogmas. With skill and care, he invites us to believe again."
— Carol Howard Merritt, pastor and author of Healing Spiritual Wounds

"You must buy this book. You will be encouraged to, as Marcus says, "go beyond your mind," to the space of awe and wonder, to the place where our hearts and minds are infused with the Spirit of God, and we are transformed to transform the world. "
— Rev. Dr. Jacqui Lewis, author of The Power of Stories

"A fine memorial collection [covering] Borg's characteristic themes [as well as] such corollary topics as the New Atheism, the essence of Christianity, the wisdom in other religions, and how to hear the voice of God."
— Booklist

"Borg's focus is on wonder, that deep-seated conviction and experience that there is more to life than we can know or hope to know, and though beyond our grasp, this knowledge is available to us . . . Portrays a Christianity that is reasonable, full, expansive, and life affirming."
— Library Journal

"Two years after the liberal theologian's death, Borg still has something to offer those who wish to explore progressive Christianity."
— Mountain Times

"Borg had a profound faith in the Spirit that continues to flow [and] ultimately, that is why I so strongly urge our readers to get a copy of this posthumous collection drawn from Marcus's writings."
— Read The Spirit
HarperOne, 9780062457332, 288pp.
Publication Date: March 14, 2017
About the Author
Marcus J. Borg (1942–2015) was a pioneering author and teacher whom the New York Times described as "a leading figure in his generation of Jesus scholars." He was the Hundere Distinguished Professor of Religion and Culture at Oregon State University and canon theologian at Trinity Episcopal Cathedral in Portland, and he appeared on NBC's The Today Show and Dateline, ABC's World News, and NPR's Fresh Air. His books have sold over a million copies, including the bestselling Meeting Jesus Again for the First Time, Reading the Bible Again for the First Time, Jesus, The Heart of Christianity, Evolution of the Word, Speaking Christian, and Convictions.
or
Not Currently Available for Direct Purchase