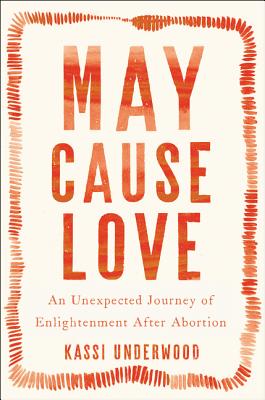 May Cause Love
A Memoir
Hardcover

* Individual store prices may vary.
Description
In this powerful memoir, a fiercely honest and surprisingly funny testament to healing after abortion, a young woman travels across the United States to meet a motley crew of spiritual teachers and a caravan of new friends.
At age nineteen, Kassi Underwood discovered she was pregnant. Broke, unwed, struggling with alcohol, and living a thousand miles away from home, she checked into an abortion clinic.
While her abortion sparked her "feminist awakening," she also felt lost and lawless, drinking to oblivion and talking about her pregnancy with her parents, her friends, strangers-anyone.
Three years later, just when she had settled into a sober life at her dream job, the ex-boyfriend with whom she had become pregnant had a baby with someone else. She shattered. In the depths of a blinding depression, Kassi refused to believe that she would "never get over" her abortion. Inspired by rebellious women in history who used spiritual practices to attain emotional freedom, Kassi embarked on a journey of recovery after abortion-a road trip with pit stops at a Buddhist "water baby" ritual, where she learns a new way to think about lost pregnancies; a Roman Catholic retreat for abortion that turns out to be staffed with clinic picketers; a crash course in grief from a Planned Parenthood counselor; a night in a motel with a "Midwife for the Soul" who teaches her how to take up space; and a Jewish "wild woman" celebration led by a wise and zany rabbi.
Dazzling with warmth and leavened by humor, May Cause Love captures one woman's journey of self-discovery that enraged her, changed her, and ultimately enlightened her.

Praise For May Cause Love: A Memoir…
"An epic journey of spiritual healing, a hunt for enlightenment, integration, and release . . .Underwood's story acts as a bridge to many women's. It is a temple of prayers built in the terrain of grief."  — Los Angeles Review of Books
"Full of rich emotion and excellent storytelling, Underwood's memoir of strength and healing reads almost like fiction . . . This will be an excellent resource for anyone struggling with an abortion or miscarriage, or for readers seeking to better understand those who have done so." — Booklist, starred review
"I'm so glad this book exists. Rarely do we get to see a woman wrestling so honestly and openly with the complicated nature of what it means to have a choice." — Sarah Hepola, New York Times bestselling author of Blackout
"Underwood is a master storyteller. Her voice is clear and honest. Her words are hopeful, realistic, heartfelt and at times gut-wrenching. She speaks from the top of the mountain, after having made the journey to the center of the earth." — Retailing Insight
"An extraordinary contribution. May Cause Love is a powerful narrative for those who support abortion rights, people who call themselves 'pro-life,' and those who don't know where they fall or how they feel." — Rewire
"No matter which side of the abortion debate you're on, Kassi Underwood will challenge your beliefs." — Jonathan Merritt, Religion News Service
"Graceful in its example of how someone can turn a painful experience into a moment of inclusive activism." — BUST
"A poignant memoir…The author shines a personal light on the dilemma that women face when they have to juggle their own needs and desires with a biological accident that has the power to completely change their lives, whether they birth the child or not." — Kirkus Reviews
"In this brave and unsparing memoir . . . Underwood travels through uncharted and harrowing waters at times; her story, though painful, is moving and heartfelt. She ...  creates her own "road to recovery," and by mapping that road hopes to provide a voice for women and men suffering in silence." — Publishers Weekly
"A fascinating quest . . .Often irreverent and cheerful, Kassi's personal journey eventually blends with the political and, most meaningfully, the spiritual, leading to a surprising destination." — The Improper Bostonian
"Profoundly compelling and necessary. While reading May Cause Love, I found myself continually shocked that such a book has not already been written, that this experience shared by so many women in this country is not already available....I can't imagine a more honest and thoughtful treatment of this subject." — Melissa Febos, author of Whip Smart and Abandon Me
"Hip, hilarious, and poignant-as well as politically astute." — Susan Shapiro, New York Times bestselling author of Unhooked and Five Men Who Broke My Heart
"An instant classic for a new generation of feminists. With wisdom, compassion, and clarity, May Cause Love is a blazing arc of hope that points us to deeper questions about abortion and God-and more than a few radiant answers." — Leah Vincent, author of Cut Me Loose
"The Eat Pray Love of abortion memoirs. Completely audacious, in the most incredible way—imagine not only not apologizing for owning your own soul, but demanding to be transported to a higher plane... so refreshing and illuminating." — Kerry Clare, author of Mitzi Bytes
HarperOne, 9780062458636, 352pp.
Publication Date: February 14, 2017
About the Author
KASSI UNDERWOOD has written for the New York Times, The Atlantic (digital), Best Self, and Women's Health, among others, and has appeared live on MSNBC and NPR. She coaches women who find themselves at a turning point in life. A masters candidate at Harvard Divinity School, she hosts the YouTube series, Spiritually Blonde. May Cause Love is her first book.

or
Not Currently Available for Direct Purchase