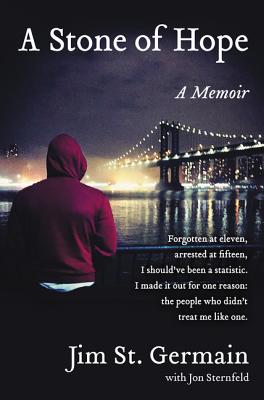 A Stone of Hope
A Memoir
Hardcover

* Individual store prices may vary.
Other Editions of This Title:
Digital Audiobook (7/3/2017)
Paperback (7/24/2018)
Description
In the tradition of The Other Wes Moore and Just Mercy, a searing memoir and clarion call to save our at-risk youth by a young black man who himself was a lost cause—until he landed in a rehabilitation program that saved his life and gave him purpose.
Born into abject poverty in Haiti, young Jim St. Germain moved to Brooklyn's Crown Heights, into an overcrowded apartment with his family. He quickly adapted to street life and began stealing, dealing drugs, and growing increasingly indifferent to despair and violence. By the time he was arrested for dealing crack cocaine, he had been handcuffed more than a dozen times. At the age of fifteen the walls of the system were closing around him.
But instead of prison, St. Germain was placed in "Boys Town," a nonsecure detention facility designed for rehabilitation. Surrounded by mentors and positive male authority who enforced a system based on structure and privileges rather than intimidation and punishment, St. Germain slowly found his way, eventually getting his GED and graduating from college. Then he made the bravest decision of his life: to live, as an adult, in the projects where he had lost himself, and to work to reform the way the criminal justice system treats at-risk youth.
A Stone of Hope is more than an incredible coming-of-age story; told with a degree of candor that requires the deepest courage, it is also a rallying cry. No one is who they are going to be—or capable of being—at sixteen. St. Germain is living proof of this. He contends that we must work to build a world in which we do not give up on a swath of the next generation.
Passionate, eloquent, and timely, illustrated with photographs throughout, A Stone of Hope is an inspiring challenge for every American, and is certain to spark debate nationwide.
Praise For A Stone of Hope: A Memoir…
"I can't stop talking about A Stone of Hope, written by Jim St. Germain and Jon Sternfeld. St. Germain suffered childhood trauma that would break most people. He sold drugs, fought, and was repeatedly arrested. But he also found people in a group home who treasured him, and helped him reclaim himself. Imagining alternatives to America's monstrous criminal system requires that we listen to people who have been inside—people like St. Germain."
— James Forman Jr., GQ

"[A] potent new memoir…What distinguishes [Stone of Hope] is the perceptive acuity with which he narrates his personal journey through the 'system,' and explains how he was able… to skirt its usual outcomes."
— Vice

"Achingly candid, authentically insightful and compellingly optimistic, A Stone of Hope is destined to help move mountains."
— Shelf Awareness

"[Jim St. Germain] vividly describes the fear and loneliness of life in Brooklyn without his parents…. Like Wes Moore's The Other Wes Moore, St. Germain's gritty and self-reflective memoir is an excellent and informative cautionary tale."
— Publishers Weekly (starred review)

"An affecting and earnest testimonial to the power of a humane criminal system built on rehabilitation more than punishment."
— Kirkus

"Jim's story is visceral and unsparingly honest. Ultimately it is one of transformation and—most important—hope."
— Booklist

"Near the end of A Stone of Hope, a passage describes the value of young people–all young people–to society. As in all the rest of this book, the words sing: with painful trauma experienced and overcome, profound knowledge of the human condition, and deep empathy. Jim St. Germain is particularly artful in shining light on the small moments and minute decisions and seemingly innocuous interactions that can doom a life or bring it to blossom. This is tremendous and courageous storytelling that, one hopes, will touch many lives with positivity in the way Germain's was touched."
— Jeff Hobbs, author of The Short and Tragic Life of Robert Peace

"This book is a new perspective on the all-too-familiar story of an inner-city black boy left to go bad. First, we see clearly through the boy's incisive eye how the grinding machinery of poverty cripples so many young lives. Second, despite the odds, the boy overcomes them and goes good, drawing on his experiences to try to save the next endangered generation. It's a frightening but ultimately hopeful story."
— Geoffrey Canada, president, Harlem Children's Zone

"Which, on reflection, feels true. Life is not a training montage from a "Rocky" movie. It is trial and error, setback and achievement. So if you graphed St. Germain's progress from what he was to what he is, the resulting line might resemble the stock exchange during a bull market — jagged but rising."
— Wall Street Journal
Harper, 9780062458797, 304pp.
Publication Date: July 4, 2017
About the Author
Jim St. Germain is the cofounder of Preparing Leaders of Tomorrow (PLOT), a nonprofit organization that provides mentoring to at-risk youth; and a board member with the National Juvenile Defender Center. He works as a residential care advocate for the City of New York, and was appointed by President Obama to the Coordinating Council on Juvenile Justice and Delinquency Prevention. Jim lives in Brooklyn, New York, with his son, Caleb.

Jon Sternfeld is a writer whose work includes Crisis Point: Why We Must—and How We Can—Overcome Our Broken Politics in Washington and Across America with Senators Trent Lott and Tom Daschle and Strong in the Broken Places with Quentin Vennie. He lives in New York.
or
Not Currently Available for Direct Purchase