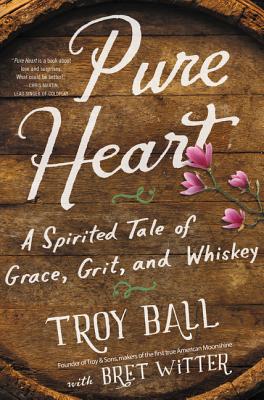 Pure Heart
A Spirited Tale of Grace, Grit, and Whiskey
Hardcover

* Individual store prices may vary.
Other Editions of This Title:
Digital Audiobook (2/6/2017)
Paperback (11/14/2017)
MP3 CD (2/7/2017)
Compact Disc (2/7/2017)
Compact Disc (2/7/2017)
Description
Finalist for a 2018 Southern Book Prize for Biography and History
Troylyn Ball and her husband, Charlie, an engineer and real estate developer, had spent their entire lives in Texas. But after a near fatal trip to the emergency room with their non-verbal, wheelchair-bound son Marshall, they admitted the dust and the heat were too dangerous. To save their boys, the Balls cashed out, sold their beloved farm, and moved to Asheville, North Carolina.
Nearing fifty, Troy thought her chance at adventure had passed. But in this booming little Appalachian Mountain city of hippies, farmers, artisans, and retirees, she unexpectedly discovered a support network and something she'd never had in twenty-five years of providing round-the-clock care for her special needs boys: the freedom to pursue her own dreams. She struck up a friendship with a legendary eighty-year-old raconteur from the mountains, met his friends, and soon found herself in a rickety country shack with an ingeniously inventive retired farmer trying to create the best recipe ever for traditional mountain moonshine.
But when the real estate bubble burst and the collapse of her husband Charlie's new venture in Asheville left them deeply in debt, Troy realized her ten-year business plan for Troy & Sons Platinum Whiskey wasn't enough. If she was going to save her family—and she was definitely going to save her family—she needed to become the most successful woman in the legal whiskey business. And she needed to do it fast, before the bank took her house, her business, and everything she'd worked so hard to achieve.
Full of eccentric characters and charming locations—from a "haunted" cabin in the mountains to the last farm in the world to grow heritage Crooked Creek corn—Pure Heart is a charming story of a woman who set out to find a purpose in the most unexpected of places, and ended up finding happiness, contentment, and a community of love and respect.
Praise For Pure Heart: A Spirited Tale of Grace, Grit, and Whiskey…
"A book about love and surprises. What could be better?
— Chris Martin, lead singer of Coldplay

"The first woman ever licensed to distill hard liquor in North Carolina uncorks an emotionally charged memoir about traversing family heartache to become the "moonshine mama" of the South...A heart-stirring life story."
— Kirkus Reviews

"This memoir is one readers will easily flip through, enjoying the narrator's southern-style wit and charming character on every page, along with her profound, all-consuming message of love, hope, and persistence."
— Booklist

"In this earnest, heartfelt memoir, Ball, assisted by Witter tells of a midlife decision to resettle her family…Ball's Southern charm shines in her memoir as she shares her family's successes and failures. She never asks for sympathy for the choices they made that led to their financial demise and ultimate perseverance. The histories of Asheville and distilling are woven throughout and add depth to her memoir."
— Publishers Weekly
Dey Street Books, 9780062458971, 288pp.
Publication Date: February 7, 2017
About the Author
Troy Ball is the founder and principal owner of Asheville Distilling Company in Asheville, North Carolina, makers of Troy & Sons Platinum whiskey, Troy & Sons Oak Reserve, and Blonde whiskey. Troy & Sons Platinum recently received a gold medal for moonshine, the highest possible rating. In 2004, Troy cofounded the Thoughtful House Center for Children in Austin, Texas, which has recently changed its name to the Johnson Center for Child Health and Development. Today, the center sees over 2,500 children with autism and spectrum disorders and coordinates international medical research studies. Troy lives outside Asheville, North Carolina, with her husband, Charlie, and two of their three grown sons, Marshall and Coulton, who have special needs.
Bret Witter has co-authored eight New York Times bestsellers, including the #1 bestseller The Monuments Men. He lives with his family in Decatur, Georgia.
or
Not Currently Available for Direct Purchase