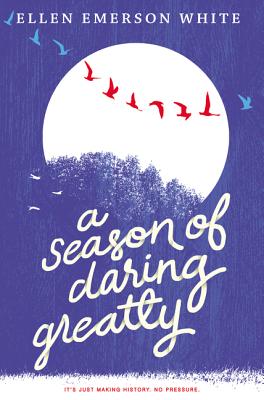 A Season of Daring Greatly
Hardcover

* Individual store prices may vary.
Description
Eighteen-year-old Jill Cafferty just made history. Her high school's star pitcher, she is now the first woman drafted by a major league baseball team. Only days after her high school graduation, she'll join the Pittsburgh Pirates' Class A Short Season team . . . but not everyone is happy to have her there.
On top of the pressure heaped on every pitcher, Jill must deal with defying conventions and living up to impossible expectations, all while living away from home for the first time. She'll go head-to-head against those who are determined to keep baseball an all-male sport. Despite the reassurance of coaches and managers alike, a few of her teammates are giving her trouble. The media presence following her at each game is inescapable. And to top it all off, Jill is struggling with the responsibilities of being a national hero and a role model for young women everywhere. How can she be a role model when she's not even sure she made the right choice for herself? Didn't baseball used to be fun?
This literary and engrossing story of a young woman trying to mark out a place for herself in a male-dominated world will captivate fans of Friday Night Lights, The Art of Fielding, John Corey Whaley, and Laurie Halse Anderson.
Praise For A Season of Daring Greatly…
"Jill Cafferty...walks a fine line between fitting in and asserting her own personality. ...the third-person narration allows readers to hear her silent inner voice, often ironic or humorous...Go girl."
— Kirkus Reviews

"The pleasure of reading this novel comes from the steady, realistic portrayal of Jill's experience as a rookie and as a young woman breaking into a man's sports. An ensemble of well-drawn, interesting characters revolves around Jill...Readers will hope for sequels tot this unusual and engaging novel."
— Booklist

"Jill navigates the tricky waters of displaying her expertise in a male-dominated sport. …Jill is a strong, centered, and witty character, and it's refreshing to read her smart comebacks to blatant sexism. …a good candidate for collections needing more positive depictions of characters who advocate against gender bias."
— School Library Journal

"White imbues Jill with a fully credible mix of steely resolve, stealthy sense of humor, carefully repressed rage against her naysayers…players in the pipeline wonder when women will get their chance; now these readers can ponder whether the first pro experience will be a lot like this."
— Bulletin of the Center for Children's Books (starred review)

"Jill's desire to do her job without being stereotyped or bullied will resonate with readers in this unique and engaging novel. Recommend this to readers looking for stories about overcoming obstacles, like gender bias, as well as anyone who has an interest in baseball."
— Voice of Youth Advocates (VOYA)

"White's third-person limited narrative, told from Jill's perspective, pulls the reader into her story. ...there's plenty of action, and fans of the game will enjoy following Jill through early missteps toward a surer sense of herself and her skills."
— Horn Book Magazine
Greenwillow Books, 9780062463210, 432pp.
Publication Date: February 14, 2017
or
Not Currently Available for Direct Purchase