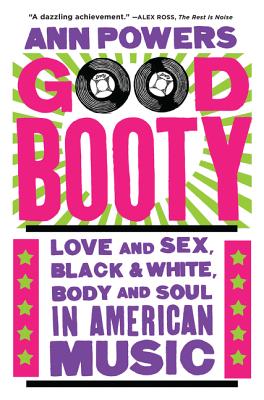 Good Booty
Love and Sex, Black and White, Body and Soul in American Music
Paperback

* Individual store prices may vary.
Other Editions of This Title:
Digital Audiobook (8/14/2017)
Hardcover (8/15/2017)
MP3 CD (8/15/2017)
Compact Disc (8/15/2017)
Compact Disc (9/1/2017)
Description
NPR Best Books of 2017
In this sweeping history of popular music in the United States, NPR's acclaimed music critic examines how popular music shapes fundamental American ideas and beliefs, allowing us to communicate difficult emotions and truths about our most fraught social issues, most notably sex and race.
In Good Booty, Ann Powers explores how popular music became America's primary erotic art form. Powers takes us from nineteenth-century New Orleans through dance-crazed Jazz Age New York to the teen scream years of mid-twentieth century rock-and-roll to the cutting-edge adventures of today's web-based pop stars. Drawing on her deep knowledge and insights on gender and sexuality, Powers recounts stories of forbidden lovers, wild shimmy-shakers, orgasmic gospel singers, countercultural perverts, soft-rock sensitivos, punk Puritans, and the cyborg known as Britney Spears to illuminate how eroticism—not merely sex, but love, bodily freedom, and liberating joy—became entwined within the rhythms and melodies of American song. This cohesion, she reveals, touches the heart of America's anxieties and hopes about race, feminism, marriage, youth, and freedom.
In a survey that spans more than a century of music, Powers both heralds little known artists such as Florence Mills, a contemporary of Josephine Baker, and gospel queen Dorothy Love Coates, and sheds new light on artists we think we know well, from the Beatles and Jim Morrison to Madonna and Beyoncé. In telling the history of how American popular music and sexuality intersect—a magnum opus over two decades in the making—Powers offers new insights into our nation psyche and our soul.
Praise For Good Booty: Love and Sex, Black and White, Body and Soul in American Music…
"No writer is better equipped than Ann Powers to clarify and dissect the fundamental American myths that power our popular music. Good Booty is an expansive, electrifying, and important book. It changed the way I listen."
— Amanda Petrusich, author of Do Not Sell At Any Price

"No writer on music has as keen a mind or as great a heart as Ann Powers. Sex is the subject, but Good Booty is really a tour-de-force history of an entire century of pop, rich in feeling and fierce in insight. It's a dazzling achievement."
— Alex Ross, The Rest is Noise

"A revelatory road trip through the erotic fever dreams of American culture . . . tells the whole epic saga of how music became the confessional where we go to share our deepest secrets and desires . . . Only Ann Powers could make this story so head-spinning—and often heartbreaking."
— Rob Sheffield, author of Dreaming the Beatles

"A fearless and often funny, feminist work. I feel like I have been waiting my whole life for this book—Good Booty is glorious!"
— Jessica Hopper, author of The First Collection of Criticism by a Living Female Rock Critic

"An instant, indispensable classic, for a culture that always needs sexual healing."
— Carl Wilson, author of Let's Talk About Love

"A major, original, comprehensive piece of rock history and analysis."
— Robert Christgau, author of Going Into the City

"With precision and wit, and across multiple musical genres, Powers contextualizes the complicated interplay of gender, sex, and race inherent in popular music within and against the backdrop of America's puritanical founding."
— Library Journal, starred review

"Fascinating. . . . readers won't look at Lady Gaga or Nicki Minaj the same way."
— Kirkus

"Informative and entertaining ... Powers reveals an extraordinary breadth of knowledge and insight and has produced an absolutely essential addition to any pop-culture collection."
— Booklist, starred review

"NPR music critic Ann Powers explores themes of gender, sexuality, race and identity in this sweeping survey of popular music."
— Chicago Tribune, Summer Reading Round Up

"Stirring."
— O, the Oprah Magazine

"Both an indispensable guide to American pop music and a damned fine read . . . The best thing about Good Booty is that it reminds us that the right song shows us how to be somebody in a way that's not possible with any other art form."
— Wall Street Journal

"A fascinating history of popular music."
— Bustle, "Best Nonfiction of the Month"

"If for no other reason—though there are lots of other reasons—the book is worth a read for its mapping of the way hope and joy are present even in the darkest times. . . Powers' writing is deeply compassionate and nuanced."
— Chapter 16

"A fascinating history of popular music."
— Bustle, Best Nonfiction Books of August 2017
Dey Street Books, 9780062463708, 448pp.
Publication Date: June 12, 2018
About the Author
Ann Powers is NPR Music's critic and correspondent and one of the nation's leading music writers. She began her career at San Francisco Weekly, and has held positions at the New York Times, the Los Angeles Times, the Village Voice, Blender, and the Experience Music Project. Her books include Weird Like Us: My Bohemian America; Tori Amos: Piece by Piece, which she cowrote with Amos; and Rock She Wrote: Women Write About Rock, Rap, and Pop, which she coedited with Evelyn McDonnell. She was also the editor of Best Music Writing 2010. She lives in Nashville.
or
Not Currently Available for Direct Purchase