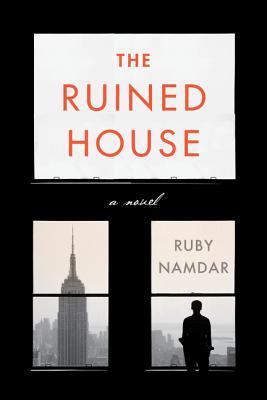 The Ruined House
A Novel
Hardcover

* Individual store prices may vary.
Other Editions of This Title:
Digital Audiobook (11/6/2017)
Paperback (10/2/2018)
Compact Disc (11/7/2017)
MP3 CD (11/7/2017)
Compact Disc (11/7/2017)
Description
"A Masterpiece."—The New York Times Book Review (editor's choice)
"In The Ruined House a 'small harmless modicum of vanity' turns into an apocalyptic bonfire.  Shot through with humor and mystery and insight, Ruby Namdar's wonderful first novel examines how the real and the unreal merge.  It's a daring study of madness, masculinity, myth-making and the human fragility that emerges in the mix."
—Colum McCann, National Book Award-winning author of Let the Great World Spin
Winner of the Sapir Prize, Israel's highest literary award
Picking up the mantle of legendary authors such as Saul Bellow and Philip Roth, an exquisite literary talent makes his debut with a nuanced and provocative tale of materialism, tradition, faith, and the search for meaning in contemporary American life.
Andrew P. Cohen, a professor of comparative culture at New York University, is at the zenith of his life. Adored by his classes and published in prestigious literary magazines, he is about to receive a coveted promotion—the crowning achievement of an enviable career. He is on excellent terms with Linda, his ex-wife, and his two grown children admire and adore him. His girlfriend, Ann Lee, a former student half his age, offers lively companionship. A man of elevated taste, education, and culture, he is a model of urbanity and success.
But the manicured surface of his world begins to crack when he is visited by a series of strange and inexplicable visions involving an ancient religious ritual that will upend his comfortable life.
Beautiful, mesmerizing, and unsettling, The Ruined House unfolds over the course of one year, as Andrew's world unravels and he is forced to question all his beliefs. Ruby Namdar's brilliant novel embraces the themes of the American Jewish literary canon as it captures the privilege and pedantry of New York intellectual life in the opening years of the twenty-first century.
Praise For The Ruined House: A Novel…
"Namdar redefines what it means to tell a Jewish story... The originality and power of this idea [of Jewishness], along with Namdar's fertile power of observation and evocation, make The Ruined House a new kind of Jewish novel, which everyone interested in Jewish literature should read."
— Adam Kirsch, Tablet Magazine

"Poetic...ambitious…a novel to be reread, for its layers of meaning and symbolism, noise and silence, mystical resonances and lyrical passages. [Namdar's] writing, in its deep and close observations, is prayerful."
— Sandee Brawarsky, Jewish Week

"A wildly original novel about the mental, physical and spiritual undoing of an arrogant college professor—a secular Jew living in elitist New York on the eve of 9/11. Unsettling and beautifully written, Namdar captures the seduction of an ancient religion as the world begins to crack."
— Newsweek, The 50 Coolest Books to Read This Summer: 2018's Best Fiction and Non-Fiction (So Far)

"Artfully translated ...An imaginative and visionary work about one man's spectacular mid-life crisis, framed by sacred texts and filled with poetic and portentous passages. Reminiscent of the work of Nicole Krauss."
— Library Journal (starred review)

"The Ruined House is a fascinating novel about the overwhelming presence of myth and historical trauma in our lives. A cross between Saul Bellow's disintegrating intellectuals and Bulgakov's mystical revelations, this is a fiercely inventive novel."
— Amos Oz

"Exhilarating..a masterpiece of modern religious literature, exactly as deep, disturbing and unresolved as is necessary to remind us, habituated as we are to the shallows of contemporary Jewish life, what still lurks beneath — primitive, raw and exacting."
— New York Times Book Review, Editor's Choice

"Beautifully written and will absorb all your attention in first few minutes as you start reading it."
— Washington Book Review, Best Books of the Fall

"The Ruined House, which won Israel's biggest literary award (the Sapir Prize), is a fascinatingly claustrophobic year inside Andrew's [the main character's] mind…. A meditation on the isolation of the modern age, when one can live among millions of people in a vibrant city, yet still be utterly alone."
— BookPage

"With richly poetic prose, Ruby Namdar portrays a man who leads a successful, comfortable secular life—until he finds himself haunted by religious visions. The Ruined House is shocking, insightful, and deeply disturbing."
— Lauren Belfer, New York Times bestselling author of And After the Fire, recipient of the National Jewish Book Award

"Above all, The Ruined House is a keenly observed meditation on the failing inner resources of American Jewry at the dawn of the 21st century."
— Mosaic Magazine

"Beautifully written and will absorb all your attention in first few minutes as you start reading it."
— Washington Book Review

"Namdar's artistic prose is imprinted on every page as he explores age-old recurring themes: sin, expiation, ruin and renewal. "The Ruined House" should not be read casually because the story presents thought-provoking perspectives of time-honored traditions and their place in today's world."
— The Philadelphia Jewish Voice

"Namdar's excellent writing (for which Halkin must also be recognized), acute observational commentary, and fluency in Jewish religious texts make this novel a towering achievement of contemporary Jewish literature."
— Jewish Book Council

"Namdar may have written the Jewish- American novel for our time. It's both disturbing and hypnotic, definitely one of the best novels of the year."
— Jewish Herald-Voice

"Ambitious, multidimensional, and beautifully written."
— New York Journal of Books
Harper, 9780062467492, 528pp.
Publication Date: November 7, 2017
About the Author
Ruby Namdar was born and raised in Jerusalem to a family of Iranian-Jewish heritage. His first book, Haviv (2000), won the Israeli Ministry of Culture's Award for Best First Publication. The Ruined House won the 2014 Sapir Prize—Israel's most important literary award. He currently lives in New York City with his wife and two daughters, and teaches Jewish literature, focusing on biblical and Talmudic narrative.
or
Not Currently Available for Direct Purchase