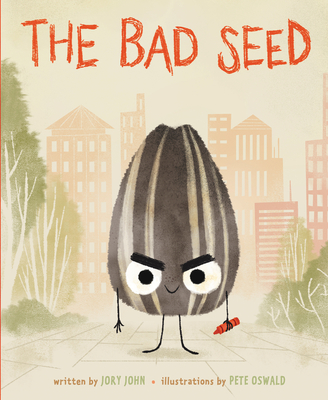 The Bad Seed (The Food Group)
Hardcover

* Individual store prices may vary.
Other Editions of This Title:
Digital Audiobook (12/2/2019)
Description
A New York Times bestseller!
This is a book about a bad seed. A baaaaaaaaaad seed. How bad? Do you really want to know?
He has a bad temper, bad manners, and a bad attitude. He's been bad since he can remember! This seed cuts in line every time, stares at everybody and never listens. But what happens when one mischievous little seed changes his mind about himself, and decides that he wants to be—happy?
With Jory John's charming and endearing text and bold expressive illustrations by Pete Oswald, here is The Bad Seed: a funny yet touching tale that reminds us of the remarkably transformative power of will, acceptance, and just being you. Perfect for readers young and old, The Bad Seed proves that positive change is possible for each and every one of us.
Check out Jory John and Pete Oswald's funny, bestselling books for kids 4-8 and anyone who wants a laugh:
The Bad Seed
The Good Egg
The Cool Bean
The Couch Potato
The Good Egg Presents: The Great Eggscape!
The Bad Seed Presents: The Good, the Bad, the Spooky!
The Cool Bean Presents: As Cool as It Gets
That's What Dinosaurs Do
Praise For The Bad Seed (The Food Group)…
"The BEST read-aloud book of the year...Seriously." — Mel Schuit, Let's Talk Picture Books (blog)
"This is kid-book humor at its best, both warmhearted and frisky—the kind that leaves adults, too, cracking up and grateful." — New York Times Book Review
★ "This is a story that opens up dialogue about our reactions to life experiences, the consequences of our choices, and the chance to make a change for the better." — School Library Journal (starred review)
★ "This charmingly illustrated book would be a comical read-aloud and useful for class or family discussions about manners, behavior, and reputation." — School Library Journal (starred review)
★ "Young readers will find the list of all the seed's offenses amusing, and the illustration of the flies and stench surrounding him (he never washes his hands or feet) is sure to elicit laughter." — School Library Journal (starred review)
★ "Even the very youngest can follow along as the pictures provide evidence of the seed's bad behavior and the reactions of those around him." — School Library Journal (starred review)
"John gives the seed a sympathetic backstory (packaged as a snack food, he barely escaped being eaten) that, along with his eventual determination to change his stripes, should keep readers engaged." — Publishers Weekly
"Working in digitized watercolors, Oswald makes this antihero's angst vivid and touching, and the world the seed moves in—a metropolis populated by seeds that include peanuts, coconuts, and corn kernels—adds a playful counterpoint of background detail and comedy." — Publishers Weekly
"The watercolor illustrations provide plenty of comic effect." — Booklist
"Young readers will enjoy watching the dramatic seed intimidate his nervous neighbors, and might not even realize they're learning a lesson about good behavior in the process." — Booklist
"Oswald's illustrations of seeds, legumes and nuts match John's silly, appealing story." — St. Louis Post-Dispatch
HarperCollins, 9780062467768, 40pp.
Publication Date: August 29, 2017
About the Author
Jory John is a New York Times bestselling author and two-time E. B. White Read Aloud Honor recipient. Jory's work includes the award-winning Goodnight Already! series; the bestselling Terrible Two series; the popular picture books The Bad Seed, Penguin Problems, and Quit Calling Me a Monster!; and the national bestseller All My Friends Are Dead, among other books. He lives in Oregon. You can visit him online at www.joryjohn.com.
Pete Oswald is an LA-based artist, kid lit author/illustrator, and production designer. He is the co-creator of Mingo the Flamingo, published in 2017 by HarperCollins. Pete is also the illustrator of The Bad Seed, by Jory John. When Pete is not working on books he is helping to uplift many of the most successful animated franchises as a character designer, concept artist, and production designer. Pete lives in Santa Monica, California, with his wife and two sons.