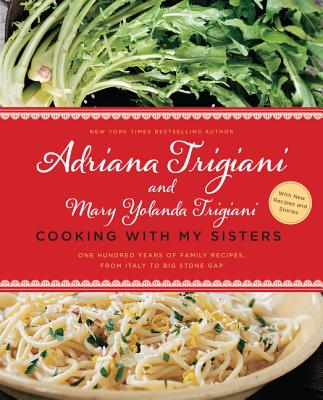 Cooking with My Sisters (Paperback)
One Hundred Years of Family Recipes, from Italy to Big Stone Gap
Harper Paperbacks, 9780062469915, 224pp.
Publication Date: November 7, 2017
Other Editions of This Title:
Paperback (10/11/2005)
* Individual store prices may vary.
Description
Read the book Pat Conroy called "the best Italian cookbook ever written by women from the American South," now revised and updated with even more mouthwatering recipes and photographs.
Cooking with My Sisters, by New York Times bestselling author Adriana Trigiani and her sister Mary Yolanda Trigiani, gives you a seat at the Trigiani and Bonicelli family tables.  Featuring over eighty family recipes, some more than 150 years old, from Bari, the Veneto, the Italian Alps and their American hometown Big Stone Gap, Virginia, accompanied by family stories told with heart and gusto, Cooking with My Sisters is a book to treasure.
This warm, engaging, and easy-to-follow book will introduce both new and seasoned cooks to dishes including Penne Alla Roseto, Happy IBM (Italian-by-Marriage) Husband Salad, and the Tipsy Lady from Flicksville's Ice Box Cake, all the while sharing stories and insights from family members like Grandmom Viola Trigiani, who was known to write her recipes in code to guard her culinary secrets closely, and Grandma Lucy Bonicelli, a soft-spoken woman who believed the dinner table was a respite and not a place to argue.
Cooking with My Sisters will inspire readers to try delectable, memorable dishes as they peer into the window of a home where the kitchen table was the center of the action, guests became family, and relationships were celebrated. As Rachael Ray says, "This collection fills the heart as full as the stomach! Mangia, y'all!"
About the Author
Adriana Trigiani is the bestselling author of seventeen books, which have been published in thirty-six countries around the world. She is a playwright, television writer/producer, and filmmaker. She wrote and directed the film version of her novel Big Stone Gap, which was shot entirely on location in her Virginia hometown. She is cofounder of the Origin Project, an in-school writing program that serves more than one thousand students in Appalachia. She lives in Greenwich Village with her family.
Mary Trigiani is a corporate executive who leads strategic planning and economic development initiatives for a thriving community bank and serves as advisor for two other companies. She was media advisor for the movie Big Stone Gap and ran a boutique strategy and marketing firm that served startups and major corporations in Chicago, Silicon Valley and San Francisco. She lives in Virginia.
Praise For Cooking with My Sisters: One Hundred Years of Family Recipes, from Italy to Big Stone Gap…
"Cooking with My Sisters is the best Italian cookbook ever written by women from the American south. Adriana Trigiani and her sisters had the genius to unite a Southern sensibility with Italian cooking, and the stories of the Trigiani family alone are worth the price of admission."
— Pat Conroy

"This collection fills the heart as full as the stomach! Mangia, y'all!"
— Rachael Ray

"Fabulous … When a bestselling novelist, her four sisters and their mother tie on their aprons and put their heads together to write a cookbook, chances are it'll be filled with warm reminiscences, family stories and plenty of old-world recipes."
— New York Daily News

"For decades, the women of the Trigiani family have expressed themselves through their cooking. The sisters of the present generation, whose heritage stretches improbably from the mountains of Italy to those of western Virginia, have set down the family's culinary tradition as they learned to love it. . . As much family memoir as cookbook, this volume documents the nurturing relationships of grandmothers, mother, and daughters."
— Booklist

"Trigiani (Big Stone Gap) and her mother and sisters share childhood stories, memories of grandparents and parents, and family recipes. Their remembrances of past events, people, and favorite meals are sprinkled with humorous comments and cooking hints from one or another of the authors, adding to the casual, conversational tone. Food was central to Trigiani family life and a primary reason their Italian heritage was preserved through three generations in America. The recipes include pastas, main courses, desserts, and snacks; most are easy and straightforward, perfect to pass from generation to generation."
— Library Journal

"A scrapbook of homey recipes and reminiscences. . . Authentic."
— Publishers Weekly