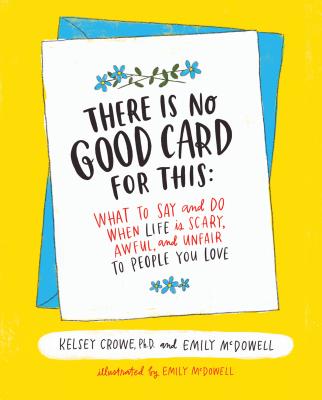 There Is No Good Card for This
What To Say and Do When Life Is Scary, Awful, and Unfair to People You Love
Hardcover

* Individual store prices may vary.
Other Editions of This Title:
Digital Audiobook (1/16/2017)
Description
The creator of the viral hit "Empathy Cards" teams up with a compassion expert to produce a visually stunning and groundbreaking illustrated guide to help you increase your emotional intelligence and learn how to offer comfort and support when someone you know is in pain.
When someone you know is hurting, you want to let her know that you care. But many people don't know what words to use—or are afraid of saying or doing the wrong thing. This thoughtful, instructive guide, from empathy expert Dr. Kelsey Crowe and greeting card maverick Emily McDowell, blends well-researched, actionable advice with the no-nonsense humor and the signature illustration style of McDowell's immensely popular Empathy Cards, to help you feel confident in connecting with anyone experiencing grief, loss, illness, or any other difficult situation.
Written in a how-to, relatable, we've-all-been-that-deer-in-the-headlights kind of way, There Is No Good Card for This isn't a spiritual treatise on how to make you a better person or a scientific argument about why compassion matters. It is a helpful illustrated guide to effective compassion that takes you, step by step by step, past the paralysis of thinking about someone in a difficult time to actually doing something (or nothing) with good judgment instead of fear.
There Is No Good Card for This features workbook exercises, sample dialogs, and real-life examples from Dr. Crowe's research, including her popular "Empathy Bootcamps" that give people tools for building relationships when it really counts. Whether it's a coworker whose mother has died, a neighbor whose husband has been in a car accident, or a friend who is seriously ill, There Is No Good Card for This teaches you how to be the best friend you can be to someone in need.
Praise For There Is No Good Card for This: What To Say and Do When Life Is Scary, Awful, and Unfair to People You Love…
"A heartfelt and practical guide for caring when it really matters." — Sheryl Sandberg, author of Lean In
"This book is a gift. It's the wonderful crash course in Humanity 101 that none of us got to take in school. Without judgment, and with humor and compassion, this book shows you how to show up as the best possible version of yourself when it matters most." — Elizabeth Gilbert, New York Times bestselling author of Eat, Pray, Love and Big Magic
"This book makes complicated things simple and helps us say to each other what we're dying to say. When I hand it to my friends, they'll laugh, cry and breathe easier. The realness and support in these pages feels like oxygen in a world suffocating from shininess and formality." — Glennon Doyle Melton, #1 New York Times Bestselling author of Love Warrior and Carry On, Warrior
"This book has fundamentally changed how I approach helping and caring for others. Compassion and creativity literally leap off the page. It's full of sage advice on how to be a better friend, colleague, family member, and partner to those who are suffering." — Adam Grant, New York Times bestselling author of Give and Take and Originals
"At last, a book for the vast swath of us who really care but don't know how to show it sometimes. Kelsey and Emily made this enormous and complex issue accessible and so wonderfully helpful. It's just right for any human being who ever plans on being close to another." — BJ Miller, MD Assistant Clinical Professor of Medicine at UCSF
HarperOne, 9780062469991, 272pp.
Publication Date: January 17, 2017
About the Author
Kelsey Crowe, Ph.D., founded Help Each Other Out and is a breast cancer survivor. She earned her doctorate in social welfare at the University of California, Berkeley, and teaches social work at California State University. Kelsey is originally from Brooklyn and lives in San Francisco with her husband and daughter. You can find her online at www.helpeachotherout.org.
Emily McDowell is not a doctor. She is a writer, illustrator, speaker, and the CEO of Emily McDowell Studio, making greeting cards for the relationships we really have and products that speak to the people we really are. In 2015, she created Empathy™ Cards, for people experiencing major illness, grief, and loss. She and her work have been featured in the New York Times and on Good Morning America, NBC Nightly News, and NPR's All Things Considered, among many others, and in 2015, she was named by Slate as one of "Ten Designers Who Are Changing the World." Emily lives and works in Los Angeles, and you can find her online at www.emilymcdowell.com.