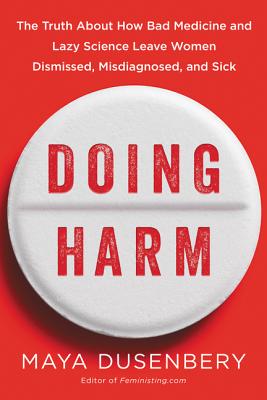 Doing Harm
The Truth About How Bad Medicine and Lazy Science Leave Women Dismissed, Misdiagnosed, and Sick
Hardcover

* Individual store prices may vary.
Other Editions of This Title:
Digital Audiobook (3/5/2018)
Paperback (3/12/2019)
MP3 CD (3/6/2018)
Compact Disc (3/1/2018)
Compact Disc (3/6/2018)
Description
Editor of the award-winning site Feministing.com, Maya Dusenbery brings together scientific and sociological research, interviews with doctors and researchers, and personal stories from women across the country to provide the first comprehensive, accessible look at how sexism in medicine harms women today.
In Doing Harm, Dusenbery explores the deep, systemic problems that underlie women's experiences of feeling dismissed by the medical system. Women have been discharged from the emergency room mid-heart attack with a prescription for anti-anxiety meds, while others with autoimmune diseases have been labeled "chronic complainers" for years before being properly diagnosed. Women with endometriosis have been told they are just overreacting to "normal" menstrual cramps, while still others have "contested" illnesses like chronic fatigue syndrome and fibromyalgia that, dogged by psychosomatic suspicions, have yet to be fully accepted as "real" diseases by the whole of the profession.
An eye-opening read for patients and health care providers alike, Doing Harm shows how women suffer because the medical community knows relatively less about their diseases and bodies and too often doesn't trust their reports of their symptoms. The research community has neglected conditions that disproportionately affect women and paid little attention to biological differences between the sexes in everything from drug metabolism to the disease factors—even the symptoms of a heart attack. Meanwhile, a long history of viewing women as especially prone to "hysteria" reverberates to the present day, leaving women battling against a stereotype that they're hypochondriacs whose ailments are likely to be "all in their heads." 
Offering a clear-eyed explanation of the root causes of this insidious and entrenched bias and laying out its sometimes catastrophic consequences, Doing Harm is a rallying wake-up call that will change the way we look at health care for women.
Praise For Doing Harm: The Truth About How Bad Medicine and Lazy Science Leave Women Dismissed, Misdiagnosed, and Sick…
"Ever since the centuries of burning women healers as witches, because they taught women how to govern our own bodies, thus to control reproduction—the medical world hasn't included all of humanity. Doing Harm shows what is left to be done, and directs both women and men toward healing." — Gloria Steinem
"Maya Dusenbery's exhaustively researched book is equal parts infuriating and energizing. No woman will see the medical establishment, and perhaps even more profound, her own body, the same way after reading it. In a just world, it would be required reading in medical schools from this day forward."  — Courtney E. Martin, author of Perfect Girls, Starving Daughters
"Maya Dusenbery brings new life to one of the most urgent yet under-discussed feminist issues of our time. Anyone who cares about women's health needs to read this book."  — Jessica Valenti, author of Sex Object
"Dusenbery challenges a new generation of women and practitioners to fight for medical equity—shinning a harsh light on the sex bias that pervades every level of medicine. It's outrageous that such malignant neglect exists more than two decades after the government acknowledged the gaps in knowledge about women's health."  — Leslie Laurence, co-author of Outrageous Practices
"In this groundbreaking book, Maya shows how the same forces that hold women back in society more broadly lead to sub-par medical care and inadequate attention to health issues that impact women. Every doctor, scientist, health care provider and researcher should read this book. And so should every woman." — Jill Filipovic, author of The H-Spot
"Doing Harm is a deeply researched and very readable exploration of the systematic mistreatment of women in our medical system—and how even those with the best intentions perpetuate it. This book is an eye-opener; may it also be a call for real, sustained change." — Kate Harding, author of Asking For It and co-editor of Nasty Women
"An intensive, timely spotlight…Within an organized, well-balanced combination of scientific and social research and moving personal stories, Dusenbery makes a convincing case for the need for drastic industry reform and clinical refinement." — Kirkus
"Dusenbery's excellent book makes the sexism plaguing women's health care hard to ignore…skillfully interweaving history, medical studies, current literature, and hard data to produce damning evidence that women wait longer for diagnoses, receive inadequate pain management, and are often told they are imagining symptoms that are taken seriously in men." — Publishers Weekly, starred review
"Editor's Choice by the New York Times" —
"As seen on FRESH AIR" —
"an antidote to the isolation and maddening self-doubt that this all-too-common dismissal can impose. Her careful evidence answers the uncomfortable question that so often niggles in the doctor's office: 'Am I getting lesser care because I'm a woman?'" — Ms. Magazine
"well researched, wonderfully truculent…" — NYT Daily
"Doing Harm methodically and thoroughly lays out an indictment of the medical systems that still largely discount the experiences of women both individually and collectively. Doing Harm demands nothing short of system-wide change, starting with a call to providers at the most basic level" — Rewire
"Dusenbery, who was diagnosed with rheumatoid arthritis, masterfully takes down the wide-reaching systemic gender bias in science and medicine that prevents doctors from truly hearing female patients." — Health.com
"In her new book, Dusenbery provides a comprehensive and much-needed look at how sexism in the medical field is hurting women. Much of the discrepancy in treatment stems from the "knowledge gap," which Dusenbery writes about in depth" — Pacific Standard
"Doing Harm demonstrates persuasively that subconscious gender-bias in medicine is very real and pervasive for women of all backgrounds, as doctors continue to apply a "one-size-fits-all" method of diagnosis and medical evaluation to their women patients." — Pacific Standard
"Dusenbery peels back the sick layers of America's paternal healthcare system. She plays both patient and journalist, seamlessly combining history, research, and interviews into an easily digestible must-read. 5/5" — Bust Magazine
"Dusenbery digs deeper into the issue, exploring the way gender bias in medicine often leaves women struggling for proper care." — Tonic - VICE
"the medical establishment has a poor history of taking women's health issues seriously —a history that Feministing editor Dusenbery takes on with full force in her new book" — Harpers Bazaar
"Through interviews with patients, doctors, and experts as well as a deep cultural analysis, Dusenbery presents a horrifying picture of what it means to be a woman who's dismissed by her doctors." — Bitch Media
"Dusenbery's book, based on two years of research into a host of conditions, exposes the systemic causes of these disparities and provides critically relevant information for the public—and for those in medicine, psychology, and the research sciences." — Greater Good Science Center
"In Doing Harm, Dusenbery explores how biases and sexism in medicine lead to harmful outcomes for women." — Popular Science
"Dusenbery says these experiences fit into a larger pattern of gender bias in medicine. Her new book, Doing Harm, makes the case that women's symptoms are often dismissed and misdiagnosed" — NPR - FRESH AIR
"Her new book is all about how women receive sub-par medical care because the medical community knows comparatively less about their bodies and diseases and too often doesn't trust women's reports of their own symptoms" — WNYC The Brian Lehrer Show
"Maya Dusenbery explores how medicine often leaves women on the periphery of real medical advancement. She explores the horrific reality of how medical practitioners and academic researchers completely dismiss women." — Marie Claire
"Dusenbery writes about women's pain and illnesses being overlooked because of their menstrual cramps, menopause, even entering motherhood." — Dame Magazine
"In her book, Dusenbery traces how women are overlooked in every corner of illness, from autoimmune diseases to chronic pain (which disproportionately affects women and includes everything from irritable bowel syndrome to migraines to arthritis)." — The Cut
"Maya Dusenbery's book, Doing Harm, explains how women's health issues have historically been dismissed—and what we can do about it now." — Broadly
"Doing Harm is a fearless account of the incompetence of our culture when it comes to treating women properly. Dusenbery writes about the institutional systems that are against women—from philosophy to pharmacy to popular culture—in an accessible, engaging, and organized narrative." — The Rumpus
"Maya Dusenbery has added immensely to the literature on women's health." — NY Journal of Books
HarperOne, 9780062470805, 400pp.
Publication Date: March 6, 2018
About the Author
MAYA DUSENBERY is a writer and editor of the award-winning site Feministing.com. She has been a fellow at Mother Jones magazine and a columnist for Pacific Standard magazine. Before becoming a journalist, she worked at the National Institute for Reproductive Health. A Minnesota native, she is currently based in the Twin Cities.
or
Not Currently Available for Direct Purchase