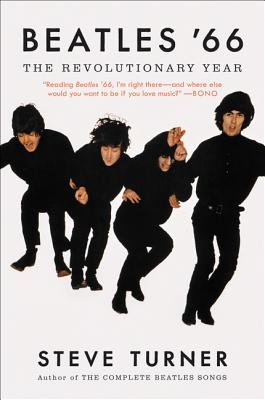 Beatles '66
The Revolutionary Year
Paperback

* Individual store prices may vary.
Other Editions of This Title:
Digital Audiobook (3/5/2018)
Paperback, Large Print (11/8/2016)
Hardcover (10/25/2016)
Compact Disc (3/6/2018)
Compact Disc (3/6/2018)
Description
A riveting look at the transformative year in the lives and careers of the legendary group whose groundbreaking legacy would forever change music and popular culture.
They started off as hysteria-inducing pop stars playing to audiences of screaming teenage fans and ended up as musical sages considered responsible for ushering in a new era.
The year that changed everything for the Beatles was 1966—the year of their last concert and their first album, Revolver, that was created to be listened to rather than performed. This was the year the Beatles risked their popularity by retiring from live performances, recording songs that explored alternative states of consciousness, experimenting with avant-garde ideas, and speaking their minds on issues of politics, war, and religion. It was the year their records were burned in America after John's explosive claim that the group was "more popular than Jesus," the year they were hounded out of the Philippines for "snubbing" its First Lady, the year John met Yoko Ono, and the year Paul conceived the idea for Sgt. Pepper's Lonely Hearts Club Band.
On the fiftieth anniversary of this seminal year, music journalist and Beatles expert Steve Turner slows down the action to investigate in detail the enormous changes that took place in the Beatles' lives and work during 1966. He looks at the historical events that had an impact on the group, the music they made that in turn profoundly affected the culture around them, and the vision that allowed four young men from Liverpool to transform popular music and serve as pioneers for artists from Coldplay to David Bowie, Jay-Z to U2.
By talking to those close to the group and by drawing on his past interviews with key figures such as George Martin, Timothy Leary, and Ravi Shankar—and the Beatles themselves—Turner gives us the compelling, definitive account of the twelve months that contained everything the Beatles had been and anticipated everything they would still become.
Praise For Beatles '66: The Revolutionary Year…
"A pleasing romp through the Beatles' annus mirabilis...Turner does a nice job of capturing them at their best."
— Kirkus Reviews

"Reading Beatles '66, I'm right there-and where else would you want to be if you love music?"
— Bono

"1966 was a crucial year in the Beatles' amazing journey from being the Fab Four to becoming the princes of psychedelia...By concentrating on just this one year, Steve Turner has been able to examine every influence, document every detail, and fit the jigsaw together. An extraordinary achievement."
— Barry Miles, author of Paul McCartney: Many Years from Now and In the Sixties

"1966 was the year of my marriage to George, our first visit to India, and the Beatles' last concert. It was a really exciting time of innovation and exploration- the world, our oyster. Everything is captured most vividly and in such detail in this book. "
— Pattie Boyd

"A fascinating dissection of these best and worst of times for the Beatles. Steve Turner's research is impressive."
— Philip Norman, author of Shout! The True Story of the Beatles, John Lennon: The Life, and Paul McCartney: The Biography

"The most comprehensive coverage of Revolver and the events in the Beatles' lives and times in 1966. Splendid!"
— Tony Bramwell, author of Magical Mystery Tours: My Life with the Beatles

"Turner succeeds in creating an illuminating portrait of the Beatles, both as a band and as individual artists."
— Publishers Weekly

"This book guides Beatles fans through that year in an engaging, interesting and compelling way. Beatles '66 is a major achievement-for Beatles fans, yes of course, but also for anyone interested in how creativity works and is affected by its surroundings."
— New York Journal of Books

"Turner's well-researched, in-depth, quote- and photo-filled précis will thrill all Beatles fans."
— Booklist

"What music journalist Turner brings...is fantastic access (the book draws upon his interviews with The Beatles, as well as producer George Martin and George Harrison's mentor Ravi Shankar) and an extraordinary, Peter Guralnick-like (Last Train to Memphis: The Rise of Elvis Presley) attention to detail."
— USA Today

"Turner tackles the year from all angles, incorporating a wealth of source material and new quotes from people involved to shed some fresh light on these incidents . . . This book is the work of an expert, and expertly written at that."
— Paste Magazine

"A wonderfully compelling look into the year that changed everything for the band."
— BookPage

"This is a Beatles book to read many times. An extraordinary book."
— Beatles Magazine
Ecco, 9780062475589, 464pp.
Publication Date: November 7, 2017
About the Author
Steve Turner is the author of Trouble Man: The Life and Death of Marvin Gaye, A Hard Day's Write: The Stories Behind Every Beatles' Song, Hungry for Heaven: Rock and Roll and the Search for Redemption, Jack Kerouac: Angelheaded Hipster, and Van Morrison: Too Late to Stop Now. His articles have appeared in Rolling Stone, Mojo, Q, and the London Times. He lives in London with his wife and two children.