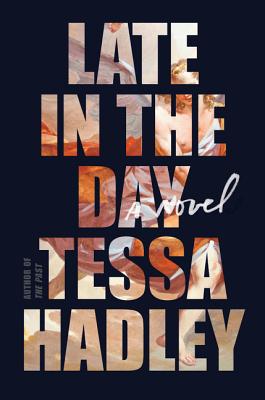 Late in the Day
A Novel
Hardcover

* Individual store prices may vary.
Other Editions of This Title:
Digital Audiobook (1/14/2019)
Paperback (2/18/2020)
Library Binding, Large Print (5/29/2019)
Compact Disc (1/15/2019)
MP3 CD (1/15/2019)
Compact Disc (1/15/2019)
Description
"With each new book by Tessa Hadley, I grow more convinced that she's one of the greatest stylists alive."—Ron Charles, Washington Post
New York Times Book Review Editors' Choice |A Parnassus First Editions Club Pick | Powell's Indispensable Book Club Pick | A Washington Post Notable Book | A Slate Best Book of the Year | A Boston Globe Best Book of the Year | A Bookpage Best Book of the Year
The lives of two close-knit couples are irrevocably changed by an untimely death in the latest from Tessa Hadley, the acclaimed novelist and short story master who "recruits admirers with each book" (Hilary Mantel).

Alexandr and Christine and Zachary and Lydia have been friends since they first met in their twenties. Thirty years later, Alex and Christine are spending a leisurely summer's evening at home when they receive a call from a distraught Lydia: she is at the hospital. Zach is dead.
In the wake of this profound loss, the three friends find themselves unmoored; all agree that Zach, with his generous, grounded spirit, was the irreplaceable one they couldn't afford to lose. Inconsolable, Lydia moves in with Alex and Christine. But instead of loss bringing them closer, the three of them find over the following months that it warps their relationships, as old entanglements and grievances rise from the past, and love and sorrow give way to anger and bitterness.
Late in the Day explores the complex webs at the center of our most intimate relationships, to expose how, beneath the seemingly dependable arrangements we make for our lives, lie infinite alternate configurations. Ingeniously moving between past and present and through the intricacies of her characters' thoughts and interactions, Tessa Hadley once again "crystallizes the atmosphere of ordinary life in prose somehow miraculous and natural" (Washington Post).
Praise For Late in the Day: A Novel…
"With each new book by Tessa Hadley, I grow more convinced that she's one of the greatest stylists alive…. To read Hadley's fiction is to grow self-conscious in the best way: to recognize with astonishment the emotions playing behind our own expressions, to hear articulated our own inchoate anxieties….The whole grief-steeped story should be as fun as a dirge, but instead it feels effervescent—lit not with mockery but with the energy of Hadley's attention, her sensitivity to the abiding comedy of human desire…. Extraordinary." — Ron Charles, Washington Post
"[Hadley] is a gifted anatomist of human relationships, with those among family members being her specialty. Her particular genius lies in the elegance and precision with which she captures the fleeting emotion, the passing, indefinable perception or tiny epiphany."  — Katherine Powers, Wall Street Journal
"Gorgeous, utterly absorbing…. More than many of her contemporaries, the British writer Tessa Hadley understands that life is full of moments when the past presses up against the present, and when the present transforms the past. Her brilliant new novel, Late in the Day, explores both with equal urgency." — Margot Livesey, Boston Globe
"Brilliant.... In the hands of a lesser novelist, the intricate tangle of lives at the center of Late in the Day would feel like just such a self-satisfied riddle or, at best, like sly narrative machinations. Because this is Tessa Hadley, it instead feels earned and real and, even in its smallest nuances, important.... It's to her credit that Hadley manages to be old-fashioned and modernist and brilliantly postmodern all at once.... We've seen this before, and we've never seen this before, and it's spectacular." — Rebecca Makkai, The New York Times Book Review
"Sumptuous… Hadley's fiction—both long and short—has, with a delicious, detached clarity, observed the shape of relationships: their unconventionality, their transgressions. She is a superb stylist, with none of the pretensions that have latterly been attached to such a term: dispassionate, yet voluptuous in her prose." — Financial Times
"Strange, unsettling — eerily beautiful, discomfiting, stay-up-late-addictive, sometimes hair-raising.... Always, it's Hadley's high-res magnification on the interplay of marital (and friendship, and parental) dynamics that supplies her work's steady gold." — Joan Frank, San Francisco Chronicle
"An immersive tale of two intertwined couples…. Hadley tells a juicy story in the voice of a poet." — People's Best New Books
"Tessa Hadley is well-known for her inimitable portrayal of character and her latest effort, Late in the Day, is no disappointment.... A smart exploration of human nature, desire, and friendship." — Vanity Fair
"Her prose has the penetrating quality of Henry James at his most accessible… and is alert, as Virginia Woolf and Elizabeth Bowen were, to how time sculpts, warps or casually destroys us…. A quiet triumph." — Michael Upchurch, The Seattle Times
"The British novelist does what she does best: excavate the tensions and traumas that linger in the most seemingly normal families and relationships." — Huffington Post
"Reading Late in the Day feels both prurient—we are so deeply inside the emotional rhythms of this home—and marvelous, in its elevation of a boring middle-class marriage into a fable of warring identities." — New Republic
"A domestic drama of the first order. The marriages are characters in themselves; going through transformative arcs of their own." — Refinery29
"Riveting…. A four-person character study—here as always, Hadley is a master of interpersonal dynamics—the novel captures the complexity of loss." — Kirkus, starred review
"Perceptive, finely wrought…. Hadley is a writer of the first order, and this novel gives her the opportunity to explore, with profound incisiveness and depth, the inevitable changes inherent to long-lasting marriages." — Publishers Weekly
"A layered and compelling read." — Booklist
"In the fine tradition of women's fiction by authors such as Margaret Drabble, Penelope Lively, and Rachel Cusk exploring relationships among the cultured classes, Hadley's place is secure." — Library Journal, starred review
"An excellent place to start if you haven't yet discovered Tessa Hadley." — Book Riot
Harper, 9780062476692, 288pp.
Publication Date: January 15, 2019
About the Author
Tessa Hadley is the author of six highly acclaimed novels, including Clever Girl and The Past, as well as three short story collections, most recently Bad Dreams and Other Stories, which won the Edge Hill Short Story Prize. Her stories appear regularly in The New Yorker; in 2016 she was awarded the Windham Campbell Prize and the Hawthornden Prize. She lives in London.
or
Not Currently Available for Direct Purchase