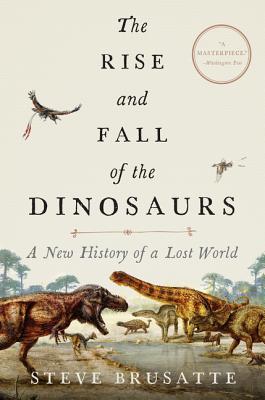 The Rise and Fall of the Dinosaurs
A New History of a Lost World
Hardcover

* Individual store prices may vary.
Other Editions of This Title:
Digital Audiobook (4/23/2018)
Paperback (4/30/2019)
Paperback, Large Print (9/25/2019)
Compact Disc (4/24/2018)
MP3 CD (4/24/2018)
Compact Disc (4/24/2018)
Description
"THE ULTIMATE DINOSAUR BIOGRAPHY," hails Scientific American: A thrilling new history of the age of dinosaurs, from one of our finest young scientists.
"A masterpiece of science writing." —Washington Post
A New York Times Bestseller • Goodreads Choice Awards Winner • A BEST BOOK OF THE YEAR: Smithsonian, Science Friday, The Times (London), Popular Mechanics, Science News
"This is scientific storytelling at its most visceral, striding with the beasts through their Triassic dawn, Jurassic dominance, and abrupt demise in the Cretaceous." —Nature
The dinosaurs. Sixty-six million years ago, the Earth's most fearsome creatures vanished. Today they remain one of our planet's great mysteries. Now The Rise and Fall of the Dinosaurs reveals their extraordinary, 200-million-year-long story as never before.
In this captivating narrative (enlivened with more than seventy original illustrations and photographs), Steve Brusatte, a young American paleontologist who has emerged as one of the foremost stars of the field—naming fifteen new species and leading groundbreaking scientific studies and fieldwork—masterfully tells the complete, surprising, and new history of the dinosaurs, drawing on cutting-edge science to dramatically bring to life their lost world and illuminate their enigmatic origins, spectacular flourishing, astonishing diversity, cataclysmic extinction, and startling living legacy. Captivating and revelatory, The Rise and Fall of the Dinosaurs is a book for the ages.
Brusatte traces the evolution of dinosaurs from their inauspicious start as small shadow dwellers—themselves the beneficiaries of a mass extinction caused by volcanic eruptions at the beginning of the Triassic period—into the dominant array of species every wide-eyed child memorizes today, T. rex, Triceratops, Brontosaurus, and more. This gifted scientist and writer re-creates the dinosaurs' peak during the Jurassic and Cretaceous, when thousands of species thrived, and winged and feathered dinosaurs, the prehistoric ancestors of modern birds, emerged. The story continues to the end of the Cretaceous period, when a giant asteroid or comet struck the planet and nearly every dinosaur species (but not all) died out, in the most extraordinary extinction event in earth's history, one full of lessons for today as we confront a "sixth extinction."
Brusatte also recalls compelling stories from his globe-trotting expeditions during one of the most exciting eras in dinosaur research—which he calls "a new golden age of discovery"—and offers thrilling accounts of some of the remarkable findings he and his colleagues have made, including primitive human-sized tyrannosaurs; monstrous carnivores even larger than T. rex; and paradigm-shifting feathered raptors from China.
An electrifying scientific history that unearths the dinosaurs' epic saga, The Rise and Fall of the Dinosaurs will be a definitive and treasured account for decades to come.
Includes 75 images, world maps of the prehistoric earth, and a dinosaur family tree.
Praise For The Rise and Fall of the Dinosaurs: A New History of a Lost World…
"A masterpiece of science writing." — Washington Post
"The ultimate dinosaur biography. ... Riveting." — Scientific American
"Vivid. … This is scientific storytelling at its most visceral, striding with the beasts through their Triassic dawn, Jurassic dominance and abrupt demise." — Nature
"A page-turner. ... Brusatte skillfully brings dead dino bones to life. … The beauty of this book lies in the details, too, and in the stories of the scientists who dig them up." — New York Times Book Review
"The Science Book of the Year." — Sunday Times (London)
"An absorbing historical saga. … [A] completely winning blend of technical expertise and storytelling ability. … Brusatte's recounting of the millions of years of dinosaur dominance makes for very nerdy, very thrilling reading." — Christian Science Monitor
"A thrilling study. ... The best book on the subject since [the 1980s]. ... Brusatte writes with the authority of a man who ranks as one of the leading experts in his field." — Sunday Times (London)
"Unrelentingly kind in tone and generous in description. ... Mak[es] for one big adventure." — Paris Review (Staff Picks)
"This vivid book reanimates dinosaurs for a new generation. … A lovely book. … A fine piece of writing." — The Times (London)
"Fascinating. ... Superbly illustrated with photos and art, this is popular-science writing at its best." — Booklist, starred review
"Captivating. ... First-rate science writing. ... Superb. ... Carefully crafted." — Publishers Weekly, starred review
"Should not be missed. Highly recommended." — Library Journal, starred review
"Takes readers on a tour of the new fossils and discoveries that are shedding light on the dinosaurs' evolutionary story. … Full of adventures and humor." — Science
"Tells the epic tale of the dinosaurs rise to dominance and extinction, taking us on a thrilling journey back in time." — National Geographic
"If you ever loved a dinosaur, buy this book. … Brusatte does for dinosaurs what E.O. Wilson did for ants and Carl Sagan for stars." — Washington Times
"An up-to-the-minute account of the long history and remarkable biology of these extraordinary animals." — RICHARD FORTEY, former senior paleontologist at London's Natural History Museum and author of Life, Trilobite!, and Earth
"A must-have for fans of ancient reptiles and their lost world." — Kirkus Reviews
"Brusatte delivers a cutting-edge account of Earth's most awe-inspiring age—and does so with great skill, humor, and wonder. Captures the majesty of the creatures he studies, as well as their breathtaking evolutionary ride." — PETER BRANNEN, author of The Ends of the World: Volcanic Apocalypses, Lethal Oceans, and Our Quest to Understand Earth's Past Mass Extinctions
"Brusatte scores. ... This is science at first hand." — Literary Review
"Brusatte's prose shows the excitement he feels about his subject, making the book more of a conversation than a dry tract. … A great introduction for folks wanting to learn more about dinosaurs." — Shelf Awareness
"Steve Brusatte explains how these spectacular bygone animals shaped our present, and how they can inform our future. ... One of the world's leading millennial paleontologists. ... The Rise and Fall of the Dinosaurs is an expansive biography of this peerless group of species." — VICE/Motherboard
"Excellent. ... [Brusatte] writes with verve... zip and pizzazz. ... Lap it up, dinosaur fans!" — Current Biology
"[A] Jurassic blockbuster. ... A gripping read in the best traditions of popular science. ... Infectiously ebullient." — The Observer (London)
"The Rise and Fall of the Dinosaurs may be the best book on dinosaurs ever written for a popular audience." — Inside Higher Ed
"Filled with vivid illustrations, historical accounts, and tales of paleontological expeditions, this book will change the way you think about dinosaurs." — Gizmodo
"The Rise and Fall of the Dinosaurs is a biography of these magnificent lost beings and their world." — London Review of Books
Mariner Books, 9780062490421, 416pp.
Publication Date: April 24, 2018
About the Author
Steve Brusatte, PhD, is an American paleontologist who teaches at the University of Edinburgh, in Scotland. He is the author of the international bestseller The Rise and Fall of the Dinosaurs. The paleontology advisor on the Jurassic World film franchise, Brusatte has named more than fifteen new species, including the tyrannosaur "Pinocchio rex" (Qianzhousaurus), the raptor Zhenyuanlong, and several ancient mammals. His research and writing has been featured in Science, the New York Times, Scientific American, and many other publications.
Book Videos