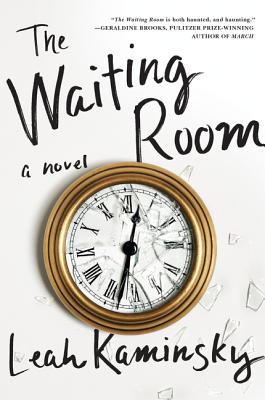 The Waiting Room (Paperback)
A Novel
Harper Perennial, 9780062490476, 320pp.
Publication Date: November 15, 2016
Other Editions of This Title:
MP3 CD (7/26/2016)
* Individual store prices may vary.
Description
"The Waiting Room is both haunted, and haunting."—Geraldine Brooks, Pulitzer Prize-winning author of March
The Waiting Room unfolds over the course of a single, life-changing day, but the story it tells spans five decades, three continents, and one family's compelling history of love, war, and survival
As the daughter of Holocaust survivors, Dina's present has always been haunted by her parents' pasts. She becomes a doctor, emigrates, and builds a family of her own, yet no matter how hard she tries to move on, their ghosts keep pulling her back. A dark, wry sense of humor helps Dina maintain her sanity amid the constant challenges of motherhood and medicine, but when a terror alert is issued in her adopted city, her coping skills are pushed to the limit.
Interlacing the present and the past over a span of twenty-four hours, The Waiting Room is an intense exploration of what it means to endure a day-to-day existence defined by conflict and trauma, and a powerful reminder of just how fragile life can be. As the clock counts down to a shocking climax, Dina must confront her parents' history and decide whether she will surrender to fear, or fight for love.
About the Author
Leah Kaminsky is poetry and fiction editor at the Medical Journal of Australia. She conceived and edited Writer, M.D., an anthology of contemporary doctor-writers. She is the author of We're All Going to Die, the award-winning poetry collection Stitching Things Together, and collaborated on the number one Amazon bestseller Cracking the Code. She holds an MFA in creative writing from Vermont College of Fine Arts.
Praise For The Waiting Room: A Novel…
"Potent…. The Waiting Room is both haunted, and haunting."
— Geraldine Brooks, Pulitzer Prize-winning author of March and The Secret Chord

"An assured debut.... Compelling, moving and memorable."
— Graeme Simsion, author of The Rosie Project

"A sharp novel…. Explores intergenerational trauma with approachable simplicity."
— Ilana Masad, Slate

"Vivid, riveting, authentic with emotion and conflict."
— Jerome Groopman, M.D.

"Kaminsky's prose is deft and delicate, and this novel tackles the haunting of the Holocaust with a tough and remarkably unsentimental gaze."
— MJ Hyland, Man Booker Prizer shortlisted author of Carry Me Down

"The Waiting Room is a moving and riveting story of a woman perched between the shadow of the past and a fragile reality in her adopted homeland. In the tradition of the finest physician-novelists, Leah Kaminsky writes with precision, authenticity, and profound insight."
— Amy Gottlieb, author of The Beautiful Possible

"Leah Kaminsky is a writer on whom nothing is lost. There are many lives, many worlds, and many days in the single day she depicts in The Waiting Room. The novel is a masterful debut."
— Joseph Skibell, author of A Curable Romantic

"The personal, the political and the medical wrestle with history in this page-turning novel. An engrossing tale that is both acutely worldly and fiercely introspective."
— Danielle Ofri, MD, author of What Doctors Feel: How Emotions Affect the Practice of Medicine

"She's an evocative storyteller, and she's sensitive to the intersections between physical and emotional pain and the way that memory intrudes upon daily reality."
— Kirkus

"Kaminsky uses the events of one day…to dramatize what it means to live under constant threat. … [She] brings Dina into sharp focus, while her ghostly mother serves as a strong secondary character, in order to vividly personalize stark news reports."
— Booklist

"[A] spectacular fiction debut…. A moving psychodrama."
— Jewish Telegraphic Agency

"The Waiting Room is about Jewish lives, past, present and future…. Readers get snippets of all these rich lives, and a tapestry of characters is born.… The story pulls you in."
— New York Journal of Books

"[Kaminsky] brings to the story so much verisimilitude, so much reality, that we can't take our eyes off the page. Her descriptions are rich and vibrant . . . [Kaminsky] is able to weave the surreal throughout her story in such a way that scenes burgeon with timelessness."
— The Forward online

"The book offers enormous insights into being the child of survivors, but it is also a novel of Israel."
— Jweekly.com

"An evocative tale."
— Moment Magazine