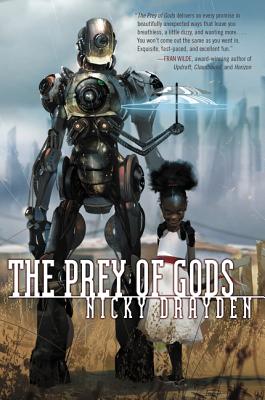 The Prey of Gods
Paperback

* Individual store prices may vary.
Other Editions of This Title:
Digital Audiobook (12/11/2017)
Compact Disc (12/12/2017)
Description
Winner of the Compton Crook Award
From a new voice in the tradition of Lauren Beukes, Ian McDonald, and Nnedi Okorafor comes The Prey of Gods, a fantastic, boundary-challenging tale, set in a South African locale both familiar and yet utterly new, which braids elements of science fiction, fantasy, horror, and dark humor.
In South Africa, the future looks promising. Personal robots are making life easier for the working class. The government is harnessing renewable energy to provide infrastructure for the poor. And in the bustling coastal town of Port Elizabeth, the economy is booming thanks to the genetic engineering industry which has found a welcome home there. Yes—the days to come are looking very good for South Africans. That is, if they can survive the present challenges:
A new hallucinogenic drug sweeping the country . . .
An emerging AI uprising . . .
And an ancient demigoddess hellbent on regaining her former status by preying on the blood and sweat (but mostly blood) of every human she encounters.
It's up to a young Zulu girl powerful enough to destroy her entire township, a queer teen plagued with the ability to control minds, a pop diva with serious daddy issues, and a politician with even more serious mommy issues to band together to ensure there's a future left to worry about.
Fun and fantastic, Nicky Drayden takes her brilliance as a short story writer and weaves together an elaborate tale that will capture your heart . . . even as one particular demigoddess threatens to rip it out.
Praise For The Prey of Gods…
"Fans of Nnedi Okorafor, Lauren Beukes and Neil Gaiman better add The Prey of Gods to their reading lists! This addicting new novel combines all the best elements of science fiction and fantasy." — RT Book Reviews (June 2017 Seal of Excellence -- Best of the Month)
"This dense and imaginative debut is [...] a book like no other, with a diverse cast that crosses the spectrum of genders and races, and a new idea (or four) in every chapter." — B&N Sci Fi and Fantasy Blog (The Best Science Fiction & Fantasy Books of 2017 So Far)
"You'll need to clear your schedule as soon as you get your hands on a copy of Drayden's debut novel!...Drayden has certainly made herself an author to watch out for." — Romantic Times, 4 1/2 stars (Top Pick!)
"Prey of Gods delivers on every promise in beautifully unexpected ways that leave you breathless, a little dizzy, and wanting more...Exquisite, fast-paced, and excellent fun." — Fran Wilde, award-winning author of Updraft, Cloudbound, and Horizon
"Drayden has knocked it out of the park with this novel. . . . an excellent piece of fiction that is levels above any of the summer reads coming out." — New York Journal of Books
"Drayden's delivery of all this is subtly poignant and slap-in-the-face deadpan — perfect for this novel-length thought exercise about what kinds of gods a cynical, self-absorbed postmodern society really deserves. Lots of fun." — New York Times Book Review
"Thanks to a rip-roaring story and Drayden's expansive imagination, it all coheres into the most fun you can have in 2017." — Book Riot (Best Books of 2017)
"Nicky Drayden's debut novel The Prey of Gods is a surprising cornucopia of genres and characters taking place in a futurist South Africa [...] It's a little bit surreal, a little bit weird, a lot of fun and wholly impressive." — Kirkus Reviews
"A fantastic mix of science fiction, horror, fantasy, and humor, The Prey of Gods is a unique novel that defies categorization...Fun and engaging, The Prey of Gods is an unforgettable read."
— Bustle -- "13 Science Fiction Books Starring Women For Your Summer Reading List"
"Ancient gods, gene-tech, and gripping action - I love so much about this book." — Cat Rambo, author of Beasts of Tabat and Neither Here Nor There
"One of the biggest pleasures of this book is the plurality of its voices and story lines, and the way Nicky Drayden skips and weaves between them...It's a book full of energy and momentum, strange wit and sensitivity. It is a LOT. And it is wonderful." — Vulture ( The 10 Best Fantasy Books of 2017)
"The Prey of Gods was a very entertaining novel filled with wonderfully imaginative ideas, and it was very competently written...I really enjoyed reading it, and I would definitely recommend it to whoever is looking for a diverse novel full of action and inventive creations." — Black Girl Nerds
"The Prey of Gods is an ambitious blend of folklore, bioengineering, and science fiction... With luck, readers will remember Drayden's novel when nomination season rolls around." — Steven Silver -- SFSite
"You may wonder exactly what kind of speculative fiction it is...Trust me: This stuff is good, call it what you will." — Seattle Times -- Notable Book of 2017
"In this debut novel from accomplished short story writer Nicky Drayden, the mythic and the mechanical mesh as smoothly as servo gears in a security droid. That's due largely to Drayden's understanding of the creatures that occupy the space between those two: human beings." — Austin Chronicle
Harper Voyager, 9780062493033, 400pp.
Publication Date: June 13, 2017
About the Author
Nicky Drayden's short fiction has appeared in publications such as Shimmer and Space and Time. She is a systems analyst and resides in Austin, Texas, where being weird is highly encouraged, if not required. Her debut novel, The Prey of Gods, was a best of the year pick by Book Riot, Vulture, and RT Book Reviews.