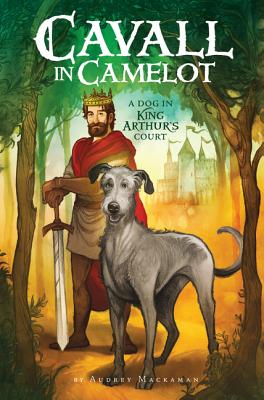 Cavall in Camelot #1
A Dog in King Arthur's Court
Hardcover

* Individual store prices may vary.
Description
In Camelot, King Arthur's dog encounters a world of danger and magic…
Follow Cavall as he embarks on a quest that will put the unbreakable bond between a dog and his person to the ultimate test.
When Cavall and his older brother, Glessic, leave the comfort of their simple barn to join the lavish court of Camelot, Cavall wants nothing more than to prove he's a good dog to the great knights and dogs of the castle—especially to King Arthur.
But Gless says only the best dogs are worthy of greatness, and Cavall has never been as strong, brave, or fast as his brother.
Meanwhile, malevolent forces lurk in Camelot, and Cavall must figure out how to protect his person. To make matters worse, Arthur's mysterious nightmares are threatening to shake his grip on reality and undermine his authority as king.
To fight back against the dangers of the dream world, Cavall will need help from some loyal hounds and the enchanting, sometimes frightening creatures who call themselves the fay.
In this captivating debut from Audrey Mackaman, Cavall will have to prove not only that he can be a good dog for his person, but that he is capable of a greatness all his own.
Please note that this book has deckle edges (the edges of the paper are purposely rough).
Praise For Cavall in Camelot #1: A Dog in King Arthur's Court…
Debut author Mackaman seamlessly weaves myths of Camelot together with universal lessons, including the best way to defend those one cares about and the merits of cooperation…. This warm and action-packed series kickoff will leave readers eager to see what adventures Cavall stumbles into next.
— Publishers Weekly
HarperCollins, 9780062494481, 256pp.
Publication Date: August 21, 2018
About the Author
Audrey Mackaman grew up in Des Moines, Iowa, reading fantasy novels and hoping someday to write her own. Now she lives on Whidbey Island in Washington, where she helps aspiring authors with their books while writing the adventures of Cavall in Camelot. Audrey is an animal lover who volunteers at animal shelters and dog sits whenever she can. Her clients' pooches were the inspiration for Cavall and the rest of the dogs at Camelot. Cavall in Camelot is her debut novel.
or
Not Currently Available for Direct Purchase