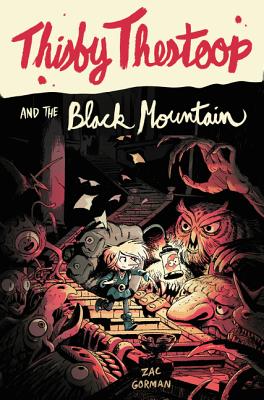 Thisby Thestoop and the Black Mountain
Paperback

* Individual store prices may vary.
Other Editions of This Title:
Digital Audiobook (4/16/2018)
Hardcover (4/17/2018)
Compact Disc (4/17/2018)
MP3 CD (4/17/2018)
Compact Disc (4/17/2018)
Description
Surrounded by all creatures gruesome and grotesque, Thisby Thestoop, the gamekeeper for the Black Mountain Dungeon, is getting roped into another job—saving the princess's skin—in the debut fantasy-adventure series by Zac Gorman, contributor to the hilarious Rick and Morty comic series.
In the absurd land of Nth, Thisby Thestoop can be found within the forlorn walls of Castle Grimstone, down the precarious steps of the Black Mountain dungeon, up to her nose in griffon toenails, gnoll spittle, and troll meat (to give to them, not made of them).
When the prince and princess arrive for a Royal Inspection, the much too good-looking Princess Iphigenia winds up lost in the tunnels of the dungeon—without her guards, her staff, or her younger twin brother—and it's up to Thisby to guide the princess safely past the hoards of minotaurs, wyverns, ghouls, and who-knows-what-else that would love nothing more than to nosh the royal highness for dinner.
Thisby Thestoop and Princess Iphigenia have a dangerous adventure ahead of them. If they're going to a rescue the missing prince, stop a mounting war, and keep safe all the creatures who call the mountain dungeon home, they'll have to learn how to trust each other.
Don't miss the first book in this rollicking new fantasy-adventure series from debut author Zac Gorman!
Praise For Thisby Thestoop and the Black Mountain…
"Tweens will instantly connect with innovative, hardworking Thisby and cheer her on. The story is an intriguing page-turner." — School Library Journal
"A proper adventure story." — Kirkus Reviews
"Gorman makes a strong children's book debut...delivering a fast-paced, high-stakes adventure. Clever Thisby and forceful Iphigenia make a delightfully odd pairing as they form an unlikely friendship amid the chaos and danger, and Bosma's ghoulish b&w illustrations further help bring the characters and creatures to life." — Publishers Weekly
"The strength of this first novel of a planned series is certainly its menagerie of familiar and unfamiliar monsters, which Thisby helms as a young and extraordinary zookeeper."
— Bulletin of the Center for Children's Books
HarperCollins, 9780062495686, 336pp.
Publication Date: March 19, 2019
About the Author
Zac Gorman is a cartoonist and author from Detroit, Michigan. He worked as a storyboard artist on the Emmy-winning series Over the Garden Wall (Cartoon Network) and was nominated for the Annie Award for Character Design for his work on Welcome to the Wayne (Nickelodeon). He wrote for the Rick and Morty comic series published monthly by Oni Press. Thisby Thestoop and the Black Mountain is his debut novel.
Sam Bosma is a sentient orb discovered in an abandoned mine, of average height and build (for an orb). He is also the award-winning creator of the Fantasy Sports comics (NoBrow Press), and has fashioned illustrations for the New Yorker, Scholastic, Hulu, and the Cartoon Network show Steven Universe. He currently lives and works in Los Angeles.