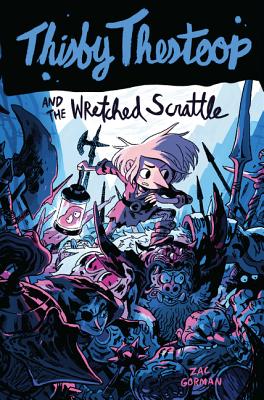 Thisby Thestoop and the Wretched Scrattle
Hardcover

* Individual store prices may vary.
Description
Thisby Thestoop, gamekeeper and unlikely hero, would do anything to save her home—even enter the Wretched Scrattle, a death-defying race through the Black Mountain.
Don't miss the second installment in this rollicking fantasy-adventure series by Zac Gorman, contributor to the hilarious Rick and Morty comic series, with illustrations from award-winning artist Sam Bosma.
In the wake of their harrowing victory against the forces of the Darkwell, Thisby Thestoop, gamekeeper and sometime friend for all creatures gruesome, grotesque, and uncommon, has found herself in the usual position of running the Black Mountain dungeon.
Under her watch, the resident monsters, from the hordes of merpeople to drooling trolls, are all well-fed, content, and far from the reach of other kingdoms—or so Thisby thinks.
With unrest growing between the Kingdom of Nth and Umberfall, rumors of a conspiracy have caught the ears of the king. And control of the dungeon has been wrenched from the hands of those who have cared for it best.
Wasting no time in ruining all of Thisby's hard work, the royally appointed overseer throws the dungeon into chaos—the fire bats are out of their cave, the trolls are wide awake, and, most telling of all, the dire rats are acting strange. What's worse is that every day more and more monsters—everything from tiny imps, to banshees, to a full-grown wyvern—are turning up dead and Thisby can't discern any pattern to the fatal attacks. But there may be a way to put things back like they were—the Wretched Scrattle.
Beginning in the very deepest tunnels of the dungeon, the Wretched Scrattle's tournament victor will claim the ultimate prize of becoming the new Master of the Black Mountain. No one knows the dungeons quite like Thisby, and if she wins she'll have it back to running like dünkeldwarven automata—that is, if she can make it out alive.
Join Thisby on another adventure in the second book from the beloved fantasy-adventure series by master storyteller Zac Gorman.
HarperCollins, 9780062495747, 384pp.
Publication Date: April 23, 2019
About the Author
Zac Gorman is a cartoonist and author from Detroit, Michigan. He worked as a storyboard artist on the Emmy-winning series Over the Garden Wall (Cartoon Network) and was nominated for the Annie Award for Character Design for his work on Welcome to the Wayne (Nickelodeon). He wrote for the Rick and Morty comic series published monthly by Oni Press. Thisby Thestoop and the Black Mountain is his debut novel.
Sam Bosma is a sentient orb discovered in an abandoned mine, of average height and build (for an orb). He is also the award-winning creator of the Fantasy Sports comics (NoBrow Press), and has fashioned illustrations for the New Yorker, Scholastic, Hulu, and the Cartoon Network show Steven Universe. He currently lives and works in Los Angeles. 
or
Not Currently Available for Direct Purchase