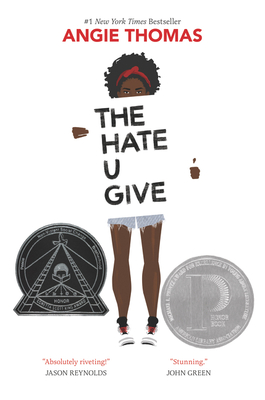 The Hate U Give
Hardcover

* Individual store prices may vary.
Other Editions of This Title:
Digital Audiobook (2/27/2017)
Paperback (5/3/2022)
Prebound (2/28/2017)
Paperback, Large Print (6/8/2022)
Hardcover, Large Print (7/19/2017)
Compact Disc (2/28/2017)
MP3 CD (2/28/2017)
Compact Disc (2/28/2017)
Description
8 starred reviews · Goodreads Choice Awards Best of the Best  ·  William C. Morris Award Winner · National Book Award Longlist · Printz Honor Book · Coretta Scott King Honor Book · #1 New York Times Bestseller!
"Absolutely riveting!" —Jason Reynolds
"Stunning." —John Green
"This story is necessary. This story is important." —Kirkus (starred review)
"Heartbreakingly topical." —Publishers Weekly (starred review)
"A marvel of verisimilitude." —Booklist (starred review)
"A powerful, in-your-face novel." —Horn Book (starred review)
Sixteen-year-old Starr Carter moves between two worlds: the poor neighborhood where she lives and the fancy suburban prep school she attends. The uneasy balance between these worlds is shattered when Starr witnesses the fatal shooting of her childhood best friend Khalil at the hands of a police officer. Khalil was unarmed.
Soon afterward, his death is a national headline. Some are calling him a thug, maybe even a drug dealer and a gangbanger. Protesters are taking to the streets in Khalil's name. Some cops and the local drug lord try to intimidate Starr and her family. What everyone wants to know is: what really went down that night? And the only person alive who can answer that is Starr.
But what Starr does—or does not—say could upend her community. It could also endanger her life.
Want more of Garden Heights? Catch Maverick and Seven's story in Concrete Rose, Angie Thomas's powerful prequel to The Hate U Give.

Praise For The Hate U Give…
"As we continue to fight the battle against police brutality and systemic racism in America, THE HATE U GIVE serves as a much needed literary ramrod. Absolutely riveting!" — Jason Reynolds, bestselling coauthor of ALL AMERICAN BOYS
"Angie Thomas has written a stunning, brilliant, gut-wrenching novel that will be remembered as a classic of our time." — John Green, bestselling author of The Fault in Our Stars
"Fearlessly honest and heartbreakingly human. Everyone should read this book." — Becky Albertalli, William C. Morris Award-winning author of SIMON VS. THE HOMO SAPIENS AGENDA
"This is tragically timely, hard-hitting, and an ultimate prayer for change. Don't look away from this searing battle for justice. Rally with Starr." — Adam Silvera, New York Times bestselling author of MORE HAPPY THAN NOT
"With smooth but powerful prose delivered in Starr's natural, emphatic voice, finely nuanced characters, and intricate and realistic relationship dynamics, this novel will have readers rooting for Starr and opening their hearts to her friends and family. This story is necessary. This story is important." — Kirkus Reviews (starred review)
"Though Thomas's story is heartbreakingly topical, its greatest strength is in its authentic depiction of a teenage girl, her loving family, and her attempts to reconcile what she knows to be true about their lives with the way those lives are depicted—and completely undervalued—by society at large." — Publishers Weekly (starred review)
"Beautifully written in Starr's authentic first-person voice, this is a marvel of verisimilitude as it insightfully examines two worlds in collision. An inarguably important book that demands the widest possible readership." — Booklist (starred review)
"Pair this powerful debut with Jason Reynolds and Brendan Kiely's ALL AMERICAN BOYS to start a conversation on racism, police brutality, and the Black Lives Matter movement." — School Library Journal (starred review)
"The Hate U Give is an important and timely novel that reflects the world today's teens inhabit. Starr's struggles create a complex character, and Thomas boldly tackles topics like racism, gangs, police violence, and interracial dating. This topical, necessary story is highly recommended for all libraries." — Voice of Youth Advocates (VOYA) (starred review)
"Thomas has penned a powerful, in-your-face novel that will similarly galvanize fans of Kekla Magoon's How It Went Down and Jason Reynolds and Brendan Kiely's All American Boys." — Horn Book (starred review)
"Ultimately the book emphasizes the need to speak up about injustice. That's a message that will resonate with all young people concerned with fairness, and Starr's experience will speak to readers who know Starr's life like their own and provide perspective for others." — Bulletin of the Center for Children's Books (starred review)
"In her debut novel, Angie Thomas creates what might be one of the decade's most vivid voices in YA fiction. Though the appalling scenario depicted here is sadly familiar, Thomas's clear and honest writing moves beyond sound bites to represent the real people and communities behind the headlines." — Shelf Awareness (starred review)
"The story of Starr Carter, a 16-year-old who sees her childhood best friend fatally shot by a police officer, is compelling, thought-provoking, and conversation-enabling. One readers are sure to be talking about for a long time." — Brightly
Balzer + Bray, 9780062498533, 464pp.
Publication Date: February 28, 2017
About the Author
Angie Thomas is the author of the award-winning, #1 New York Times bestselling novels The Hate U Give, On the Come Up, and Concrete Rose, as well as Find Your Voice: A Guided Journal for Writing Your Truth. A former teen rapper who holds a BFA in creative writing, Angie was born, raised, and still resides in Mississippi. You can find her online at www.angiethomas.com.
1. Chapter 2 begins with Starr flashing back to a talk her parents had with her about what precautions to take when encountering a police officer (Chapter 2, p. 20). Have you had a similar conversation with people you love about what to do when stopped by the police? Reflect upon or imagine this conversation.
2. Thomas frequently uses motifs of silence and voice throughout the book. Find instances in the book where silence or voice and speech are noted, and talk about the author's possible intentions for emphasizing these motifs.
3. At the police station after Starr details the events leading up to the shooting, the detective shifts her focus to Khalil's past. Why do you think the detective did this? Discuss Starr's reaction to this "bait" (Chapter 6, pp. 102–103).
4. Once news of Khalil's shooting spreads across the neighborhood, unrest arises: "Sirens wail outside. The news shows three patrol cars that have been set ablaze at the police precinct . . . A gas station near the freeway gets looted . . . My neighborhood is a war zone" (Chapter 9, pp. 136–139). Respond to this development and describe some parallels to current events.
5. How do you think Starr would define family? What about Seven? How do you define it?
6. Chris and Starr have a breakthrough in their relationship—Starr admits to him that she was in the car with Khalil and shares the memories of Natasha's murder (Chapter 17, pp. 298–302). Discuss why Starr's admission and releasing of this burden to Chris is significant.
7. How and why does the neighborhood react to the grand jury's decision (Chapter 23)? How does Starr use her voice as a weapon, and why does she feel that it is vital that she does?
8. Starr pledges to "never be quiet" Chapter 26, p. 444. After reading this book, how can you use your voice to promote and advance social justice? Reflect on how you and your community discuss and address inequality.