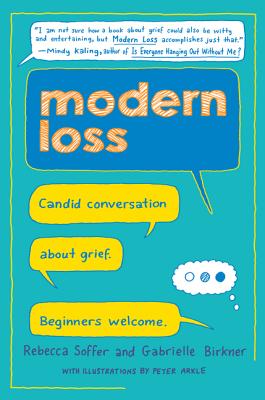 Modern Loss
Candid Conversation About Grief. Beginners Welcome.
Hardcover

* Individual store prices may vary.
Other Editions of This Title:
Digital Audiobook (1/22/2018)
Compact Disc (1/23/2018)
Description
Inspired by the website that the New York Times hailed as "redefining mourning," this book is a fresh and irreverent examination into navigating grief and resilience in the age of social media, offering comfort and community for coping with the mess of loss through candid original essays from a variety of voices, accompanied by gorgeous two-color illustrations and wry infographics.
At a time when we mourn public figures and national tragedies with hashtags, where intimate posts about loss go viral and we receive automated birthday reminders for dead friends, it's clear we are navigating new terrain without a road map.
Let's face it: most of us have always had a difficult time talking about death and sharing our grief. We're awkward and uncertain; we avoid, ignore, or even deny feelings of sadness; we offer platitudes; we send sympathy bouquets whittled out of fruit.
Enter Rebecca Soffer and Gabrielle Birkner, who can help us do better. Each having lost parents as young adults, they co-founded Modern Loss, responding to a need to change the dialogue around the messy experience of grief. Now, in this wise and often funny book, they offer the insights of the Modern Loss community to help us cry, laugh, grieve, identify, and—above all—empathize.
Soffer and Birkner, along with forty guest contributors including Lucy Kalanithi, singer Amanda Palmer, and CNN's Brian Stelter, reveal their own stories on a wide range of topics including triggers, sex, secrets, and inheritance. Accompanied by beautiful hand-drawn illustrations and witty "how to" cartoons, each contribution provides a unique perspective on loss as well as a remarkable life-affirming message.
Brutally honest and inspiring, Modern Loss invites us to talk intimately and humorously about grief, helping us confront the humanity (and mortality) we all share. Beginners welcome.
Praise For Modern Loss: Candid Conversation About Grief. Beginners Welcome.…
"I am not sure how a book about grief could also be witty and entertaining, but Modern Loss accomplishes just that." — Mindy Kaling, writer for The Office and author of Is Everyone Hanging Out Without Me?
"Talking about loss can feel scary. This book isn't. It's about grieving deeply over the long term, and the reassurance that you're far from broken because of it. These surprisingly funny and candid stories aren't about death; they're about life, and thriving in the face of loss." — Stephen Colbert
"Modern Loss is a book about grieving and death that shimmers with life. In turn raw, searing, charming, witty and funny—Modern Loss is full of surprises and is definitely not your mother's death and dying book." — Dave Isay, Founder, Storycorps
"Loss is devastating, but this frank and funny book makes it less isolating. I want to give it to everyone I know who is grieving, has grieved, or will grieve. In other words, I want to give it to everyone" — Anna Sale, host of WNYC's Death, Sex and Money
"I love this book! Humans spilling their feelings with so much humility, hope, and humor." — Nancy Lublin, Founder and CEO, Crisis Text Line
"Profound, irreverent, probing, and consoling, Modern Loss is the guide to grief I wish I'd had when my mother died at 55. Mourning a parent years earlier than my peers, I felt alone with my loss. This is the company I wish I'd kept in those first years; Soffer and Birkner have compiled a book that feels like sitting with your best friends over dinner and laughing and crying and connecting over the most profound experiences you can have." — Meghan O'Rourke, author of The Long Goodbye
"Finally, a book that fearlessly embraces grief and finds heretofore undiscovered areas of inspiration, humor and above all, light. Modern Loss is our collective Modern Gain." — Damon Lindelof, co-creator of Lost and The Leftovers
"Devastatingly poignant, Modern Loss took me to a safe place and allowed me to feel comforted by reading about something that I've always feared: death. Especially as I deal with aging parents, I found myself feeling some of my anguish dissipate as I was reminded of the universality of grieving. It allowed me to take a breath, and I needed to. We all do." — Lisa Ling, host and executive producer of CNN's "This Is Life"
"A frank, often funny meditation on grief and death from the founders of the website Modern Loss. With essays from more than 40 contributors, the book is an important contribution to the national conversation about loss." — New York Post
"A very relatable and real book of personal essays written that cover almost every grief and loss topic and pulls no punches." — Strategist
Harper Wave, 9780062499189, 384pp.
Publication Date: January 23, 2018
About the Author
Rebecca Soffer is the cofounder and CEO of Modern Loss. A former producer for the Peabody Award-winning Colbert Report, Rebecca is a nationally recognized speaker on the topics of loss and resilience. She is a Columbia University Graduate School of Journalism alumna and contributes regularly to books, magazines, and other media. Rebecca lives in New York City and the Berkshires with her husband and two children.
Gabrielle Birkner
is the co-founder and executive editor of Modern Loss. She is a graduate of Northwestern University's Medill School of Journalism, and writes regularly for national newspapers and magazines.
A journalist and digital content strategist, she has served as managing editor at
JTA
, director of digital media at the
Forward,
and features editor at
The New York Sun
.
Gabrielle lives in Los Angeles with her husband and two children.