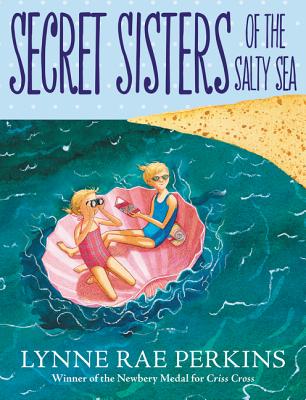 Secret Sisters of the Salty Sea (Hardcover)
Greenwillow Books, 9780062499660, 240pp.
Publication Date: May 15, 2018
Other Editions of This Title:
Digital Audiobook (5/14/2018)
Paperback (5/14/2019)
Compact Disc (5/15/2018)
MP3 CD (5/15/2018)
Compact Disc (5/15/2018)
Pre-Recorded Audio Player (5/15/2018)
* Individual store prices may vary.
Description
Newbery Medalist Lynne Rae Perkins introduces two irresistible sisters—Alix and Jools—and takes readers on an unforgettable vacation to the beach.
This joyful celebration of sisters, family, friendship, and the ocean is illustrated in black-and-white throughout. The Wall Street Journal said, "Ocean meets sky meets two young girls in Lynne Rae Perkins's affectionate chapter book. . . . Illustrations by the author add wit and tenderness to this sunny summer story." For fans of Kate DiCamillo and Rebecca Stead.
Alix and her older sister, Jools, have never been to the ocean. When their parents pack them up to spend a week by the shore, Alix is nervous about leaving home—but excited, too. At the beach, the sisters make friends, go exploring, and have adventures big and small. To Alix's surprise, as the week comes to an end, she finds she doesn't want to leave!
Each chapter contains its own miniature discovery—from picking periwinkles, meeting a crab, and making sandcastles, to exploring the nearby town. Award-winning author Lynne Rae Perkins has beautifully crafted a genuine and engaging novel about sisters, family, and exploration.
A great read-aloud, as well as a good choice for newly independent readers. Booklist said, "Ordinary pleasures, in the hands of a writer so skilled, are elevated." Features black and white art throughout.
About the Author
Lynne Rae Perkins was awarded the Newbery Medal for Criss Cross. She is the author of four other novels—All Alone in the Universe, As Easy as Falling Off the Face of the Earth, Nuts to You, and Secret Sisters of the Salty Sea. Lynne Rae Perkins has also written and illustrated several acclaimed picture books, including Frank and Lucky Get Schooled; The Broken Cat; Snow Music: Pictures from Our Vacation; and The Cardboard Piano. The author lives with her family in northern Michigan. www.lynnerae.com
Lynne Rae Perkins was awarded the Newbery Medal for Criss Cross. She is the author of four other novels—All Alone in the Universe, As Easy as Falling Off the Face of the Earth, Nuts to You, and Secret Sisters of the Salty Sea. Lynne Rae Perkins has also written and illustrated several acclaimed picture books, including Frank and Lucky Get Schooled; The Broken Cat; Snow Music: Pictures from Our Vacation; and The Cardboard Piano. The author lives with her family in northern Michigan. www.lynnerae.com
Praise For Secret Sisters of the Salty Sea…
"Ocean meets sky meets two young girls in Lynne Rae Perkins's affectionate chapter book...the girls experience days filled with quiet, quirky wonders: sand castles and ocean currents, edible snails and giant beetles, injured raptors and mint-eating raccoons. Illustrations by the author add wit and tenderness to this sunny summer story."
— Wall Street Journal

"Ordinary pleasures, in the hands of a writer so skilled, are elevated. ...Each chapter is its own small treasure, a mix of the everyday and the unexpected, all written in a way that delights the senses."
— Booklist (starred review)

"Newbery Medalist Perkins vividly captures the world through a child's eyes in this quiet novel chronicling Alix Treffrey's weeklong vacation on the beach...Perkins draws on all five senses to evoke nature's beauty and show the ebb and flow of Alix's emotions as she eagerly explores new territory."
— Publishers Weekly (starred review)

"A gentle wonder suffuses the story, focusing on the kid perspective of the small but significant parts of a summer trip...The prose has a pleasing accessibility, and although there's a clear arc, any of the eight chapters could easily be read aloud as a stand-alone."
— Bulletin of the Center for Children's Books (starred review)

"Told in a light, breezy style with rich but accessible language and touches of humor...Appealing black-and-white illustrations scattered throughout provide visual context for the setting which is also vividly described in the text. A great choice for young readers ready for longer fiction."
— School Library Journal

"In every episode—a night swim, a June-bug attack, a beach-glass-collection expedition, a visit to a raptor sanctuary—Perkins zooms in. ...we get to know the characters in an intimate way. ...Black-and-white illustrations, beautifully composed, slightly mysterious, gently funny, add to the intensity and authenticity."
— Horn Book Magazine

"Perkins's charming black-and-white illustrations are matched by gentle, evocative language that sparkles like summer sunlight on the sea...The novel's themes of family, friendship, growing up and trying new things are a perfect fit for Perkins's middle grade audience."
— BookPage

"This charming novel of a girl's first family beach vacation vividly evokes the childhood wonder of the first experience of the ocean. ...the next best thing to a week at the beach."
— Buffalo News