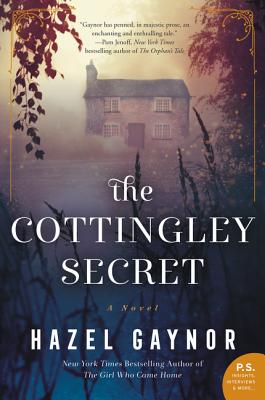 The Cottingley Secret (Paperback)
A Novel
William Morrow Paperbacks, 9780062499844, 416pp.
Publication Date: August 1, 2017
Other Editions of This Title:
Digital Audiobook (7/31/2017)
Hardcover (8/1/2017)
MP3 CD (8/1/2017)
Compact Disc (8/1/2017)
Compact Disc (8/1/2017)
Library Binding, Large Print (2/7/2018)
* Individual store prices may vary.
Description
"The Cottingley Secret tells the tale of two girls who somehow convince the world that magic exists. An artful weaving of old legends with new realities, this tale invites the reader to wonder: could it be true?" — Kate Alcott, New York Times bestselling author of The Dressmaker
One of BookBub's Most-Anticipated Books of Summer 2017! 
The New York Times bestselling author of The Girl Who Came Home turns the clock back one hundred years to a time when two young girls from Cottingley, Yorkshire, convinced the world that they had done the impossible and photographed fairies in their garden. Now, in her newest novel, international bestseller Hazel Gaynor reimagines their story.
1917… It was inexplicable, impossible, but it had to be true—didn't it? When two young cousins, Frances Griffiths and Elsie Wright from Cottingley, England, claim to have photographed fairies at the bottom of the garden, their parents are astonished. But when one of the great novelists of the time, Sir Arthur Conan Doyle, becomes convinced of the photographs' authenticity, the girls become a national sensation, their discovery offering hope to those longing for something to believe in amid a world ravaged by war. Frances and Elsie will hide their secret for many decades. But Frances longs for the truth to be told.
One hundred years later… When Olivia Kavanagh finds an old manuscript in her late grandfather's bookshop she becomes fascinated by the story it tells of two young girls who mystified the world. But it is the discovery of an old photograph that leads her to realize how the fairy girls' lives intertwine with hers, connecting past to present, and blurring her understanding of what is real and what is imagined. As she begins to understand why a nation once believed in fairies, can Olivia find a way to believe in herself?
About the Author
Hazel Gaynor is an award-winning New York Times, USA Today and international bestselling author. Her 2014 debut The Girl Who Came Home won the 2015 RNA Historical Novel of the Year award, A Memory of Violets was a 2015 WHSmith Fresh Talent pick, The Girl from The Savoy was shortlisted for the 2017 Irish Book Awards, and The Lighthouse Keeper's Daughter was shortlisted for the 2019 HWA Gold Crown Award. Last Christmas in Paris (co-written with Heather Webb) won the 2018 Women's Fiction Writers Association Star Award. Their most recent collaboration is Meet Me in Monaco. Hazel's forthcoming historical novel, When We Were Young & Brave, set in China during WW2, will be published in North America in October 2020.

Hazel was selected by Library Journal as one of Ten Big Breakout Authors for 2015. Her work has been translated into fourteen languages to date. She is co-founder of creative writing events The Inspiration Project, and lives in Ireland with her husband and two children. 
For more information, visit www.hazelgaynor.com

Praise For The Cottingley Secret: A Novel…
"Beautifully written and expertly researched, Gaynor's latest is a look at one of history's most intriguing mysteries and an important reminder of the power of belief."
— Booklist (starred review)

"There is real magic in these pages. And beauty. And heart."
— Nicole Mary Kelby, author of The Pink Suit

"The Cottingley Secret tells the tale of two girls who somehow convince the world that magic exists. An artful weaving of old legends with new realities, this tale invites the reader to wonder: could it be true?"
—  Kate Alcott, New York Times bestselling author of The Dressmaker

"I adored The Cottingley Secret [...] Gaynor has penned in majestic prose an enchanting and enthralling tale of childhood magic, forgotten dreams, and finding the parts of ourselves we thought were lost forever."
— Pam Jenoff, New York Times bestselling author of The Orphan's Tale

"In The Cottingley Secret, Gaynor asks us the question we all have buried somewhere in our hearts-- is believing in ourselves, perhaps, the most important magic of all?"
— Heather Webb, author of Rodin's Lover

"Richly imagined and terrifically enchanting, Hazel Gaynor's The Cottingley Secret is an enthralling tale where memories serve as lifelines for the living, and the unseen is made real. Reading this novel is akin to finding hidden treasure - each character, a friend; each chapter, a revelation."
— Ami McKay, author of The Witches of New York  

"Gaynor (The Girl from the Savoy, 2016, etc.) creates a lovely meditation on the power of belief and hope."
— Kirkus Reviews

"Hazel Gaynor brings the mystery of the Cottingley Fairies thrillingly to life…A mystery, a love story, and an enchanting and surprising journey of self-discovery, The Cottingley Secret unwraps the true story behind one of the great hoaxes of the 19th century while still allowing the possibility of the magical."
— Kate Forsyth, author of Bitter Greens