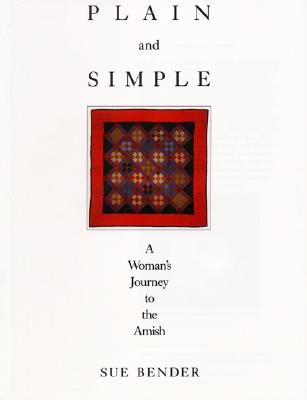 Plain and Simple
A Journey to the Amish
Hardcover

* Individual store prices may vary.
Other Editions of This Title:
Paperback (10/25/1991)
Description
Twenty years ago, while walking through a men's clothing store in" Sag Harbor, New York, Sue Bender found herself drawn to an array of old Amish quilts that served as a background to a display of tweeds. She was immediately struck by their deep, saturated colors, the geometric simplicity of their design, and their quiet power. "They spoke directly to me," she writes. "They knew something.They went straight to my heart." That was the beginning of her "journey of the spirit."
Plain and Simple, illustrated with the author's own drawings, is the gentle, eloquent story of that journey. Bender, a wife, a mother, and a dedicated artist from Berkeley, California, sought out Amish families that would allow her-one of the outsiders the Amish call the "English"-- to visit and share in their daily fives.
In language as spare and vivid as Amish art, Bender recounts her venture into an entirely different world, the seemingly timeless world of the Amish, a landscape of immense inner quiet. With an inquiring eye, she describes the months she spent in Iowa and Ohio with two Amish families. She illuminates the everyday rhythms of their world and conveys the life of the people who taught her about simplicity, commitment, and the joy of doing what you do well.
In nine chapters, as interrelated and well-crafted as a classic nine-patch Amish quilt, Bender speaks to the seeker in us all and reveals how she was drawn to -- and changed by -- the Amish values of austerity, humility, and the ordinary. "How" they live reflects what they believe" she writes. "Their life is their art!"After living and working with these people whose values were so unlike her own, Bender was able to return home and rework her "crazy quilt" life into a new pattern. "I thought I was going to learn more about their quilts," she writes, "but the quilts were only guides, leading me to what I really needed to learn, to answer a question I hadn't yet formed: "Is there another way to lead a good life?"
HarperOne, 9780062500588, 176pp.
Publication Date: October 18, 1989
About the Author
Sue Bender is the author of
Plain and Simple: A Woman's Journey to the Amish
(HarperSanFrancisco). The book was a
New York Times
bestseller. A fascination with Amish quilts led Sue to live with the Amish in their seemingly timeless world, a landscape of immense inner quiet. This privilege, rarely bestowed upon outsiders, taught her about simplicity and commitment and the contentment that comes from accepting who you are. In this inspiring book, Bender shares the lessons she learned while in the presence of the Amish people.
In Everyday Sacred: A Woman's Journey Home (HarperSanFrancisco: now in its sixth printing), Bender speaks to our longing to make each day truly count. She chronicles her struggle to bring the joyful wisdom and simplicity she experienced in her sojourn with the Amish back to her hectic, too-much-to-do days at home. Bender discovers for herself, and in the process shows us, that small miracles can be found everywhere'in our homes, in our daily activities and, hardest to see, in ourselves.
Profiles and interviews with Ms. Bender, as well as book excerpts have been published in countless national publications including Reader's Digest, The Washington Post, Ladies' Home Journal, The Chicago Tribune, The Utne Reader, and W Magazine. She has also appeared as a guest on dozens of radio and television shows.
Born in New York City, Sue Bender received her BA from Simmons College and her MA from the Harvard University School of Education. She taught high school in New York and English at the Berlitz School in Switzerland. She later earned a Masters in Social Work from the University of California at Berkeley. During her active years as a family therapist, Bender was founder and Director of CHOICE: The Institute of the Middle Years. In addition to being an author and former therapist, Sue Bender is a ceramic artist and much sought after lecturer nationwide. She lives in Berkeley, California with her husband Richard, and is the mother of two grown sons.
or
Not Currently Available for Direct Purchase