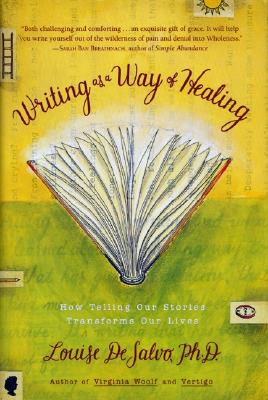 Writing as a Way of Healing
How Telling Our Stories Transforms Our Lives
Hardcover

* Individual store prices may vary.
Other Editions of This Title:
Paperback (3/17/2000)
Description
Acclaimed author Louise DeSalvo draws on her own experience and the lives of others to examine the healing power of the writing process. In this landmark work, DeSalvo uses her twenty years as a teacher of writing to explore how the creative process can in fact be a restorative tool. She looks at the cutting-edge scientific research on the subject and presents dozens of anecdotes of famous writers and beginners in the field to illuminate her theory that writing can repair pain--and keep our demons at bay.
In Writing as a Way of Healing, DeSalvo also develops a detailed program of exercises that shows writers and nonwriters alike how to "open up" to themselves through writing, write regularly in a relaxed way, and achieve a state of personal acceptance through writing. DeSalvo's techniques will provide a solid foundation for writers to benefit both physically and emotionally from telling their stories.
DeSalvo writes with remarkable insight of a wide range of writers who have found that their work helped them to heal, including Audre Lorde, Alice Walker, Kenzaburo Oe, Djuna Barnes, Peter Handke, Jamaica Kincaid, and Mark Doty. In these pages, we become familiar with writers' stories of healing: Isabel Allende deals with the anguish of sitting near her comatose daughter's bedside by beginning to compose a letter to her that eventually becomes the memoir Paula. Henry Miller, despondent when his wife, June, left him for another woman and contemplating suicide, instead works through the night on a story that details his life with June. This brief outline, written during a time of Miller's sharpest despair, serves as the inspiration for his greatest novels.
DeSalvo illustrates how writers can find solace in their work if they ensure that they have a safe environment and a deliberate plan to approach the writing process. She also discusses what went wrong for writers "at risk" like Virginia Woolf and Sylvia Plath, and she warns of the danger of using writing as a call for help instead of seeking help. According to DeSalvo, the way to responsibly write, to heal, is to make an effort to understand our experiences as we write about them. The healing power comes from the reflection on the pain we are living through.
In this inspiring book, highly acclaimed author and teacher Louise DeSalvo reveals the healing power of writing. Based on her twenty years of research, DeSalvo show how anyone can use writing as a way to heal the emotional and physical wounds that are an inevitable part of life. She draws on the journals, diaries, letters, and works of dozens of famous writers and students of the craft to illustrate how people "change physically and psychologically when they work on projects that grow from a deep, authentic place." With insight and wit, she illuminates how writers, from Virginia Woolf to Henry Miller to Audre Lorde to Isabel Allende, have been transformed by the wiring process. Writing as a Way of Healing includes valuable advice and practical techniques to guide and inspire both experienced and beginning writers.
HarperOne, 9780062515193, 224pp.
Publication Date: March 3, 1999
About the Author
Louise DeSalvo, Ph.D., is the author of the literary study Conceived with Malice: Literature as Revenge, Vertigo: A Memoir, and the widely praised Virginia Woolf: The Impact of Childhood Sexual Abuse on Her Life and Work. A frequent lecturer and guest on radio (including NPR) and television, DeSalvo is a professor of English and creative writing at Hunter College in New York and has been profiled in the New York Times for her innovative teaching techniques.
or
Not Currently Available for Direct Purchase