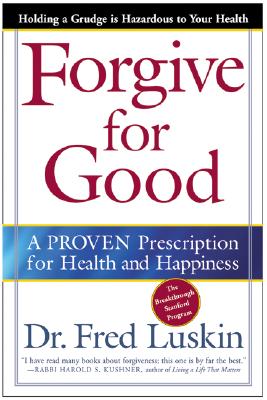 Forgive for Good (Paperback)
A Proven Prescription for Health and Happiness
HarperOne, 9780062517210, 240pp.
Publication Date: January 21, 2003
Other Editions of This Title:
Paperback (6/13/2016)
Hardcover (12/24/2001)
* Individual store prices may vary.
Description
Based on scientific research, this groundbreaking study from the frontiers of psychology and medicine offers startling new insight into the healing powers and medical benefits of forgiveness. Through vivid examples (including his work with victims from both sides of Northern Ireland's civil war), Dr. Fred Luskin offers a proven nine-step forgiveness method that makes it possible to move beyond being a victim to a life of improved health and contentment.
About the Author
Fred Luskin, Ph.D. is the author of Forgive for Good and one of the world's leading researchers and teachers on the subject of forgiveness. He is the director of the Stanford Forgiveness Project, a series of research projects that investigate forgiveness methods. He holds an appointment at the Stanford Center on Conflict and Negotiation as a senior fellow and is an associate professor at the Institute of Transpersonal Psychology. He lives in Palo Alto, California.
Praise For Forgive for Good: A Proven Prescription for Health and Happiness…
"Simply the best book on the subject."
— Michael Murphy, Co founder Esalen Institute Bestselling Author of Future of the Body, Golf in the Kingdom

"Forgive For Good is an accessible and practical guide to learning the power of forgiveness."
— John Gray, Ph.D., author ofMen Are from Mars, Women Are from Venus

"I have read many books about forgiveness; this one is by far the best."
— Rabbi Harold S. Kushner, author of When Bad Things Happen to Good People

"A practical and readable book that is bound to be of great help."
— Lewis Smedes, bestselling author of Forgive and Forget

"...one of the most helpful, practical, scientifically documented, books on forgiveness that I have ever read."
— Gerald G. Jampolsky, M.D., Author of Forgiveness: The Greatest Healer of All

"A remarkable and essential book that is sure to become the gold standard."
— Kenneth Pelletier, Ph.D, M.D., Clinical Professor of Medicine, University of Maryland School of Medicine and University of Arizona and author of The Best Alternative Medicine: What Works? What Does Not?

"Good practical advice for a very difficult task."
— Booklist

"[A] solidly researched and convincing guide."
— Publishers Weekly

"Straightforward, sincere and essential, I recommend this book highly."
— Dave Pelzer, New York Times and International best-selling author of A Child Called It and Help Yourself

"Luskin has the potential to do for forgiveness what John Gray ("Mars and Venus") did for relationships."
— Chicago Tribune
Coverage from NPR