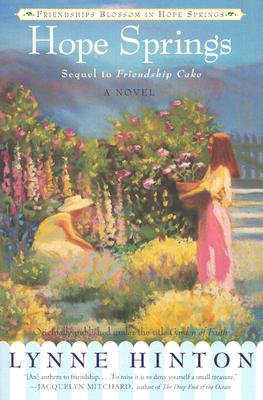 Hope Springs (Paperback)
HarperOne, 9780062517470, 240pp.
Publication Date: April 1, 2003
* Individual store prices may vary.
Description
Make friends in Hope Springs
Pull up a chair and discover the strength and sustenance of friendship with Jessie, Margaret, Louise, Beatrice, and Charlotte, as the unique bond forged between these five remarkable women is put to the test when one of their own is stricken with a deadly illness. Filled with the mystery and wonder that make life worthwhile, Hope Springs will lift your spirits and warm your heart.
About the Author
A retreat leader and writing teacher, Lynne Hinton is the author of numerous novels including Pie Town, Wedding Cake, Christmas Cake, Friendship Cake, Hope Springs, and Forever Friends. She also writes a mystery series under the name Jackie Lynn. She lives in New Mexico.
Praise For Hope Springs…
"…an anthem to friendship….. To miss it is to deny yourself a small treasure."
— Jacquelyn Mitchard, author of The Deep End of the Ocean and A Theory of Relativity

"...a beautiful story grows side by side with powerful truth. It caused my soul to bloom."
— Philip Gulley, author of Front Porch Tales, Home Town Tales, and For Everything A Season

"Hinton celebrates the power of women's connections through a story about hope, loss, and the sometimes fragile nature of faith
— --Ann Howard Creel, author of The Magic of Ordinary Days

"It's a 'giver' readers will want to buy and share with mothers, daughters, sisters and special, forever friends."
— -Suzann Ledbetter, author of East of Peculiar, South of Sanity, North of Clever and West of Bliss

"For all those who loved Friendship Cake, Garden of Faith will be like a garden party with old friends."
— --Loraine Despres, author of The Scandalous Summer of Sissy LeBlanc

"Garden of Faith is a lovely novel filled with hope."
— Sue Monk Kidd, author of The Secret Life of Bees

"With a loving eye for her characters, Lynne Hinton tells a gentle story of faith, healing and redemption."
— Brenda Jernigan, author of Every Good & Perfect Gift

"Like Rebecca Wells, Hinton has a knack for tapping into a woman's longings for lifelong, authentic, messy friendships."
— Publishers Weekly

"Hinton's writing style is similar to Eudora Welty's: easy, conversational, down-home….reverberates with rhythm and lyricism."
— Greensboro News & Record

"Vintage Hinton...thoughtful and exploratory...challenges the reader to be still and...to live completely, even when it hurts."
— Winston-Salem Journal

"If books had a taste, this one would be the genuine tangy sweetness of a small homegrown strawberry."
— Lois Battle, author of Florabama Ladies' Auxiliary and Sewing Circle