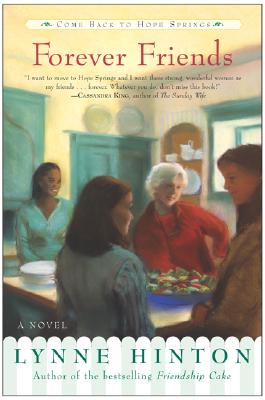 Forever Friends (Hope Springs) (Paperback)
HarperOne, 9780062517494, 240pp.
Publication Date: May 25, 2004
Description
Come Back to Hope Springs, Where Friendships Last a Lifetime
The women of Hope Springs Community Church have weathered some pretty fierce storms. Now their friendships are tested again when one of their own is leaving. Join Louise, Jessie, Charlotte, Beatrice, and Margaret for a farewell that Hope Springs will never forget.
Praise For Forever Friends (Hope Springs)…
"Hinton writes about the kind of life we all dream of having - abiding friendships...and love no-matter-what."
--Philip Gulley, author of the Harmony series

"Forever Friends is a finely crafted book on the power of fellowship and faith."
--Katherine Valentine, author of A Miracle for St. Cecilia's

"Hinton's talent shines in Forever Friends. Fans of the Hope Springs series will be delighted with this one."
---Michael Morris, author of A Place Called Wiregrass

"Forever Friends is a wise, moving novel of the sustaining power of friendship."
---Pamela Duncan, author of Moon Women and Plant Life

" Hinton writes …with grace, wit, and a keen insight….a pleasure from the first page to the last."
---Silas House, author of Clay's Quilt and A Parchment of Leaves

"Forever Friends is an engaging exploration of relationships woven through the twists and tangles of everyday life."
---Patricia Hickman, author of Fallen Angels and Sandpebbles

"I want these strong, wonderful women as my friends…forever. Whatever you do, don't miss this book!"
---Cassandra King, author of The Sunday Wife
Advertisement