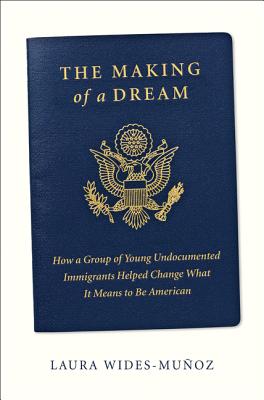 The Making of a Dream
How a group of young undocumented immigrants helped change what it means to be American
Hardcover

* Individual store prices may vary.
Other Editions of This Title:
Digital Audiobook (1/29/2018)
Paperback (1/29/2019)
Compact Disc (1/30/2018)
MP3 CD (1/30/2018)
Compact Disc (1/30/2018)
Description
A journalist chronicles the next chapter in civil rights—the story of a movement and a nation, witnessed through the poignant and inspiring experiences of five young undocumented activists who are transforming society's attitudes toward one of the most contentious political matters roiling America today: immigration.
They are called the DREAMers: young people who were brought, or sent, to the United States as children and who have lived for years in America without legal status. Growing up, they often worked hard in school, planned for college, only to learn they were, in the eyes of the United States government and many citizens, "illegal aliens."
Determined to take fate into their own hands, a group of these young undocumented immigrants risked their safety to "come out" about their status—sparking a transformative movement, engineering a seismic shift in public opinion on immigration, and inspiring other social movements across the country. Their quest for permanent legal protection under the so-called "Dream Act," stalled. But in 2012, the Obama administration issued a landmark, new immigration policy: Deferred Action for Childhood Arrivals, or DACA, which has since protected more than half a million young immigrants from deportation even as efforts to install more expansive protections remain elusive.
The Making of a Dream begins at the turn of the millennium, with the first of a series of "Dream Act" proposals; follows the efforts of policy makers, activists, and undocumented immigrants themselves, and concludes with the 2016 presidential election and the first months of the Trump presidency. The immigrants' coming of age stories intersect with the watershed political and economic events of the last two decades: 9/11, the recession, the wars in Iraq and Afghanistan, the Obama presidency, and the rebirth of the anti-immigrant right.
In telling their story, Laura Wides-Muñoz forces us to rethink our definition of what it means to be American.
Praise For The Making of a Dream: How a group of young undocumented immigrants helped change what it means to be American…
"Poignant… An eye-opening exploration of the DREAM Act and those who have tried to find safe harbor in the United States under its aegis. A well-crafted, timely contribution to the immigration debate." — Kirkus Reviews
"Deeply reported, empathetic, and beautiful, The Making of a Dream is the definitive account of the moral drama that created a new group of Americans and empowered them to call on their country to live up to its ideals." — Alexis Madrigal, staff writer at the Atlantic
"This inspiring, well-written, well-documented account is an important read for Americans on all sides of this lingering issue." — Library Journal
"Wides-Muñoz movingly traces the 12 years of attempted legislation and political activism that culminated in the DREAM Act… This is a timely look at a contentious issue." — Publishers Weekly
"A sweeping chronicle of the immigrant rights movement… Wides-Muñoz expertly describes the broader reform movement, through vivid thumbnail portraits of key students… Wides-Muñoz reminds us that thanks to the ability of young people to dream, what seems impossible today may yet prove achievable tomorrow." — Helen Thorpe, New York Times Book Review
"An intimate look at the complicated lives and remarkable aspirations--thwarted and fulfilled--of people searching for a way out of a peculiar historical trap. The Making of a Dream is, in turns, inspiring, heartbreaking, hopeful, and maddening…just as it must be." — Ray Suarez, author ofLatino Americans: The 500-Year Legacy That Shaped a Nation
"Powerful. Evocative and illuminating. A deeply empathetic look at those caught between two worlds and who risk losing everything in a time of deceitful political rhetoric. Read it." — Alfredo Corchado, author of Midnight in Mexico: A Reporter's Journey Through a Country's Descent into Darkness  
"A necessary and exciting book about five young people whose dreams and struggles are interwoven with this country's best hopes for itself. This is also the story of the legislators, activists, and ordinary citizens who stand behind them, and of the very slow grinding of the wheels of justice." — Alma Guillermoprieto, author of Dancing with Cuba: a Memoir of the Revolution
"Essential… A valuable and detailed look at lawmaking and policy that affect people and communities across the nation as well as portraits of heroic youth willing to put their own status in jeopardy to advocate for fair treatment, not only for themselves and their families but for all immigrants." — Booklist
"Eye-opening… Poignant… A well-crafted, timely contribution to the immigration debate." — Kirkus Reviews
"Wides-Muñoz probes deep into the dreamers' relationships with their parents and often finds empathy and concern." — Washington Post
Harper, 9780062560124, 384pp.
Publication Date: January 30, 2018
About the Author
Laura Wides-Muñoz ​is the author of The Making of a Dream: How a Group of Young Undocumented Immigrants Helped Change What it Means to be American, based on more than a decade of reporting on immigration, much of it done while a staff writer for The Associated Press.

Previously, she served as Vice President for Special Projects & Editorial Strategy at Univision's English-language Fusion Network, and as a senior story editor for the network's TV and digital investigative teams.

Laura has reported from Cuba and throughout Central America and has written for The Miami Herald, The Washington Post, and the Los Angeles Times, among other outlets. She has won the Associated Press Managing Editors Award and multiple Society of Professional Journalists awards.

​The Making of a Dream is her first published book. She conceived of the project during a 2013 Harvard University Nieman Foundation for Journalism fellowship. She lives in Washington, D.C. with her family.
Book Videos
or
Not Currently Available for Direct Purchase