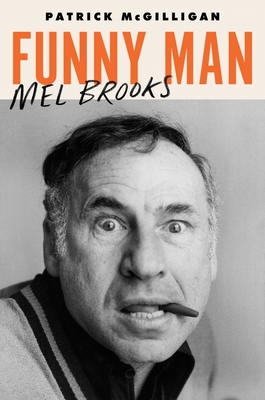 Funny Man
Mel Brooks
Hardcover

* Individual store prices may vary.
Other Editions of This Title:
Paperback (3/17/2020)
Library Binding, Large Print (7/24/2019)
Compact Disc (3/19/2019)
MP3 CD (3/19/2019)
Compact Disc (3/19/2019)
Description
A deeply textured and compelling biography of comedy giant Mel Brooks, covering his rags-to-riches life and triumphant career in television, films, and theater, from Patrick McGilligan, the acclaimed author of Young Orson: The Years of Luck and Genius on the Path to Citizen Kane and Alfred Hitchcock: A Life in Darkness and Light.

Oscar, Emmy, Tony, and Grammy award–winner Mel Brooks was behind (and sometimes in front the camera too) of some of the most influential comedy hits of our time, including The 2,000 Year Old Man, Get Smart, The Producers, Blazing Saddles, and Young Frankenstein. But before this actor, writer, director, comedian, and composer entertained the world, his first audience was his family.
The fourth and last child of Max and Kitty Kaminsky, Mel Brooks was born on his family's kitchen table in Brooklyn, New York, in 1926, and was not quite three-years-old when his father died of tuberculosis. Growing up in a household too poor to own a radio, Mel was short and homely, a mischievous child whose birth role was to make the family laugh.
Beyond boyhood, after transforming himself into Mel Brooks, the laughs that came easily inside the Kaminsky family proved more elusive. His lifelong crusade to transform himself into a brand name of popular humor is at the center of master biographer Patrick McGilligan's Funny Man. In this exhaustively researched and wonderfully novelistic look at Brooks' personal and professional life, McGilligan lays bare the strengths and drawbacks that shaped Brooks' psychology, his willpower, his persona, and his comedy.
McGilligan insightfully navigates the epic ride that has been the famous funnyman's life story, from Brooks's childhood in Williamsburg tenements and breakthrough in early television—working alongside Sid Caesar and Carl Reiner—to Hollywood and Broadway peaks (and valleys). His book offers a meditation on the Jewish immigrant culture that influenced Brooks, snapshots of the golden age of comedy, behind the scenes revelations about the celebrated shows and films, and a telling look at the four-decade romantic partnership with actress Anne Bancroft that superseded Brooks' troubled first marriage. Engrossing, nuanced and ultimately poignant, Funny Man delivers a great man's unforgettable life story and an anatomy of the American dream of success.
Funny Man includes a 16-page black-and-white photo insert.
Praise For Funny Man: Mel Brooks…
"Comprehensive….illuminating….teeming with fascinating details about Brooks's life and career."
— New York Times Book Review

"The author ably chronicles Brooks' career arc from the Brooklyn kid born Melvin Kaminsky to the loudest member of Sid Caesar's writing staff on NBC's Your Show of Shows and Caesar's Hour in the 1950s to the driving force behind some of the most successful film comedies of his time."
— Kirkus Reviews

"Well researched, engaging, and of interest to all of Brooks fans. McGilligan has found a good critical balance as he extols his subject's comedic and artistic virtues while being forthright about Brooks's occasional stubborn attitude toward creative and financial control. McGilligan is one of the few film biographers not to indulge in extensive criticism of the projects themselves, instead offering commentary through the contemporary reviews or financial results of a given work."
— Library Journal

"After a career Funny Man: Mel Brooks tells the story of a man who has never stopped hustling in an almost pathological pursuit of the twin needs to entertain and be famous for it."
— New York

"Highly detailed....A veteran showbiz biographer, McGilligan has produced a book rich with knowledge of the industry and overflowing with the fruits of his research."
— Newsday

"This superb account by film biographer McGilligan of Mel Brooks's life and career persuasively sketches two sides of the comedian-filmmaker's personality….. McGilligan's exhaustive biography will be essential reading for anyone interested in Brooks or, more broadly, how Hollywood functioned during the second half of the 20th century."
— Publishers Weekly

"McGilligan skillfully profiles Brooks's two sides--the bullying, raging and credit-grabbing "Rude Crude Mel" and the "Nice Mel," who performed discreet and generous acts of kindness and was a lightning rod for laughter in public. This fascinating and exhaustive biography presents a complicated and immensely talented man whose inner demons fed his hilarious output of films, TV series and albums."
— Shelf Awareness

"While devoted Brooks fans may recognize some of these tidbits, there are enough new trivia nuggets that most readers will come away with something they did not know before. For those who want an in-depth account of Mel Brooks, the ruthless businessman, Funny Man is for you."
— Washington Post
Harper, 9780062560995, 640pp.
Publication Date: March 19, 2019
About the Author
Patrick McGilligan is the author of Alfred Hitchcock: A Life in Darkness and Light; Fritz Lang: The Nature of the Beast; and George Cukor: A Double Life; and books on the lives of directors Nicholas Ray, Robert Altman, and Oscar Micheaux, and actors James Cagney, Jack Nicholson, and Clint Eastwood. He also edited the acclaimed five-volume Backstory series of interviews with Hollywood screenwriters and (with Paul Buhle), the definitive Tender Comrades: A Backstory of the Hollywood Blacklist. He lives in Milwaukee, Wisconsin, not far from Kenosha, where Orson Welles was born.