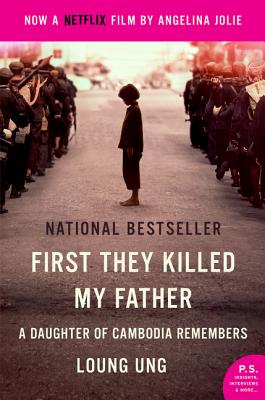 First They Killed My Father Movie Tie-in
A Daughter of Cambodia Remembers
Paperback

* Individual store prices may vary.
Other Editions of This Title:
Digital Audiobook (6/29/2011)
Prebound (1/1/1999)
Paperback (4/4/2006)
MP3 CD (6/30/2011)
Compact Disc (6/30/2011)
MP3 CD (6/30/2011)
Compact Disc (6/30/2011)
Compact Disc (6/30/2011)
Paperback (1/1/2001)
Hardcover (1/26/2000)
Compact Disc (6/30/2011)
Description
From a childhood survivor of the Camdodian genocide under the regime of Pol Pot, this is a riveting narrative of war crimes and desperate actions, the unnerving strength of a small girl and her family, and their triumph of spirit—now a Netflix film by Angelina Jolie.
Repackaged in a new tie-in edition to coincide with the Netflix film produced and directed by Angelina Jolie, a moving story of war crimes and desperate actions, the unnerving strength of a small girl and her triumphant spirit as she survived the Cambodian genocide under Pol Pot's brutal regime.
Until the age of five, Loung Ung lived in Phnom Penh, one of seven children of a high-ranking government official. She was a precocious child who loved the open city markets, fried crickets, chicken fights, and sassing her parents. While her beautiful mother worried that Loung was a troublemaker—that she stomped around like a thirsty cow—her beloved father knew Loung was a clever girl.
When Pol Pot's Khmer Rouge army stormed into Phnom Penh in April 1975, Ung's family fled their home and moved from village to village to hide their identity, their education, their former life of privilege. Eventually, the family dispersed in order to survive. Loung trained as a child soldier in a work camp for orphans, while other siblings were sent to labor camps. As the Vietnamese penetrated Cambodia, destroying the Khmer Rouge, Loung and her surviving siblings were slowly reunited.
Bolstered by the shocking bravery of one brother, the courage and sacrifices of the rest of her family—and sustained by her sister's gentle kindness amid brutality—Loung forged on to create for herself a courageous new life. Harrowing yet hopeful, insightful and compelling, this story is truly unforgettable.
Praise For First They Killed My Father Movie Tie-in: A Daughter of Cambodia Remembers…
"[Ung] tells her stories straightforwardly, vividly, and without any strenuous effort to explicate their importance, allowing the stories themselves to create their own impact."
— New York Times

"A riveting memoir...an important, moving work that those who have suffered cannot afford to forget and those who have been spared cannot afford to ignore."
— San Francisco Chronicle

"Loung Ung plunges her readers into a Kafkaesque world...and forces them to experience the mass murder, starvation and disease that claimed half her beloved family. In the end, the horror of the Cambodian genocide is matched only by the author's indomitable spirit."
— Iris Chang, author of The Rape of Nanking

"Despite the tragedy all around her, this scrappy kid struggles for life and beats the odds. I thought young Ung's story would make me sad. But this spunky child warrior carried me with her in her courageous quest for life. Reading these pages has strengthened me in my own struggle to disarm the powers of violence in this world."
— Sister Helen Prejean, CSJ, author of Dead Man Walking

"Loung has written an eloquent and powerful narrative as a young witness to the Khmer Rouge atrocities. This is an important story that will have a dramatic impact on today's readers and inform generations to come."
— Dith Pran, whose wartime life was portrayed in the award-winning movie The Killing Fields

"A harrowing true story of the nightmare world that was Cambodia in those terrible times of mass murder and slow death through overwork, starvation, and disease."
— Kirkus Reviews

"Ung's memoir should serve as a reminder that some history is best not left just to historians, but to those left standing when the terror ends."
— Booklist

"In this gripping narrative Loung Ung describes the unfathomable evil that engulfed Cambodia during her childhood, the courage that enabled her family to survive, and the determination that has made her an eloquent voice for peace and justice in Cambodia. It is a tour de force that strengthens our resolve to prevent and punish crimes against humanity."
— U.S. Senator Patrick Leahy, congressional leader on human rights and a global ban on landmines
Harper Perennial, 9780062561305, 288pp.
Publication Date: August 22, 2017
About the Author
Loung Ung was the National Spokesperson for the "Campaign for a Landmine Free World," a program of the Vietnam Veterans of America Foundation, which was awarded the Nobel Peace Prize for co-founding the International Campaign to Ban Landmines. Ung lectures extensively, appears regularly in the media, and has made more than thirty trips back to Cambodia. She is also the author of Lucky Child: A Daughter of Cambodia Reunites with the Sister She Left Behind and LuLu in the Sky.
or
Not Currently Available for Direct Purchase