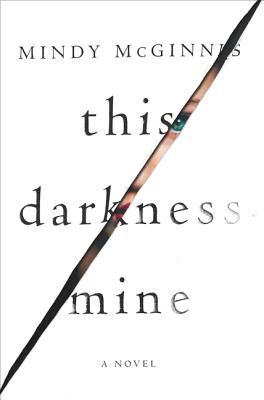 This Darkness Mine
Hardcover

* Individual store prices may vary.
Other Editions of This Title:
Digital Audiobook (10/9/2017)
Paperback (1/8/2019)
Compact Disc (11/1/2017)
MP3 CD (10/10/2017)
Compact Disc (10/10/2017)
Description
Mindy McGinnis, award-winning author of The Female of the Species and A Madness So Discreet, returns with a new dark and twisted psychological thriller—perfect for fans of Gone Girl and Fight Club.
Sasha Stone knows her place—first-chair clarinet, top of her class, and at the side of her Oxford-wearing boyfriend. She's worked her entire life to ensure her path to Oberlin Conservatory as a star musician is perfectly paved.
But suddenly there's a fork in the road in the shape of Isaac Harver. Her body shifts toward him when he walks by, and her skin misses his touch even though she's never known it. Why does he act like he knows her so well—too well—when she doesn't know him at all?
Sasha discovers that her by-the-book life began by ending the chapter of another: the twin sister she absorbed in the womb. But that doesn't explain the gaps of missing time in her practice schedule, or the memories she has of things she certainly never did with Isaac.
Armed with the knowledge that her heart might not be hers alone, Sasha must decide what she's willing to do—and who she's willing to hurt—to take it back.
Praise For This Darkness Mine…
"Rich imagery and a ruthless protagonist propel the novel forward to its shocking, ominous conclusion."
— Booklist

"...[A]n interesting read which addresses family issues and mental health, while blending the elements of a psychological thriller. Recommended for older teens and fans of disturbing yet satisfying plot twists."
— School Library Journal

"This psychological thriller offers shivers similar to Larbalestier's My Sister Rosa, and the final scene will leave readers wondering if they've been duped into sympathy or if more is required."
— Bulletin of the Center for Children's Books

Praise for the FEMALE OF THE SPECIES: "McGinnis explores how one teen uses violence for justice in this gripping story that should be read and discussed by teens, as well as those who work with them."
— Booklist (starred review)

"Each word has been specifically chosen, each character superbly and humanly sculpted, the plot line masterfully completed. To say more would be to dilute the experience. McGinnis plays with the readers and they are at her mercy."
— Voice of Youth Advocates (VOYA) (starred review)

"McGinnis gracefully avoids the pitfalls of creating a teenage vigilante, instead maintaining a sense of piercing realism. Alex is a pained girl in dangerous free fall, whose fierce independence is challenged by newfound friendships, even love, though neither may be enough to stave off the inevitable."
— Publishers Weekly (starred review)

"All three teens are haunted by the memory of Anna's murder, and Alex's inclination to both considering and exacting revenge with cruel efficiency leads them all inexorably to an explosive, terrible finale. An unflinching look at rape culture and its repercussions."
— Kirkus Reviews (starred review)

"This is an astoundingly dark but beautifully written tragedy. Sexual abuse and assault are treated with sensitivity here but also portrayed with the necessary weight and power, and the dangerous repercussions of poor self-esteem, limiting social expectations, and secret-keeping are discussed openly and frankly."
— School Library Journal (starred review)

"[I]t's raw. Not "raw for YA." Real-deal raw. And violent. And unforgettable. McGinnis explores both and she goes there in a way no one really has before in YA. This is Kill Bill in high school, but with more nuance, bolder choices and a true female perspective."
— The Globe and Mail

"Your heart may still be pounding after you've finished this book. It is uncannily well timed to our current political situation...McGinnis, who dedicates her book to 'the victims,' examines this dichotomy of hope and violence, love and hate, with dexterity and grace."
— New York Times Book Review

"The ending of this dark novel leaves much to be unpacked, and it would certainly spark heated discussion in a book club or classroom."
— Bulletin of the Center for Children's Books

Praise for A MADNESS SO DISCREET: "McGinnis excels at rich character development; every person readers meet makes a dramatic impact on the story and on Grace. This book is highly recommended."
— School Library Journal

"A bountiful buffet of twisted, dark intrigue. While others are writing about relatively 'normal' heroes and heroines, McGinnis takes the less-traveled route to bring us a heroine damaged physically and mentally, and to the far reaches of her soul. McGinnis can surely tell a story."
— USA Today

"Grace's story shines. Every person she encounters, mad or trapped by the label of madness, feels achingly real. Readers will wish they could watch her and Thornhollow solve murders for pages and pages more. "
— Kirkus Reviews

"Several storylines are threaded together in this powerful and dark book, examining the line between sanity and insanity and often indicting those who get to define that line. McGinnis extends compassion to the asylum's most helpless patients as well as the most disturbed and violent characters."
— Bulletin of the Center for Children's Books

Praise for NOT A DROP TO DRINK: "A high-quality survivalist story for readers who enjoy internal story arcs as well as external dangers."
— Kirkus Reviews

"The intensity of action moves the story forward, but not at the expense of character development. The complex, authentic characters are neither fully evil nor unbelievably good. The honest and hopeful ending-while not 'happily ever after'—will resonate with readers and leave them asking for more."
— Voice of Youth Advocates (VOYA)

"Those in search of fierce female survivalist characters need look no further than this."
— Booklist

"In an understated but gripping debut, McGinnis paints a stark picture of a world not far removed from our own, concentrating on Lynn's gradual emotional growth as contrasted against the physical harshness of her existence."
— Publishers Weekly

"A brutally beautiful debut, not to be missed. NOT A DROP TO DRINK is an unwavering story with incredible drama, danger, and power. This writer is for real."
— Michael Grant, New York Times bestselling author of the Gone series
Katherine Tegen Books, 9780062561596, 384pp.
Publication Date: October 10, 2017
About the Author
Mindy McGinnis is the author of Not a Drop to Drink and its companion, In a Handful of Dust, as well as This Darkness Mine, The Female of the Species, Given to the Sea, Heroine, and the Edgar Award–winning novel A Madness So Discreet. A graduate of Otterbein University with a BA in English literature and religion, Mindy lives in Ohio. You can visit her online at www.mindymcginnis.com.
or
Not Currently Available for Direct Purchase