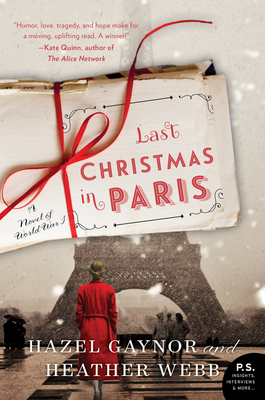 Last Christmas in Paris
A Novel of World War I
Paperback

* Individual store prices may vary.
Other Editions of This Title:
Digital Audiobook (10/2/2017)
Compact Disc (10/3/2017)
MP3 CD (10/3/2017)
Compact Disc (10/3/2017)
Description
An unforgettably romantic novel that spans four Christmases (1914-1918), Last Christmas in Paris explores the ruins of war, the strength of love, and the enduring hope of the Christmas season.
New York Times bestselling author Hazel Gaynor has joined with Heather Webb to create this unforgettably romantic novel of the Great War.
August 1914. England is at war. As Evie Elliott watches her brother, Will, and his best friend, Thomas Harding, depart for the front, she believes—as everyone does—that it will be over by Christmas, when the trio plan to celebrate the holiday among the romantic cafes of Paris.
But as history tells us, it all happened so differently…
Evie and Thomas experience a very different war. Frustrated by life as a privileged young lady, Evie longs to play a greater part in the conflict—but how?—and as Thomas struggles with the unimaginable realities of war he also faces personal battles back home where War Office regulations on press reporting cause trouble at his father's newspaper business. Through their letters, Evie and Thomas share their greatest hopes and fears—and grow ever fonder from afar. Can love flourish amid the horror of the First World War, or will fate intervene?
Christmas 1968. With failing health, Thomas returns to Paris—a cherished packet of letters in hand—determined to lay to rest the ghosts of his past. But one final letter is waiting for him…
Praise For Last Christmas in Paris: A Novel of World War I…
"Gaynor and Webb's first collaboration is beautifully told [...] the authors fully capture the characters' voices as each person is dramatically shaped by the war to end all wars." — Booklist
"Last Christmas in Paris is an extraordinary epistolary novel that explores the history and aftermath of the Great War in a sensitive, memorable and profoundly moving fashion. A book to savor, to share and discuss with friends, and above all to cherish." — Jennifer Robson, International bestselling author of Goodnight from London and Somewhere in France 
"For fans of The Guernsey Literary and Potato Peel Society comes another terrific epistolary historical novel that is simply unputdownable [...] this remarkable novel will undoubtedly go on my keeper shelf." — Karen White, New York Times bestselling author of The Night the Lights Went Out
"Humor, love, tragedy, and hope make for a moving, uplifting read. A winner!" — Kate Quinn, author of The Alice Network
"Best-selling author Gaynor (A Memory of Violets) teams with historical novelist Webb (Rodin's Lover) to pen a moving and heartfelt story of love and bravery  [...]" — Library Journal (starred review)
William Morrow Paperbacks, 9780062562685, 400pp.
Publication Date: October 3, 2017
About the Author
Hazel Gaynor is the award-winning New York Times and USA Today bestselling author of A Memory of Violets and The Girl Who Came Home, for which she received the 2015 Romantic Novelists' Association Historical Romantic Novel of the Year award. Her third novel, The Girl from The Savoy, was an Irish Times and Globe and Mail bestseller, and was shortlisted for the 2016 Irish Book Awards Popular Fiction Book of the Year. Her most recent novel, The Lighthouse Keeper's Daughter, was a USA Today and Irish Times bestseller, and was shortlisted for the 2019 Historical Writers' Association Gold Crown Award. Hazel's work has been translated into fourteen languages. She lives in Ireland with her husband and two children.
Heather Webb is the award-winning and USA Today bestselling author of The Last Ship Home, The Phantom's Apprentice, Rodin's Lover, and Becoming Josephine. Heather is also a freelance editor, and teaches craft courses at a local college. Her novels have been translated into more than a dozen languages, worldwide. She lives in Connecticut with her family and one feisty rabbit. 

1. Women's roles changed dramatically through the course of WWI. What are your thoughts about Evie's place in the war, at home and in France? Which factors came into play to cause these changes?
2. How did WWI affect societal structures and values? Are the effects still felt today?
3. Newspapers were the main source of information for the public in WWI. How do you feel about the War Office encouraging positive messages through propaganda while also suppressing the worst details of the war from the Front?
4. Thomas blamed himself for the decimation of his troops in 1916 at the battle of the Somme. Do you believe he—or any officer leading a battalion—is responsible for the loss of human life?
5. There was much controversy surrounding shell shock, or war neurosis, during this time. Soldiers were initially made to believe they were weak or 'lacking moral fibre'. What are your thoughts about this, especially in terms of how we treat PTSD today?
6. Letters were of vital importance during WWI as they were the only means of communication between loved ones. What were your emotional reactions when reading these letters?
7. Do you still write letters? Would you like to see a return to traditional letter-writing?
8. Do you think Will's mother was right to conceal the truth about his child from the rest of the family? What do you suppose were her motives?
9. Christmas is a time for family and reflection. What are your favorite family Christmas traditions?
10. Evie, Will, Thomas and Alice plan to spend Christmas in Paris. Where would you love to spend Christmas, if not at home?