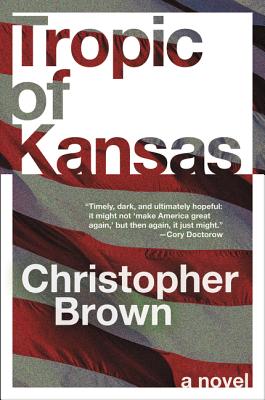 Tropic of Kansas
A Novel
Paperback

* Individual store prices may vary.
Other Editions of This Title:
Compact Disc (7/11/2017)
MP3 CD (7/11/2017)
Compact Disc (7/11/2017)
Description
"Timely, dark, and ultimately hopeful: it might not 'make America great again,' but then again, it just might."—Cory Doctorow, New York Times bestselling and award winning author of Homeland

Acclaimed short story writer and editor of the World Fantasy Award-nominee Three Messages and a Warning eerily envisions an American society unraveling and our borders closed off—from the other side—in this haunting and provocative novel that combines Max Barry's Jennifer Government, Philip K. Dick's classic Man in the High Castle, and China Mieville's The City & the City
The United States of America is no more. Broken into warring territories, its center has become a wasteland DMZ known as "the Tropic of Kansas." Though this gaping geographic hole has no clear boundaries, everyone knows it's out there—that once-bountiful part of the heartland, broken by greed and exploitation, where neglect now breeds unrest. Two travelers appear in this arid American wilderness: Sig, the fugitive orphan of political dissidents, and his foster sister Tania, a government investigator whose search for Sig leads her into her own past—and towards an unexpected future.
Sig promised those he loves that he would make it to the revolutionary redoubt of occupied New Orleans. But first he must survive the wild edgelands of a barren mid-America policed by citizen militias and autonomous drones, where one wrong move can mean capture . . . or death. One step behind, undercover in the underground, is Tania. Her infiltration of clandestine networks made of old technology and new politics soon transforms her into the hunted one, and gives her a shot at being the agent of real change—if she is willing to give up the explosive government secrets she has sworn to protect.
As brother and sister traverse these vast and dangerous badlands, their paths will eventually intersect on the front lines of a revolution whose fuse they are about to light.
"Futurist as provocateur! The world is sheer batshit genius . . . a truly hallucinatorily envisioned environment."—William Gibson, New York Times bestselling and award-winning author

Praise For Tropic of Kansas: A Novel…
"Futurist as provocateur! The world is sheer bat-shit genius…a truly hallucinatorily envisioned environment."
— William Gibson, New York Times bestselling and award-winning author

"The great American novel about the end of America. This book is marvelously propulsive, big hearted, and whip smart."
— Kelly Link, Pulitzer Prize-nominated author of Get in Trouble

"This vision of the future is violent, unforgiving, and bleak: Cormac McCarthy meets Philip K. Dick. It's disturbing because of how believable it is...It's remarkably effective. Recommended for fans of Paolo Bacigalupi and China Miéville."
— Booklist

"Timely, dark, and ultimately hopeful: it might not 'make America great again,' but then again, it just might."
— Cory Doctorow, New York Times bestselling and award winning author of Homeland

"Tropic of Kansas is like a modern dystopian buffet [...] It is, in this particular moment in history, frighteningly prescient. It is the nightly news with the volume turned up to 11."
— NPR.org

"This stunning novel of a time all too easily imaginable as our own highlights a few of the keen-voiced, brave-souled women and men who balance like subversive acrobats on society's whirling edges...Read it to burn with the joy of realistic hope."
— Nisi Shawl, Tiptree-award winning author of Everfair and Writing the Other

"A unique blend of Philip K. Dick, Kafka (just a smidgen), and a whole lot of Christopher Brown. Adventure novel meets political satire and the finest elements of realistic sci-fi, and it's so well written it goes down like a greased eel. It's hopeful dystopia. What a book."

— Joe R. Lansdale, author of the Hap and Leonard series

"A new mutation of the alternate history novel."
— Norman Spinrad (Asimov's Science Fiction Magazine)

"This wildly audacious alternate history pits a black lawyer and her semi-feral stepbrother against a paranoid U.S. government defending its ex-movie-star president, who was maimed during a foiled assassination attempt. This funny, heart-wrenching book cuts through genre expectations with the speed of a jackhammer."
— Seattle Times

"This book is a powerful vision of an America that might be, an America that some nights seems as though it is all too likely to be, filled with powerful characters and a chilling presentiment of how far our country could fall...a novel well worth reading."
— San Francisco Book Review

"Tropic of Kansas is the tale of a politically desperate USA haunted by a sullen, feral teen who is Huck Finn, Conan and Tarzan. Because it's Chris Brown's own imaginary America, this extraordinary novel is probably more American than America itself will ever get."
— Bruce Sterling, award-winning author of Islands in the Net and Pirate Utopia

"Tropic of Kansas is a great novel. Brown's writing is tightly composed, and flows nicely...Definitely recommended."
— Civilian Reader

"Fun, fast, violent, smart, and with enough adventure and science fiction elements to keep fans of both genres happy, this was more than a superb novel: it was the kind of book that announces the arrival of an author at the top of his game."
— LitReactor (Best of 2017)

"Tropic of Kansas is savvy political thriller meets ripping pulp adventure-a marriage made in page-turning, thought-provoking heaven. It's a vision both frighteningly prescient and already too real, and a story of valiant heart and brain up against the worst architectures of greed and power."
— Jessica Reisman, SESFA award-winning author of Substrate Phantoms

"[A] real page turner."
— Gavin J. Grant, Bram Stoker Award-winning editor and author
Harper Voyager, 9780062563811, 480pp.
Publication Date: July 11, 2017
About the Author
Christopher Brown's debut novel Tropic of Kansas was a finalist for the Campbell Award for best science fiction novel of 2018, and he was a World Fantasy Award nominee for the anthology Three Messages and a Warning. His short fiction and criticism has appeared in a variety of magazines and anthologies, including MIT Technology Review, LitHub, Tor.com and The Baffler. He lives in Austin, Texas, where he also practices law.